Attendees 'Dodge Bullets' at Chicago Gun Violence Exhibit
Garland Martin Taylor cut off his hair in the spring. The Chicago-based sculptor then used his black strands, feathers and shell casings to make 300 "bullets," and attached them to guitar strings, as a response to gun violence in his home city.
The sculptural installation, titled Pflight—which refers to the exodus of black families fleeing the violence of their neighborhood, similar to what is currently happening on the south side of Chicago—is one area of a three-part, gun-violence related exhibition called This Heat, now at Weinberg/Newton Gallery in Chicago.
Pflight is comprised of 100 bullet casings stuffed with Taylor's own hair and two feathers, which he chose to imitate angels. Each bullet is suspended individually from the ceiling by guitar strings, meant to trace a bullet's trajectory from a fixed point of explosion through gallery walls.
He placed a gumball machine—filled with leftover bullets, or stockpile ammunition—on top of cobblestones from Chicago streets, in the corner of the exhibit. Taylor says the structure represents an ammunition store. "Guns don't mean anything unless you fill them with ammunition," he tells Newsweek.
Taylor says his work "is about bullets flying in neighborhoods," and he wanted to create that space for his audience. "When you walk into my neighborhood, if you want to walk in there, if you want to navigate the space, you have to dodge bullets," Taylor says. "Everyone has to deal with the possibility of being shot."
He says that he hasn't lost a loved one to gun violence. But he has witnessed shootings, some directly and others indirectly, like when a child was shot in front of his house, and during his childhood when a boy living on the floor above him shot the child's twin brother.
"I'm part of the problem and the solution," Taylor says. "I'm part of the problem if I don't act."
This year, there were 1,243 total shootings in Chicago from January through May, according to The Chicago Sun Times. That number marked a 51-percent increase over the same period last year, when 820 shootings were recorded.
Gallery owner David Weinberg praises the space for bringing together art and social justice issues. For this exhibit, Weinberg coordinated with the Illinois Council Against Handgun Violence (ICHV)—which advocates for laws and policies to reduce gun-related injuries and deaths—to curate This Heat.
Summertime "unfortunately turns out to be the killing season in Chicago," Weinberg says.
The summer-long exhibition features Taylor and two other Chicago-based artists. It will run through September 24. Half of the proceeds will be donated to ICHV.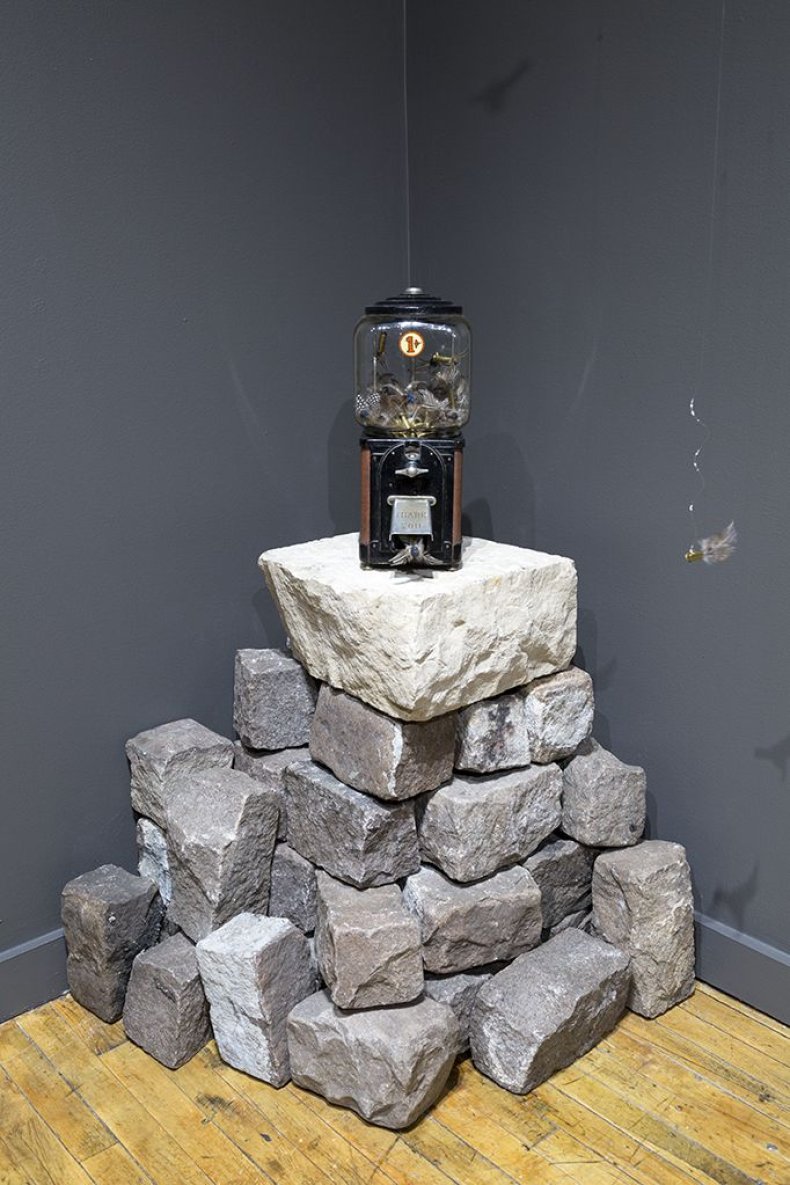 Taylor says he can't pinpoint the creation of his installation to one event; rather, it developed over time. He mentions comedian Chris Rock, who, during one of his stand-up routines, suggested making bullets more expensive: "We need to control the bullets. I think all bullets should cost $5,000," Rock said. "Because if a bullet costs $5,000, there will be no more innocent bystanders." So Taylor wondered what a $100 bullet would look like in the form of art.
Previously in Conversation Peace, Taylor mounted a 400-pound stainless steel gun sculpture to the bed of his pick-up truck and drove it to cities across the country. On the steel, he stamped the name, age and death date of victims from 13 neighborhoods on Chicago's south side.
Underlying the entire This Heat exhibit, Taylor says, is the reality that fighting gun violence isn't an easy task. "It's not going to be as simple as taking away the guns. It's not going to be as simple as making ammunition $100 a bullet," he says. "It's hard work, and we have to be willing to invest in that difficult future to make this change."
"All we have to do," he adds, "is affect one person, and we've helped."