An attorney for a 37-year-old Texas woman who claimed she was sexually assaulted by a Texas State Trooper has issued an apology after watching body cam footage that disputed her allegations.
The incident took place on Sunday morning when Sherita Dixon-Cole was stopped on suspicion of drinking and driving. Dixon-Cole accused DPS trooper Daniel Hubbard of "forcefully groping" her inside and outside of his cruiser after he stopped her vehicle.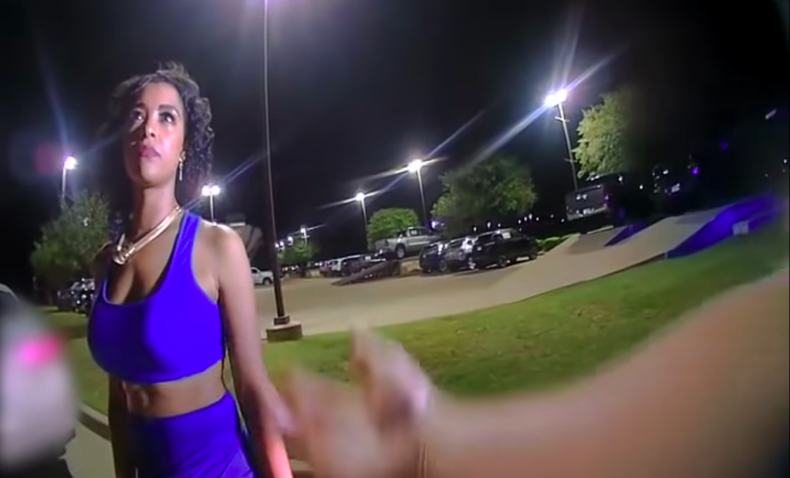 The woman's claims quickly made the rounds online, with her attorney Lee Merritt and social activist Shaun King sharing posts about the alleged sexual assault. According to USA Today, Merritt claimed he had been retained to represent Dixon-Cole for a civil rights violation stemming from the sexual assault allegations.
Hubbard arrested Dixon-Cole for driving while intoxicated and took her to the Ellis County jail, where she was charged with DWI. King posted an article, which has since been updated, with Dixon-Cole's allegations of what happened during the arrest.
"Because we might have kids listening, I won't get in to specific details, but before her fiancé arrive [sic], the officer first communicated to Sherita that he would be willing to let her go if she performed sexual favors for him, then proceeded to sexually assault her, touching her under her skirt," King wrote on his website of Dixon-Cole's allegations. "When her fiancé arrived, the officer asked Sherita if he had a gun, and threatened to kill him if she said anything about what had just happened."
However, a nearly two-hour-long video of body cam footage showed that Hubbard approached the vehicle and conducted a field sobriety test. After determining Dixon-Cole was intoxicated, Hubbard arrested her and informed her she would be taken to the Ellis County jail. None of her allegations were seen on the video.
In a statement posted on Facebook, Merritt apologized to Hubbard and said the officer appeared to act "professionally during the duration of the traffic stop and arrest and—without more—should be cleared of any wrongdoing."
Merritt continued: "It is deeply troubling when innocent parties are falsely accused and I am truly sorry for any trouble these claims may have caused Officer Hubbard and his family. I take full responsibility for amplifying these claims to the point of national concern."
In a blog piece posted on Medium, King acknowledged that the allegations made by Dixon-Cole appear to be false.
"She victimized us. She victimized the man she falsely accused and she victimized those who stood up for her—believing that she had experienced the worst crimes," King wrote. He did not, however, issue an apology in his post.
Ellis County District Attorney Patrick Wilson did not immediately respond to a request for comment. However, in comments to USA Today, Wilson said the state trooper acted "beyond reproach."
"I see an officer who conducts himself exactly as society demands police conduct themselves today: Beyond reproach," Wilson said. "Tragically, that officer still was publicly and maliciously persecuted. What happened to that officer is a shame."
According to a statement by the Department of Public Safety, "The video shows absolutely no evidence to support the egregious and unsubstantiated accusations against the Trooper during the DWI arrest of the suspect. The department is appalled that anyone would make such a despicable, slanderous and false accusation against a peace officer who willingly risks his life every day to protect and serve the public."
KIAH reported that the DA is looking into what Dixon-Cole claimed and who she said it to. If a false police report was filed, Dixon-Cole could face a misdemeanor charge.