Attorney Assisting Trump on Raffensperger Phone Call Resigns After Law Firm Concern
Cleta Mitchell, an attorney who helped President Donald Trump on the controversial call with Georgia officials, has resigned after her law firm expressed concern with her involvement in efforts to overturn the election results.
Mitchell, who was introduced by White House chief of staff Mark Meadows as "not the attorney of record but someone who has been involved," could be heard speaking several times in a recording of Trump's Saturday call with Georgia Secretary of State Brad Raffensperfer. In their hour-long conversation, the president threatened, flattered and begged the official to "find me 11,780 votes," before warning Raffensperger that he would be taking a "big risk" if he refused.
Mitchell's law firm, Foley & Lardner, said it was "concerned" after the phone call leaked on Sunday, and insisted that it was not involved in legal efforts to oppose the presidential election outcome. On Tuesday, Dan Farrell, a spokesperson for the firm, announced that Mitchell had left the company.
"Cleta Mitchell has informed firm management of her decision to resign from Foley & Lardner effective immediately. Ms. Mitchell concluded that her departure was in the firm's best interests, as well as in her own personal best interests," Farrell said in a statement. "We thank her for her contributions to the firm and wish her well."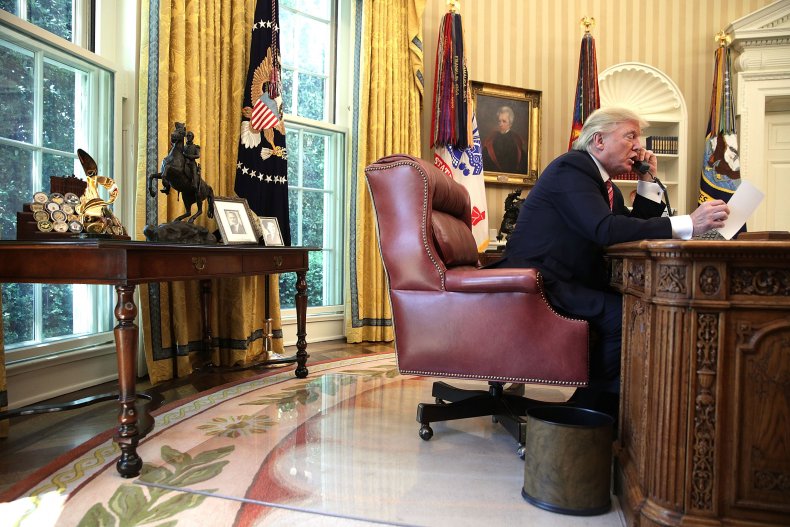 Newsweek reached out to the White House for comment.
Democrats, legal analysts and a few Republicans strongly denounced the phone call, which heated up after Raffensperger denied the president's request to find votes to overturn the election and asserted that President-elect Joe Biden won fairly.
"The people of Georgia are angry, the people in the country are angry," Trump told the official. "And there's nothing wrong with saying, you know, um, that you've recalculated."
Republican Congressman Adam Kinzinger of Illinois called Trump's behavior "absolutely appalling."
"To every member of Congress considering objecting to the election results, you cannot—in light of this—do so with a clean conscience. #RestoreOurGOP," he tweeted.
Progressive Congresswoman Alexandria Ocasio-Cortez of New York expressed support for impeaching Trump, after other Democrats called the call "immoral."
"I absolutely think it's an impeachable offense," Ocasio-Cortez said, "and if it was up to me, there would be articles on the floor quite quickly. I mean, he is attacking our very election."
Democratic Congressman Adam Schiff of California, who's chairman of the House Intelligence Committee, said the president's actions were "potentially criminal" and "potentially impeachable."
One day before Mitchell's resignation from Foley & Lardner, where she was a partner, the firm distanced itself from the phone call.
"Foley & Lardner LLP is not representing any parties seeking to contest the results of the presidential election. In November, the firm made a policy decision not to take on any representation of any party in connection with matters related to the presidential election results," the company said Monday.
"Our policy did allow our attorneys to participate in observing election recounts and similar actions on a voluntary basis in their individual capacity as private citizens so long as they did not act as legal advisers."