Attorney Blasts DA For Saying Use of Force in Akbar Rogers' Arrest Was Justified
The attorney for Akbar Rodgers, a Black man who was punched and Tased by officers during an arrest that was captured in a viral video, has slammed the Nassau County District Attorney's Office for suggesting the use of force was justified but the verbal abuse aimed at Rogers was not.
Several officers in Freeport, New York, punched, Tased and hurled expletives at Rogers while arresting him on December 3 last year. Rogers was later charged with assaulting the officers.
More than six months later, amid the reckoning sparked by ongoing protests against police brutality and racism, the charges against Rogers stemming from that incident have been dropped.
Announcing the move to dismiss the charges on Monday, Nassau County District Attorney Madeline Singas said in a statement that she had been "deeply troubled" by what she viewed in the video footage of Rogers' arrest.
She said that Dr. Phillip Hayden, an "independent, nationally recognized police use of force expert," had been retained to review the incident.
Dr. Hayden found that the force used was "consistent with the officers' training, and departmental policies making criminal charges against the officers unsustainable," Singas said.
"Nonetheless, the abusive language depicted in video of the incident, with an officer responding to Mr. Rogers' assertion that he could not breathe with 'f*ck you,' and calling him a 'piece of sh*t' is reprehensible and warrants discipline."
Singas added that the matter had been referred to the Freeport Police Department for department disciplinary review.
She added: "While an independent expert found the level of force used to be justified by law and policy, Mr. Rogers did not attempt to harm the police and the officer's injury that formed the basis of the second-degree assault charge was not intentional.
"While there was probable cause to charge Mr. Rogers with resisting arrest because he dropped between two fences while running from officers, I have concluded based on the totality of the circumstances these charges should not be pursued."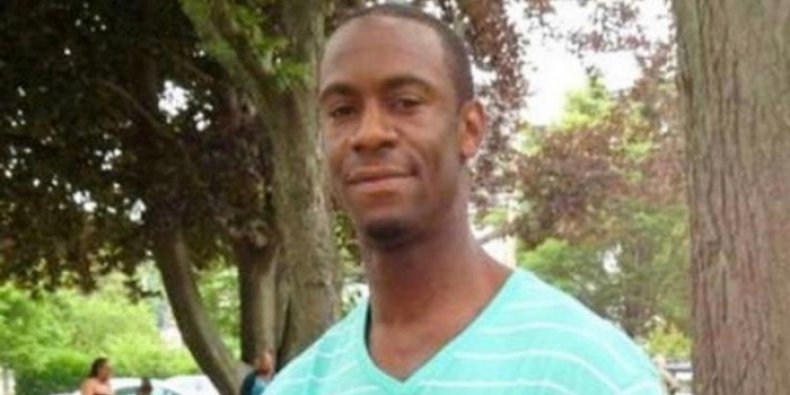 She said her office would continue to prosecute Rogers for harassment for allegedly repeatedly pushing a pregnant woman to the floor in October 2019.
In a statement to Newsweek, Rogers' attorney, Randy Zelin, head of the criminal law practice at Wilk Auslander LLP, said he welcomed the decision to drop the charges against his client but added that he was "deeply disappointed" by Singas' characterization of events.
"While we are pleased at the decision by the District Attorney to dismiss the charges we are deeply disappointed by what appears to be the alternative facts proffered by the District Attorney in the same breath," Zellin said. "To suggest that the beating, tasing and suffocation of Mr. Rogers by the police was justified but the foul language wasn't, is head-spinning, tantamount to a back-handed compliment and will surely inflame the community the District Attorney claims to have been looking to appease."
In her statement, Singas said she had listened "as thousands of our neighbors have marched in the street against racism and police misconduct, and there is discord between law enforcement training and use of force policies and the expectations of the communities we serve.
"While the force used against Akbar Rogers was lawful and consistent with officer training, public outrage over this case—and many others that have gripped the nation—make clear that the techniques used by police to subdue those who resist them must be examined and calibrated to minimize harm and to build public trust."
In an interview with Newsweek earlier this month, Rogers noted that the difference between how officers treated him and how they treated Dylann Roof and other white suspects highlighted the problem with how officers treat people based on their race.
"You have white kids in schools all across the country that shot them up, or a deranged white supremacist, they walk out unscathed," Rogers said. "Nothing on their bodies. But I come out here with a fractured wrist, dislocated shoulder, abrasions, lumps on my head. It's crazy."
Rogers has filed a $25 million lawsuit against the Freeport Police Department and a Change.org petition calling for an investigation and the arrest of the officers has gathered more than 9,700 signatures.
William Petrillo, an attorney for the officers, told Newsweek his clients have received "tremendous support" from the Freeport community. "During these times where many are hurting badly, it is our hope that people of all backgrounds recognize that God has no favorites, we are all created in His image, He loves us all the same and wants to see us come together with love, united as one," Petrillo said.
Newsweek has contacted the police department for comment.
This article has ben updated with a statement from William Petrillo.