Attorney Calls Man's Death After Contracting COVID at Work 'Warning Sign' for Businesses
California attorney James DeSimone is fighting for compensation for a woman who lost her husband to COVID-19 after his request to work from home was denied and he said that he expects more lawsuits will follow.
The lawsuit alleges that Michael Haywood, 61, asked the County of Riverside's Flood Control District to allow him to work from home or implement staggered scheduling and enforce mask-wearing at the office because he was particularly vulnerable to COVID-19. He died after reportedly contracting the virus at work, bringing it home to his wife, Elizabeth, who is reportedly still dealing with the effects of long COVID.
Elizabeth, along with Michael's four children, filed a wrongful death lawsuit against Riverside County in California, alleging it violated the law by refusing Michael's accommodation request and engaged in negligence that impacted Elizabeth.
"I think this is a real warning sign for employers to do the right thing and allow for commonsense precautions to provide for the safety of their employees," DeSimone told Newsweek.
Haywood was a Riverside County employee for more than 10 years, according to a copy of the lawsuit obtained by Newsweek. Having survived cancer twice and been diagnosed with diabetes, Michael was considered high risk for becoming seriously ill or dying of COVID-19.
Given his risk of serious illness, the 61-year-old allegedly asked to work remotely until he could be vaccinated, as two of his superiors did part of the week, but the suit said his request was denied. However, the lawsuit argued that he was permitted to work from home for two weeks after being exposed to COVID-19 at the office, during which time he demonstrated his ability to work remotely.
Haywood also requested that the office implement staggered schedules so he wouldn't have to share an office with another coworker. Both requests were denied, according to the lawsuit.
"Mr. Haywood had become scared to go to work. He was afraid he would become
sick, he was afraid that he would bring COVID-19 home to his wife, and he was afraid that one or both of them would die," the lawsuit alleged.
On December 14, 2020, Michael developed symptoms of COVID-19 and contact tracing determined that the 61-year-old had been exposed at the office. Three days later, he tested positive and was hospitalized on Christmas Day. About a month after being intubated, Haywood died.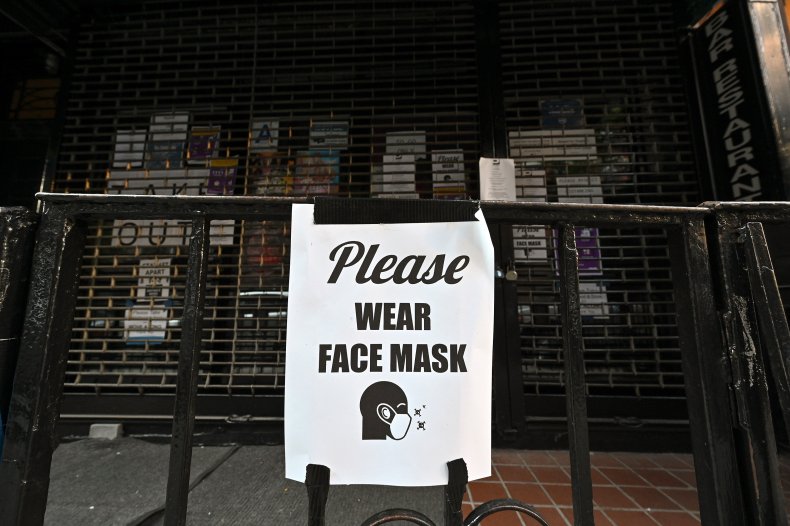 Along with suffering caused by the death of her husband, the lawsuit alleges Elizabeth Haywood suffers from brain fog, headaches, panic attacks and heart palpitations as a result of contracting COVID-19 from her husband. As someone with autoimmune disease, Elizabeth said she also "lived in fear" when her husband was going to work because she knew that one or both of them could die if they contracted COVID-19.
The Haywoods aren't the only ones seeking compensation in the aftermath of a loved one's death of COVID-19. Another California woman is suing See's Candies after she reportedly contracted COVID-19 at work and infected her husband, who died. A woman in Maryland is also suing Giant grocery store over the death of her daughter.
While some states have enacted protections for businesses against lawsuits, there's no national protection. Republicans spent much of last year pushing for the inclusion of liability protections for businesses in COVID relief packages. Once a "red line" for negotiations, according to Senator Mitch McConnell, the protections didn't make their way into the last bipartisan package that passed in December 2020.
In court filings for the See's Candies lawsuit, business groups warned there could be a "never-ending chain" of liability for businesses if an employee contracts COVID-19 at work.
DeSimone told Newsweek he "absolutely" believes additional lawsuits will be brought against employers. In the last few days alone, he said his office has had at least five inquiries and they're analyzing claims on a case-by-case basis.
Elizabeth Haywood's case also isn't the first DeSimone was asked to take on. He said he'd been contacted before about wrongful death lawsuits, but always felt there wasn't sufficient evidence, until he met Elizabeth Haywood. He said he decided to take the case because the family had "really solid information" and it was agreed that Michael Haywood contracted COVID-19 at work.
"The real tragedy is that the Haywood family was a firm believer in vaccines. Vaccines were starting to get rolled out and he was a couple months away from [being eligible] which probably would have saved his life," DeSimone said.