The attorney for 22 women suing Houston Texans quarterback Deshaun Watson for sexual misconduct said Tuesday that the Miami Dolphins demanded Watson settle the pending lawsuits before accepting a trade to their team.
Miami reportedly backed out of the deal when it was made clear settlements would not occur, and Watson remained with Houston following Tuesday's trade deadline.
In a statement obtained by KRIV Houston, Tony Buzbee, the women's attorney, said that negotiations between the Dolphins and Texans had broken off after Miami made the request, and reiterated that 22 settlements "wasn't gonna happen," and that "whether there's a deal or not, really has nothing to do with us."
"Then [Miami] lowered that number. I made it clear that wasn't gonna happen. Watson's team was trying to sell the Dolphins on some lower number and I think that never came to pass," Buzbee continued. "I don't know where it came from, but there was an insistence of a very, very robust non-disclosure agreement and we pushed back on that very hard."
"I don't care if [Watson] gets traded or not...I'm just gonna continue to pursue the case, continue to do my due diligence on the case and start preparing the case for hopefully a trial," Buzbee added.
The Dolphins were reportedly one of four teams who remained interested in trading for Watson over the summer, along with the Philadelphia Eagles, Carolina Panthers and Denver Broncos.
One of the most highly-touted quarterbacks of his generation, Watson, 25, led the Clemson Tigers to a national championship and was selected by the Texans in the first round of the 2017 NFL Draft.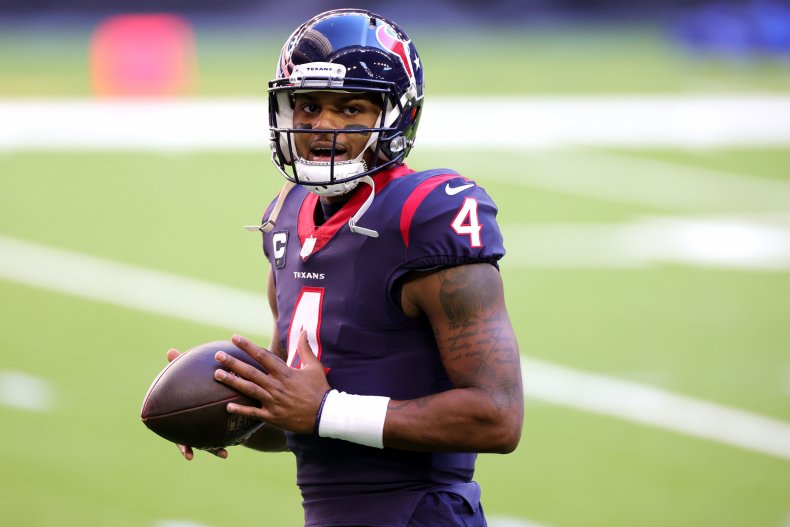 However, his career was marred by a series of sexual misconduct allegations beginning in March 2021, when a Houston massage therapist accused him of inappropriate behavior. She also stated that Watson had propositioned him for sex.
More women came forward throughout the month alleging sexual misconduct from Watson during massages. By April, the amount of civil lawsuits against the quarterback had reached its current number of 22.
The allegations include, among other things, Watson exposing himself, forcing their hands onto his genitals, and forcing the victims to perform oral sex.
One of the women who has filed suit reportedly called Watson a "serial predator."
A lawyer for Watson released a statement denying the allegations, stating that "these lawsuits are replete with mischaracterizations of Mr. Watson's conduct. These range from being misleading, to fraudulent, to slanderous."
Watson's legal team also stated that they'd discovered that "numerous allegations in this onslaught of cases are simply not true or accurate."
Watson's lead lawyer, Rusty Hardin, called the lawsuits "[a] cash grab against a wealthy athlete," and told the New York Times that he believed all 22 women were lying.
The Houston Texans, meanwhile, still have Watson listed as part of the team's current roster. However, he has not played during the 2021 National Football League (NFL) season, and it is unlikely that he will see further action with the team until the ongoing litigation is resolved.
The 1-7 Texans will next play this Sunday against none other than the Miami Dolphins.
Newsweek reached out to the Houston Texans for comment.
Uncommon Knowledge
Newsweek is committed to challenging conventional wisdom and finding connections in the search for common ground.
Newsweek is committed to challenging conventional wisdom and finding connections in the search for common ground.