Attorney General Describes Stay-at-Home Orders As 'Disturbingly Close' To House Arrest
U.S. Attorney General William Barr said the coronavirus pandemic was placing "unprecedented burdens" on Americans' civil liberties during a Tuesday radio interview with broadcast journalist Hugh Hewitt.
Though Barr said the stay-at-home orders that states issued to contain the outbreak were necessary as the virus began spreading across the U.S., he described them as "disturbingly close to house arrest" and said states must soon begin replacing the orders with more targeted restrictions.
"These are very, very burdensome impingements on liberty," Barr told Hewitt. "We adopted them, we have to remember, for the limited purpose of slowing down the spread. That is, bending the curve. We didn't adopt them as the comprehensive way of dealing with this disease."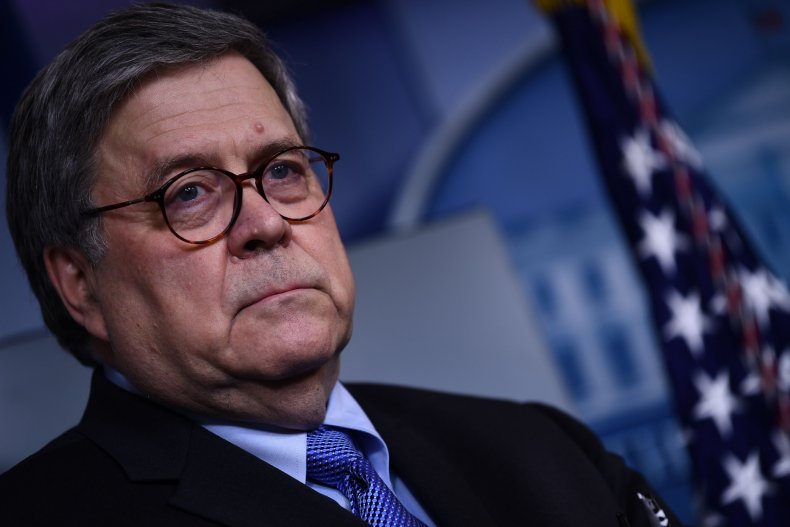 Barr's statements came as governors across the country were discussing how best to reopen their state economies after shutdowns that began in March resulted in business closures and skyrocketing unemployment numbers.
While some states plan to begin reopening their economies in early May, some like New York and California have recently extended bans on large public gatherings into the summer.
Barr compared local governments' early response to the virus with that of a doctor tending to a cancer patient, where aggressive treatments like chemotherapy are traded for more focused medical strategies after initial progress is made. "Now is the time that we have to start looking ahead and adjusting to more targeted therapies," he said.
Even so, Barr said the coronavirus was comparable to other crises in the country's past that have required authorities to place temporary restrictions on Americans' rights. The government "needs a little bit of latitude" in putting together the strategies for dealing with a developing crisis, he said.
Throughout the interview, Barr hesitated to engage with most hypothetical questions concerning the circumstances under which the Justice Department would seek to restrict state governments' responses to the pandemic, such as identifying social distancing recommendations and requirements to wear masks and other personal protective equipment as essential to preventing transmission. But when it came to the survival of local businesses, Barr had a different perspective.
"We have to give businesses more freedom to operate in a way that's reasonably safe," he said. "The question really shouldn't be some governments saying, 'Is this essential or not essential?' The question is, 'Can this business be operated safely?'"
According to projections by the Institute for Health Metrics and Evaluation, some states might be able to reopen as early as May 4. States hit hardest by the pandemic—including New York, which has the largest number of confirmed cases in the country—will have to wait until early June or later to reopen, IHME projections indicate.
The Department of Justice did not respond to Newsweek's request for comment by publication time.