Attorney Likens Patrick Lyoya 'Execution' to Russian Atrocities in Ukraine
The attorney for the family of a Grand Rapids, Michigan, man shot and killed by a police officer likened the killing to civilian deaths in Ukraine on Thursday.
Ben Crump, a prominent Civil Rights attorney, made the comment during an afternoon press conference with family members of Patrick Lyoya, the 26-year-immigrant from the Democratic Republic of the Congo who was fatally shot on April 4.
"Right now, our leaders in the United States of America are condemning Russian soldiers for shooting civilians in Ukraine in the back of the head," Crump said. "Why aren't we condemning police officers here in the United States of America shooting unarmed Black civilians in the back of the head?"
Lyoya was pulled over at around 8:00 a.m. ET for a traffic stop on April 4. The video, released by police on Wednesday, appeared to show a scuffle breaking out between Lyoya and the unnamed officer. Lyoya attempted to get away but was tackled, and the officer tried to deploy his Taser.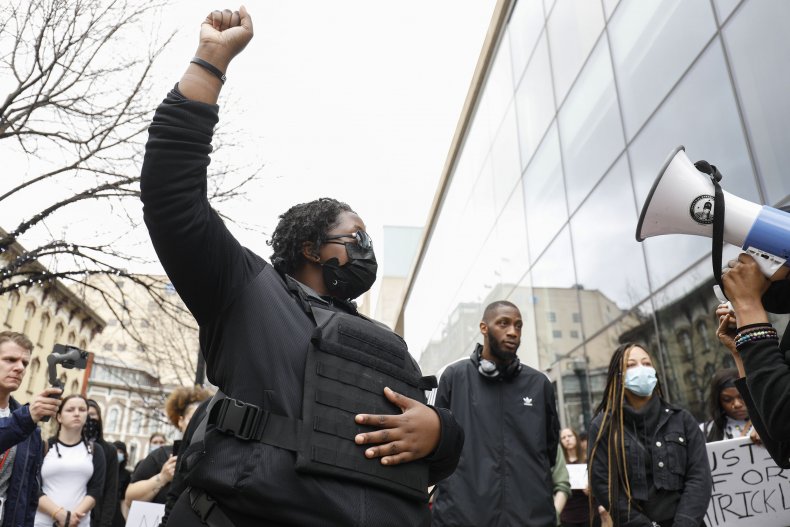 The video ended with the officer — on the back of the face-down Lyoya — reaching for his gun and appearing to fire it at the back of Lyoya's head.
Crump, who referred to Lyoya's death as an "execution," called on not only more action from the Grand Rapids police but also federal action.
"If it's wrong to shoot civilians in the back of the head in Ukraine, it is wrong for police to shoot civilians in the back of the head here in Grand Rapids," Crump said.
Following the release of the video, hundreds of protesters surrounded the Grand Rapids police headquarters. During a press conference on Wednesday, Grand Rapids Police Chief Eric Winstrom called the incident a "tragedy."
"This video was very difficult to watch," Crump said during the press conference, "because what you see in that video is unnecessary, unjustifiable, excessive use of fatal force. You see a police officer escalate a minor traffic stop into a deadly execution."
He added, "It should be noted that Patrick never used violence against this officer even though the officer used violence against him in several instances for what was a misdemeanor traffic stop."
Crump called on the officer involved to be "terminated for engaging in unnecessary, excessive use of deadly force." He also said Lyoya's family requested "that the state attorney charge him [the officer] to the full extent of the law for killing their son, for breaking their hearts, for making his young children orphans, fatherless."
Newsweek reached out to the Grand Rapids Police Department for comment.