Attorney for Officer Charged in George Floyd Death Questions Why Public Didn't Intercede to Prevent Floyd's Death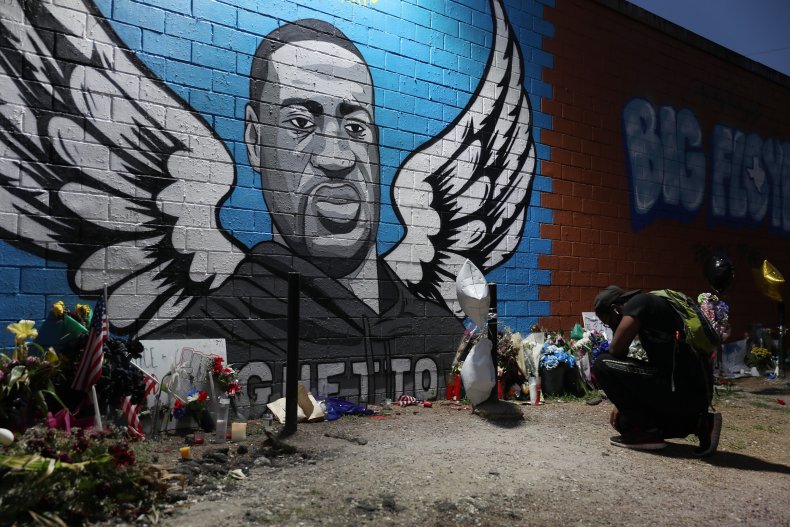 The lawyer for one of the former police officers charged in the death of George Floyd questioned why the public "didn't intercede" to stop Floyd's death on May 25.
Attorney Earl Gray is defending Thomas Lane, one of the four former officers charged in the death of Floyd, an unarmed black man who died in police custody in Minneapolis, Minnesota. In a video capturing the incident, Lane can be seen holding down Floyd's legs as fellow officer Derek Chauvin uses his knee to press against Floyd's neck. During an appearance on CNN's Cuomo Prime Time, Gray singled out the public when asked why his client did not attempt to stop Floyd's death.
"All these people say why didn't my client intercede... well, if the public is there and they're so in an uproar about this, they didn't intercede either," Gray said. "And my client's down where he can't really see."
Host Chris Cuomo countered that Lane had a "fine view" of Chauvin pressing against Floyd's neck and pushed back against Gray's suggestion that members of the public should have rushed in to save Floyd by physically confronting the four armed police officers.
"Don't you think that's asking a little much of civilians and a little too little of your client?" Cuomo asked.
"Absolutely, I'm not... I just brought that up," Gray replied.
Gray, who describes himself as "not your average cup of tea" on his website, insisted that police body camera footage shows Floyd was resisting arrest before he was held down, despite other video that does appear not show him offering any obvious resistance while being arrested.
The attorney told Cuomo that Floyd was "under the influence of some kind of drug" and that Lane attempted to convince Chauvin to roll Floyd over shortly before he died. He also insisted that Lane attempted to revive Floyd using CPR, while maintaining that Floyd "didn't suffer a strangulation or asphyxiation."
Newsweek reached out to Gray's office for additional comment. This article will be updated with any response.
In the most widely circulated video of the incident, bystanders can be heard adding to Floyd's calls for help by repeatedly urging the officers to stop restraining him. All four officers ignored the pleas and Floyd continued to be pinned to the ground until he died, with Chauvin's knee held against his neck for nearly 9 minutes.
Chauvin was arrested in connection with Floyd's death on May 29, while Lane and the other two officers, J. Alexander Kueng and Tou Thao, were arrested and charged on June 3.
The death of Floyd sparked ongoing and widespread protests against police brutality and racial injustice that have taken place throughout the world. It also led to the Minneapolis City Council voting to defund and disband the Minneapolis Police Department.