Attorney Plays Will Smith Movie During Marjorie Taylor Greene Hearing
The lawyer arguing the case to have Representative Marjorie Taylor Greene disqualified from running for reelection played a brief clip from the 1996 film Independence Day during Friday's hearing, saying the congresswoman stole a line from it.
The Georgia Republican's eligibility to seek reelection is being legally challenged by a group of voters from her congressional district who want her removed from the ballot. The group says that Greene is an insurrectionist because of her alleged involvement in the U.S. Capitol riot on January 6, 2021. Their lawsuit argues that Greene should be barred from holding office on the basis of a Civil War-era provision in the Constitution that banned former Confederates from holding government positions.
Andrew Celli, an attorney representing the group of voters, showed the courtroom a portion of Independence Day, a sci-fi/action blockbuster that starred Will Smith, Bill Pullman and Jeff Goldblum. Celli said Greene lifted a line from the movie for a video she posted on social media before the Capitol riot. In her video, Greene encouraged supporters to come to Washington, D.C., on January 6 to protest the results of the 2020 presidential election.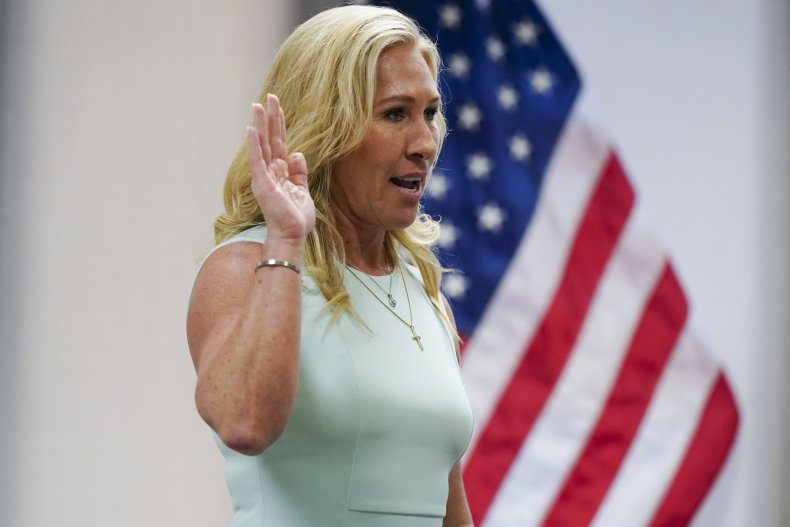 "On January 6, if you're able, there are going to be possibly a million or more people coming to Washington to be there for this historic event. It's critical for everyone to show up and show the nation who we are," Greene said in the clip that was played during the hearing.
"We aren't a people that's going to go quietly into the night. We are not a people that are going to be thrust into socialism without stopping it," the congresswoman said.
Celli then asked Greene, who was on the stand at the time, if she had seen Independence Day, which prompted laughter in the courtroom. She said she had seen the film long ago and remembered enjoying it.
"You are giving us quite the entertainment today," Greene said to Celli. "Thank you."
Celli then played a clip of a monologue delivered by Pullman from the film, in which he used a similarly worded phrase.
"We will not go quietly into the night! We will not vanish without a fight! We're going to live on! We're going to survive! Today we celebrate our Independence Day!" Pullman, playing President Thomas J. Whitmore, said in the film.
Celli then asked if Greene noticed the similarities between the phrases.
"I don't view courtrooms and politics as Hollywood, like you do. That is not the first person who said that and won't be the last," Greene said. "I don't recall getting any inspiration from this Hollywood movie like you're suggesting."
When Celli pressed further if she was trying to say that January 6 would be a new Independence Day in the United States, Greene replied, "All I was talking about is objecting and standing up for people's votes in our election."
Newsweek reached out to Greene's office for comment.
Follow Newsweek's live blog for updates on Greene's hearing.