Attorneys for David McAtee's Family Say Police Initiated Fatal Shooting in Wrongful Death Suit
The family of David McAtee, a Black businessman who was fatally shot by police in Louisville, Kentucky, in June, is suing city and state law enforcement for the restaurant owner's wrongful death. The lawsuit reportedly seeks compensatory damages for alleged misconduct and overuse of force by Louisville Metro Police Department (LMPD) and Kentucky National Guard officers, who were surveilling the area near McAtee's restaurant during protests against racism and police violence that erupted across the country in late May and early June.
McAtee's mother, Odessa Riley, and niece, Maychelle McAtee, are listed as plaintiffs in the suit, which attorneys filed Monday in Jefferson Circuit Court, according to local news outlets. The LMPD, Kentucky National Guard and two individual Louisville police officers are reportedly listed as defendants. Maychelle was working inside McAtee's barbecue establishment, YaYa's BBQ Shack, when the June 1 shooting took place. Reports reference photographs that confirm she was hit by three pepper balls that police fired into the restaurant that night.
The wrongful death suit reportedly states that officers initiated the shooting that killed McAtee, contradicting previous statements from J. Michael Brown, Kentucky Governor Andy Beshear's cabinet secretary. In June, Brown said surveillance footage suggested police returned fire after McAtee initially fired a personal weapon. Body cameras worn by officers involved in the shooting were not activated when it took place.
"Based on the information I have at this time, it appears to me that they were returning fire, which is part of the engagement and what any law enforcement officer would do," Brown said in reference to the surveillance footage.
He admitted it was unclear whether McAtee fired his gun in the direction of officers sent to disperse a crowd gathered outside past the city's temporary curfew. Steve Romines, one of the attorneys involved in the wrongful death suit, has reportedly said McAtee fired warning shots into the air from his own gun after police fired numerous pepper balls into the restaurant's kitchen.
Newsweek reached out to Romines for comments but did not receive a reply in time for publication.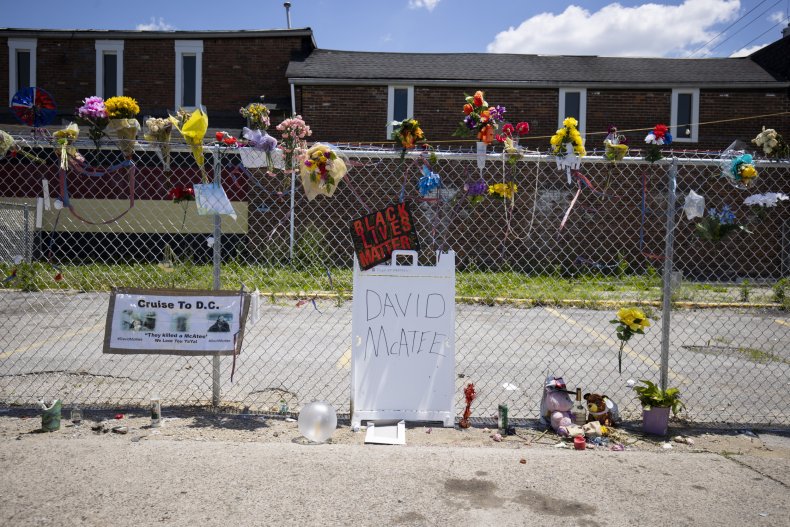 When security camera footage was released in June, interim Louisville Police Chief Robert Schroeder said that the videos did not provide a complete picture of the events that preceded McAtee's death. Schroeder was appointed to serve as the LMPD police chief after Louisville Mayor Greg Fischer fired Steve Conrad from the position, citing an "institutional failure" that led to the fatal shooting of McAtee.
The Kentucky State Police, U.S. Attorney's Office and FBI are pursuing a more in-depth inquiry into the Louisville business owner's death and circumstances surrounding it.