Aubrey Huff Celebrates International Men's Day By Knocking Traits He Deems Unmanly
Just as another day marks another random "holiday" on the calendar (National Pumpkin Spice Day or National Batman Day, anyone?), Aubrey Huff has tweeted yet another divisive message. Noting that Thursday is International Men's Day, the proudly masculine, gun-loving, anti-mask-wearing, retired baseball star marked the occasion with a message that reads: "Happy international men's day to you guys who don't like to wear dresses, drink soy lattes, or drive a Prius."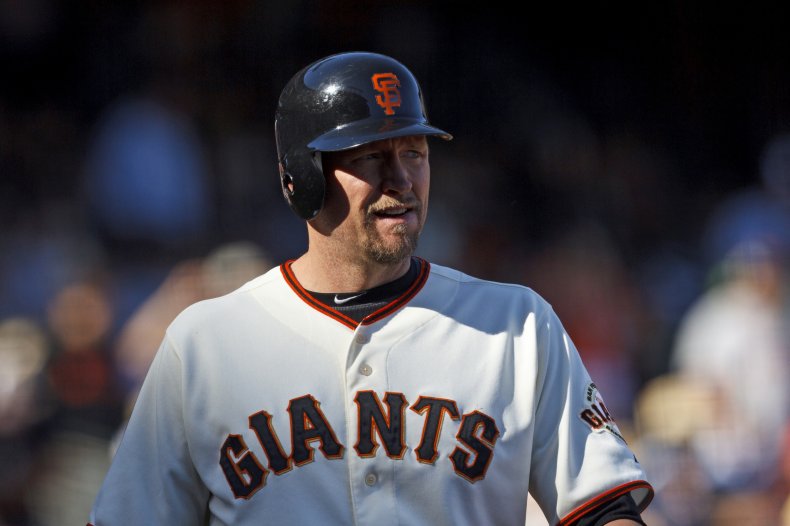 Huff is a two-time World Series champion, winning both rings while with the San Francisco Giants. During his 13-year career in the MLB, he also played for the Tampa Bay Rays, Houston Astros, Baltimore Orioles and Detroit Tigers. He officinally announced his retirement from the sport in January 2014. Since stepping away from the field, Huff has never stayed out of the spotlight, mainly due to his inflammatory statements and controversial views he regularly shares on Twitter.
Though he doesn't wish a happy International Men's Day to men who do like wearing dresses, are lactose intolerant or prefer not to contribute to greenhouse gas emissions, his message implies that he probably doesn't wish them a happy anything. Interestingly, he makes no mention of men who wear thongs, which he was known to wear during his playing career. While with the Giants in 2010, he famously wore what he called a red "rally thong," which he joked would help the team win. Perhaps he was right, as they won the World Series that year.
One of the first replies to his comment hits Huff where it probably really hurts him. It reads: "Energy efficiency is feminine says a dude named Aubrey."
He did have his share of defenders and those who agreed with his sentiments. Most of them replied with "likes" or wrote simple messages of agreements.
His detractors were more detailed in their responses. Many noted that he might be overcompensating for something, others accused him of toxic masculinity, while some simply accused him of being insecure.
A lot of comments also praised men who choose to enjoy the things Huff mocks.
This is far from the first time that Huff has angered people on Twitter. In February of this year, Huff was told by the Giants that he would not be invited to a planned 2010 World Series championship reunion. A statement from the Giants organization at that time read: "Aubrey has made multiple comments on social media that are unacceptable and run counter to the values of our organization. While we appreciate the many contributions that Aubrey made to the 2010 championship season, we stand by our decision."
This did little to deter Huff from using the social media outlet. Following the election, he's become increasingly more active with posts. Recently, he suggested that President Donald Trump had been denied a win in California, despite all the mounting evidence that no voter fraud was found in that state or any other. He wrote at the time: "I'm telling you if legal votes were counted, and illegal votes tossed Donald Trump wins California."
Along with frequent posts about politics, Huff also takes issue with the response to the COVID-19 pandemic, which he feels is extremely exaggerated. He's also stated, often in very colorful language, how wearing masks infringes upon individual liberty, despite infectious disease experts declaring masks prevent the spread of the virus.
Tomorrow is National Absurdity Day, a day meant for people to showcase their wackiest impulses. NationalToday.com offers some suggestions for celebrating the day: "Dye your eyebrows pink, juggle eggs in the city park or lead a meeting while standing on your hands." Check Twitter to see if Huff chooses to participate or comment on the occasion.