Former Baseball Star Aubrey Huff Calls California Governor Newsom 'Tyrannical' Over Curfew Speculation
Aubrey Huff lives in Solana Beach, California--a liberal city in a notoriously liberal state. But the former baseball star describes himself in his Twitter bio as "[p]ro God, America, gun, whiskey, and Toxic Masculinity." He's also a vocal supporter of President Donald Trump, and thus no fan of liberal politicians like Governor Gavin Newsom of the state he currently calls home. It comes as little surprise then that the former Silver Slugger Award winner was left seething about the news that Newsom is considering a statewide curfew if the coronavirus infection rates don't subside.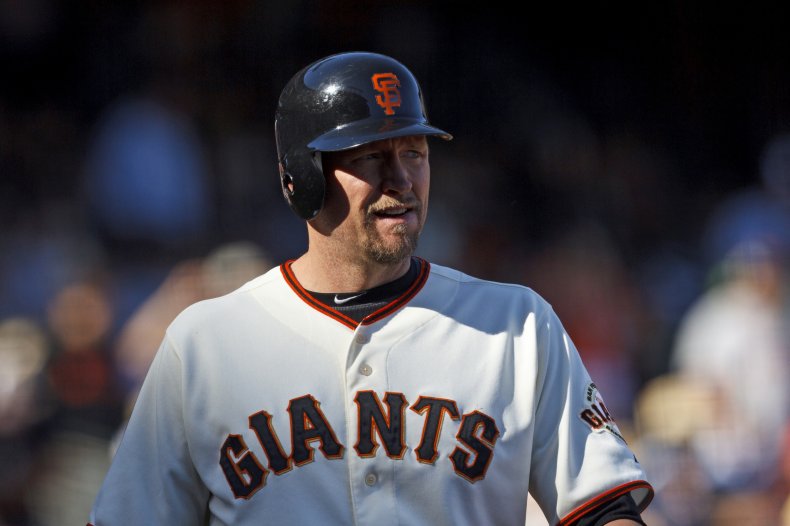 Huff wrote on Twitter today that Newsom "attends huge birthday parties...but is about to lockdown California again with an added bonus of a curfew. I'm so over this tyrannical d***head!"
During a press conference today, Newsom noted daily COVID-19 cases in California have doubled in the past 10 days. He said the state was hitting an "emergency brake" and moving 28 counties back to the most restrictive tier of the state's governing business operations. This means that now 41 of the state's 58 counties are in the restrictive "purple" tier--up from 13 counties--which severely restricts capacity at retail establishments, closes fitness centers, and limits restaurants to socially distanced outdoor-only service. These 41 counties represent 94 percent of the state's population.
He also discussed a statewide curfew as an option. He said, "All of that is being assessed...We have a lot of questions about what that looks like, what that doesn't look like, who does it impact, who doesn't it impact, what does a real curfew mean in terms of certain kinds of industry and business activities. That's what we're referring to in this space."
Watch his full press conference here:
Huff has used Twitter to espouse conservative views before, and he's especially critical about the response to COVID-19, which he feels is extremely exaggerated. He's also stated, often in very colorful language, how wearing masks infringes upon individual liberty, despite infectious disease experts declaring masks prevents the spread of the virus.
Huff played in the MLB for 13 seasons, winning two World Series rings while with the San Francisco Giants. He also played for the Tampa Bay Rays, Houston Astros, Baltimore Orioles, and Detroit Tigers.
In February of this year, Huff was told by the San Francisco Giants that he would not be invited to a planned 2010 World Series championship reunion. A statement from the Giants organization at that time read: "Aubrey has made multiple comments on social media that are unacceptable and run counter to the values of our organization. While we appreciate the many contributions that Aubrey made to the 2010 championship season, we stand by our decision."
Huff, though, singled out his political beliefs for the decision, claiming that when he was told about the Giants' decision, he was informed "that the board didn't approve of my Twitter posts and my political support of Donald Trump."
Just last week, Huff suggested Trump had been denied a win in California, despite all the mounting evidence that no evidence of voter fraud has been found.
"I'm telling you if legal votes were counted, and illegal votes tossed Donald Trump wins California," he wrote on Twitter, without providing any evidence to his claim.
In a tweet last night, he said he had considered he might run for Governor of California in 2022, but had changed his mind, because he was "thinking a 2024 Presidential run is in order after Donald Trump leaves office."