Former MLB player Aubrey Huff criticized teams that supported the league's decision to move its All-Star Game over the recently passed Georgia voting bill, saying that they are just "following the narrative."
During a recent interview with the Daily Caller, Huff, the two-time World Series champion, was asked about cancel culture and the MLB's All-Star Game decision.
"I think we cancel these massive liberal cities like the [San Francisco] Giants. The Dodgers. These California teams. I saw the Dodgers manager, Dave Roberts, who I love.… He's always been super sweet to me," Huff said during the interview. "He came out and supported leaving Georgia. These guys are just supporting it without really doing the work to look at what's going on. They're just following the narrative."
Huff's comments come shortly after the MLB announced its decision to move the All-Star Game out of Georgia in response to the state passing a new voting bill that was criticized by many.
"Major League Baseball fundamentally supports voting rights for all Americans and opposes restrictions to the ballot box," MLB Commissioner Rob Manfred said in a statement. "In 2020, MLB became the first professional sports league to join the non-partisan Civic Alliance to help build a future in which everyone participates in shaping the United States."
As Huff noted during the interview with the Daily Caller, the decision to move the All-Star Game was supported by many, including Roberts.
When asked about the MLB's decision to move the All-Star Game, Roberts told reporters, "I support it. Obviously, I'm not completely versed on everything, but I do understand—and my takeaway from the bill—was essentially to suppress voting for people of color."
"With that, that's something I fundamentally, intrinsically disagree with. For the commissioner to kind of do his due diligence in baseball, outside of baseball, with players, front office, and ultimately make a decision to remove the All-Star Game and Draft out of the state of Georgia, I support," Roberts added.
In addition to Roberts, several other MLB managers have expressed support for the move, including Boston Red Sox manager Alex Cora, Chicago Cubs manager David Ross and Cleveland Indians manager Terry Francona.
On the other hand, the Atlanta Braves issued a statement expressing opposition to the All-Star Game move, stating that they were "deeply disappointed."
"This was neither our decision, nor our recommendation and we are saddened that fans will not be able to see this event in our city. The Braves organization will continue to stress the importance of equal voting opportunities and we had hoped our city could use this event as a platform to enhance the discussion. Our city has always been known as a uniter in divided times and we will miss the opportunity to address issues that are important to our community," the Braves wrote in a statement posted to Twitter.
Former President Donald Trump also criticized the decision and called for a boycott of the MLB.
"Baseball is already losing tremendous numbers of fans, and now they leave Atlanta with their All-Star Game because they are afraid of the Radical Left Democrats who do not want voter I.D., which is desperately needed, to have anything to do with our elections," Trump said in a statement. "Boycott baseball and all of the woke companies that are interfering with Free and Fair Elections."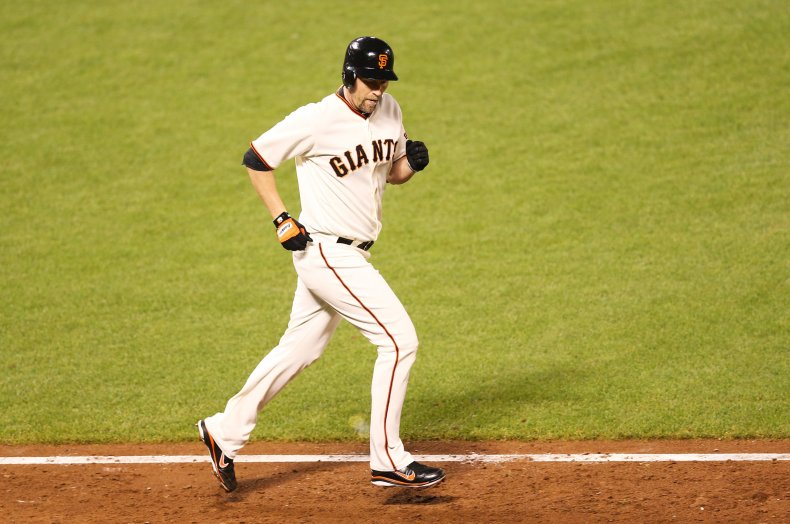 During the interview, Huff also praised the decision by some teams, such as the Texas Rangers, to open their games for full capacity, while others remain limited due to COVID-19 restrictions.
"You see a team like the Rangers who just packed out their entire stadium. You almost don't want to see it because I want to see Major League Baseball take a hit for this. But I want to see teams like the Rangers, the Kansas City Royals…Southern conservative value teams really thrive you know. Open their stadiums, no masks, watch all this COVID nonsense go down in their area and be the model," Huff said. "If we can open up at least the conservative states and watch them succeed. Watch states like Florida and Texas succeed. How are you going to argue against that?"
Newsweek reached out to Huff for further comment but did not receive a response in time for publication.