Aubrey Huff Says He Would Rather Die From Coronavirus Than Wear a Mask
Former MLB star Aubrey Huff has criticized lockdown measures implemented because of the COVID-19 outbreak, claiming he would "rather die of coronavirus than wear a mask and live in fear."
Earlier this week, the two-time World Series champion tweeted he would no longer wear a mask inside any businesses, saying it was "unconstitutional to enforce."
On Tuesday, he doubled down on the claim, suggesting that while the "liberal left" had criticized him and "guilt-shamed me for threatening the lives of millions of innocent people" most "well-adjusted, sane people" agreed with his stance.
"If you want to wear a mask and live in fear for the rest of your lives, that's certainly your prerogative," Huff said in a video he posted on his Twitter account.
"But the vast majority of well-adjusted, sane, common sense people that aren't sheep and can reason for themselves agree with me."
The 43-year-old, who spent 13 seasons in the MLB, then suggested the lockdown measures implemented worldwide were exaggerated and that people at risk should look after themselves.
"I understand that coronavirus is real," he continued. "If you have pre-existing conditions, or you're an old person or—and this is going to sound insensitive, but someone has to say it—you're morbidly obese, then stay the f**k home. Just because that is your plight in life, doesn't mean the whole world has to shut down."
The 2008 Silver Slugger Award winner then elaborated on his decision to stop wearing a mask.
"This is not a selfish thing for me, this is a thing to try and free America so they [Americans] can freely breathe," he added.
"It's not healthy to breathe in your own CO2 all the time and it seems like everyone is a coronavirus expert. If I God forbid get the coronavirus, here's what I do: I go home, I get well and I get back and live my life. I would rather die from coronavirus than live the rest of my life in fear and wear a mask."
Huff is not new to controversial comments. In November last year, he posted a picture on Twitter of him holding a shooting target with holes, suggesting he was teaching his boys how to use a gun in the "unlikely event" Bernie Sanders beat Donald Trump in the presidential elections.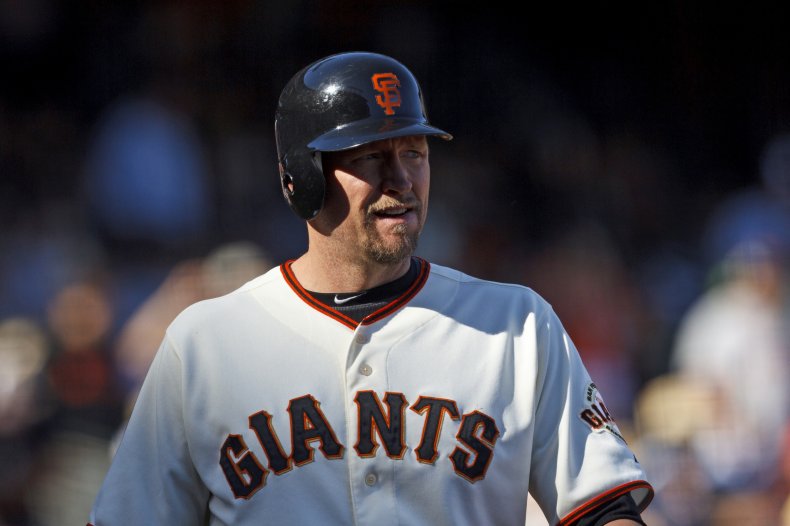 In January, he posted a tweet suggesting kidnapping Iranian women.
"Let's get a flight over and kidnap about 10 each," he wrote. "We can bring them back here as they fan us and feed us grapes, amongst other things."
Huff subsequently deleted the tweet, before claiming it was meant as a joke to illustrate the difficult conditions he perceived Iranian women to be living under.
A month later, the Giants confirmed they would not invite Huff to a reunion of their 2010 World Series-winning team, which is due in August, due to offensive comments he made on social media.
While the former MLB star may be fed up with lockdown measures, the spread of coronavirus in the U.S. continues. On Tuesday, officials in Arizona, Florida and Texas all reported over 2,000 new cases, their largest one-day increases yet.
The graphic below, provided by Statista, illustrates that by Wednesday morning almost 2.14 million cases of coronavirus have been reported in the U.S., by far the highest tally of any country in the world.
Almost 117,000 deaths have been recorded in the U.S. and over 583,000 people have recovered, according to Johns Hopkins University, which has been tracking the outbreak using combined data sources.
More than 443,600 people have died globally since the outbreak of coronavirus was first identified in Wuhan city, in China's central Hubei province, late last year. There have been over 8.1 million confirmed cases globally.