Aubrey O'Day, the singer who allegedly had an affair with Donald Trump Jr., made a number of claims about the Trump family, accusing Donald Jr. of hating his father and Baron being aggressive to staff on a private plane.
The reality television personality also claims that Ivanka, who is married to Jared Kushner, is a lesbian and that Eric had sex with a former Miss Universe winner while he was dating his now-wife, Lara.
Thursday night's third and final presidential debate saw Donald Trump and Joe Biden go head to head one last time as election day looms.
Unsurprisingly, those watching came to Twitter in their droves to comment on the action, with Hollywood not holding back on their support or criticism for the candidates.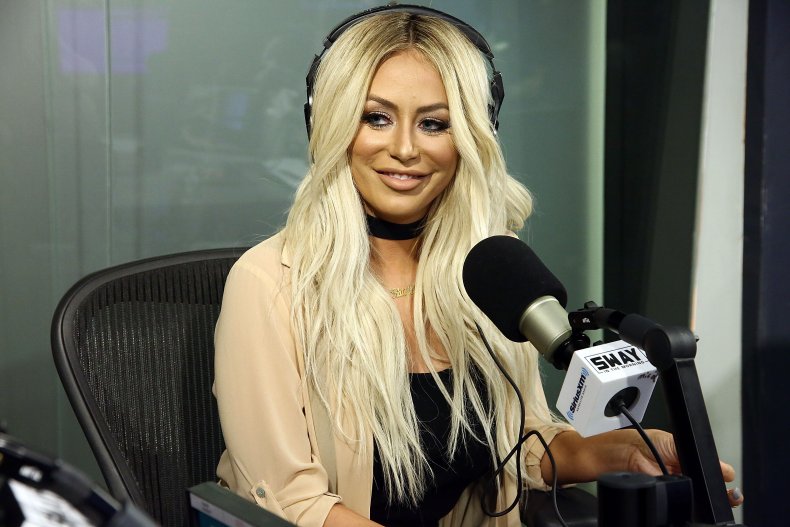 One such celebrity was singer Danity Kane member O'Day, who did not hold back in dishing on the family she allegedly has connections to.
In a now-deleted tweet, the 36-year-old wrote: "since trump has now lowered this debate to trashing family.
-don jr HATES his father.
-ivanka is a lesbian on the low.
-eric f***** miss universe on the apprentice board room table while with his now-wife. #Debates2020."
In a later tweet, which has also since been deleted, O'Day alleges she has texts from Donald Jr. complaining about the youngest sibling, Baron.
"and while we are at it.. I have texts of don jr telling me what a little s*** a****** barron is." O'Day said. "That they were on the private jet and barron didn't like his food so he threw the plate across the plane at the attendant. NONE of these people are INNOCENT of being a******* & liars!"
Another deleted tweet read: "We need to stop discussing kids.. because Ivanka is a lesbian, yet doesn't support women's rights in this administration that she RUNS on the low."
The tweets were shared far and wide on Twitter with social media users relishing in the drama.
Newsweek has contacted the Trump campaign for a response.
Read more of O'Day's tweets below.
O'Day alleges she had an affair with Donald Jr. after her 2012 appearance on The Apprentice, on which she was a contestant and has publicly called him her "soulmate."
The alleged affair apparently took place while Don Jr. was married to his ex-wife, Vanessa.
"We both thought we were each other's soulmates. It's something we spoke about often," O'Day told People in 2019. "A soulmate is someone you spend a period of time, moment, of life with that you're connected as one. I had that with Don."
She added: "We were passionate and connected and loyal and honest. I hope to find that again someday."