Audience Reaction to Ariana DeBose 'Humiliating' BAFTA's Opening Goes Viral
Ariana DeBose sang her heart out at the 2023 British Academy Film Awards (BAFTA) Awards in London, but comments on social media expressed the view that some of the stars in attendance appeared to be less than impressed with her efforts.
The BAFTAs were held in London on Sunday night, with German movie All Quiet on the Western Front dominating. DeBose, last year's winner of Best Actress in a Supporting Role, returned to perform a song, which included a rapping tribute to this year's female nominees.
The moment went viral online, but seemingly for the wrong reasons, as people pointed out the expressions on some guests' faces as they were name-checked in the song.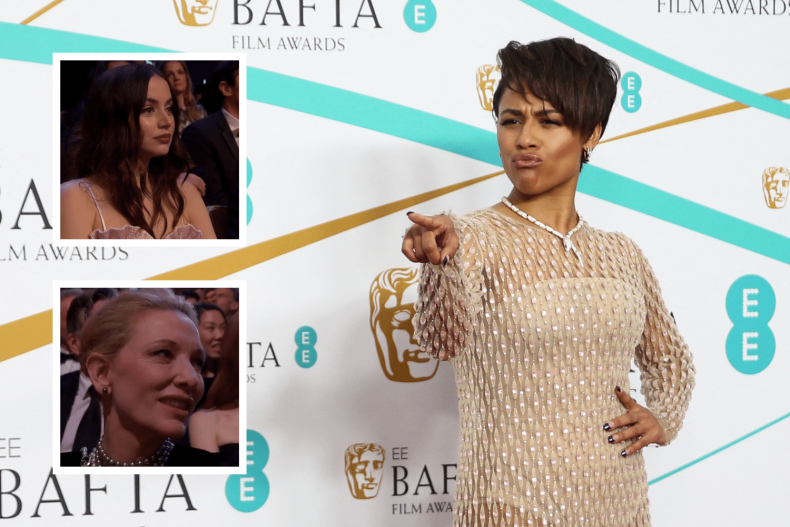 "Oh they not feeling it one bit," one user wrote on Twitter about the audience, while another added that it was "painful to watch."
Less than ten minutes into the show, DeBose started her musical performance after being introduced by host Richard E. Grant. It started out as a reworking of the Eurythmics song "Sisters Are Doin' It For Themselves" before it broke down into a spoken word rap.
She ran through the names of the women in the Best Actress in a Leading Role and Best Actress in a Supporting Role categories. Lines included, "Hong Chau, Dolly de, Kerry and Carey with the C," and "Angela Bassett did the thing, Viola Davis my Woman King, Blanchett Cate you're a genius, Jamie Lee you are all of us."
While DeBose was singing, cameras cut to the women being mentioned, and while some, like Emma Thompson and Jamie Lee Curtis were happily bopping along, many others remained stone faced.
"The reaction shots in Ariana DeBose BAFTA performance are sending me," wrote @nikowl on Twitter, sharing screenshots of some of those mentioned. Actor and comedian Evan Ross Katz did the same, sharing stills of Blanchett, Condon, Ana de Armas and Dolly de Leon.
The clip of DeBose singing also went viral on TikTok, attracting similar comments.
"They are smiling through the pain" one TikTok user commented.
However, TikTok user @theatreislife stuck up for the Oscar-winner.
"Look, I hope we're not hating on Ariana DeBose for this because like, this performance is awkward, but she tried to sell it. She did the best to her abilities with the material she was given. But whoever wrote the lyrics to this song? Jail time," the TikToker said in a video which included the performance within the frame.
The nominees in attendance have been seen at several ceremonys recently as the awards season continues. Directors of Everything Everywhere All At Once, Daniel Kwan and Daniel Scheinert, went viral recently for leading a theater-style warmup at the Directors Guild of America Awards last week. While director Paris Carclay tweeted that it was "a first and a delight" others were less impressed by the move.
"Between this and the Ariana DeBose song it was a big day for people absolutely humiliating themselves," Twitter user @zack69k said.
Awards season is close to wrapping up with the Screen Actors Guild Award coming up on February 26 and the 2023 Academy Awards on Sunday March 12.