Audi's Wild Sphere Concepts Hide Plenty of Production-Ready Tech
Audi completed its set of four "sphere" concepts this week, debuting a four-door crossover called Activesphere. This latest styling exercise is as wild as the rest with a rear glass section that slides forward to expose an open cargo bed complete with a tailgate. In closed form it looks like a lengthened version some of the current coupe-shaped crossovers.
Audi's previous three electric concepts push the boundaries of elegance and autonomy. It started with Skysphere, a long and wheelbase-morphing convertible in August 2021. Audi followed that up with the Grandsphere concept the following month. The electric Grandsphere was a 17-foot, four-door grand tourer with Level 4 autonomous driving. Audi called it a private jet for the road.
And then in April of 2022 it showed off the Urbansphere, a tiny, Chinese-market van made for cities with lots of traffic. Audi said a production version of the vehicle is likely due out in the next few years in the Asian market.
The Activesphere too, looks closer to sellable in the current market with its off-road tires and active lifestyle features. But more importantly are what these four concepts mean to the brand with the four rings and what features could be brought to market in the future.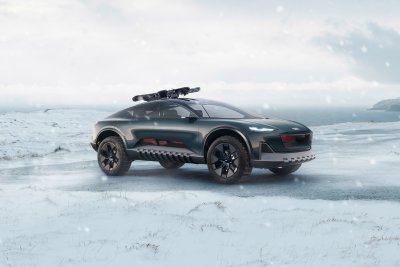 "So just think back to the Audi Grandsphere and its interior. It's wonderfully clean and tidy. No dials, no batteries or switches, but very clean interior design," Josef Schlossmacher, public relations manager at Audi, Newsweek. "On this point, the Audi activesphere goes one step further into the future. The key words are called mixed reality and augmented reality. In other words, Audi Dimensions."
Audi Dimensions combines the digital world with the physical by using a high-tech headset to put information in the occupant's field of view. This means driving status and navigation, and virtual control panels and dials can be displayed. To the unaided eye everything remains hidden. Audi says buyers can even take the glasses out with them, showing folks on a golf course with the terrain and distance to pin displayed on the screen.
"Now we can decouple that information relocate it wherever we want. You have interactions at your fingertips. So the benefit with the Dimensions is that we can deliver the right information in the right place at the right time," Sid Odedra, head of Audi user experience design said in a video clip.
"And the beauty of augmented reality what we're doing here is its multiuser experience. So other users within the system can view the same content at the same time, or they can choose to have their own personal space to consume whatever media they choose."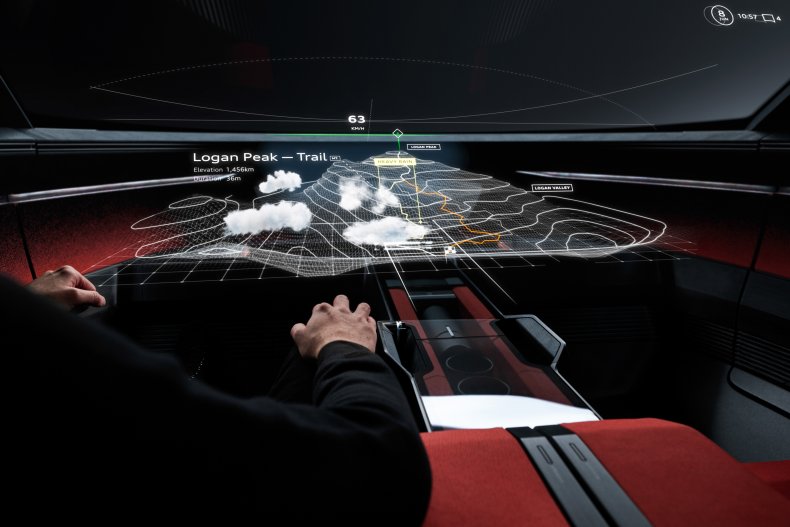 Though that feature seems far in the future, the Activesphere does carry the hallmarks of vehicles on sale today. Its ride height can be adjusted 1.5 inches up or down for various terrain. Like an adventure vehicle it has decent approach and departure angles of 18.9 and 28.1 degrees respectively. That's the angle of incline the Activesphere can climb.
"The series of Audi sphere concepts are about Audi redefining its brand in a new space. It has always prized technology as a means to an end, but the technologies being deployed in vehicles are changing. These concepts explore how a similar platform base, and with the presumption of L4 autonomy, leads to an interior which can be reimagined for different use cases," Stephanie Brinley, assistant director of research and analysis at S&P Global Mobility told Newsweek.
The Sportback bodystyle too, is a reminder of its coupe-like A5 and A7 sedans. In the concept, Audi calls it "active Sportback" in contrast to Allroad, its name for station wagons. And all the technology for the sliding rear glass is available now.
"The last concept brings in more augmented reality technology, also showing that the concepts can evolve to integrate further new technology, as the use of augmented reality has become an increasing part of the conversation in the past year, especially with basic augmented reality solutions being deployed for navigation in few vehicles today," Brinley said.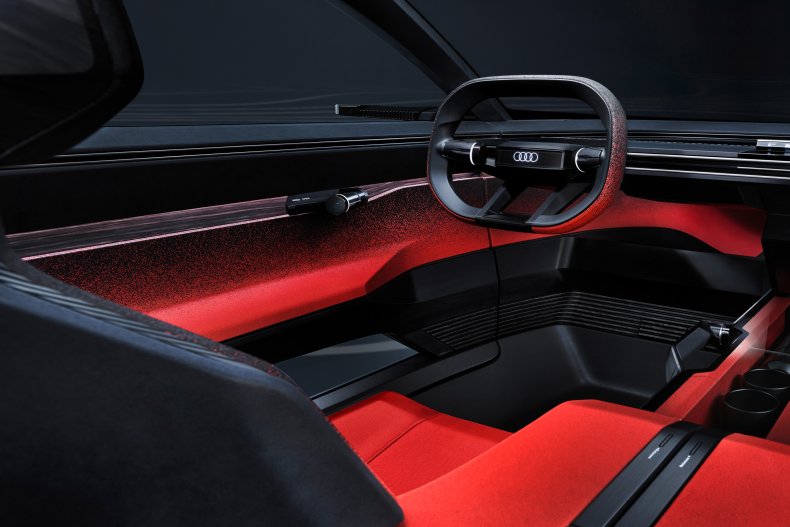 But what Audi is really getting across with these four sphere concepts is that kilowatts, miles per hour and lateral acceleration are not the most important things. The interior cabin, the living space, will cater to owners traveling needs. Like the Grandsphere, the steering wheel in the Activesphere only comes out when requested. The production, too, needs to be sustainable.
"We are convinced that as we are following a holistic approach, this mobility will be both exciting and fascinating on the one hand, and at the same time sustainable with a positive impact for society on the other. We achieved a lot already. Every single Audi that is fully electric has been produced CO2 neutral on balance. And by 2025 every Audi plant will operate through to neutral on balance," Henrik Wenders, Audi brand manager told Newsweek.
"And we're also growing into circularity with closed loop systems for the main components needed water, glass, plastic and aluminum. So, what's this future of premium mobility going to be like? Audi Skysphere, Grandsphere, Urbansphere. The word sphere in our concept cars emphasizes that the interior will become much more important. It will turn into a personal experience space where passengers can enjoy new services," he said.
The Activeshphere concept has a 100-kilowatt hour battery for a range of about 372 miles and an 800-volt electrical system for the fast charging. It delivers 435 horsepower and 530 pound-feet of torque. As with most of its current lineup, Audi's Quattro all-wheel drive system is standard.
Brinley says that these concepts appeal to Audi's different buyer types, "the driver who sees a grand tourer as their luxury space, or a convertible, or essentially a luxury people mover, or with the Activesphere, the vehicle able to support a more active lifestyle." And that the company is experimenting with the idea of the car as a companion to the interior vehicle spaces that people want today. The bed space on the Activesphere even hints at whether a pickup bed would be acceptable.
"We already have one motto that says, 'never say never.' But by the same token, I can say that the Audi Activesphere is now still a pure concept vehicle with no decision made regarding production. I'm sure there will be consultations and discussions once the car has been showcased," said Schlossmacher.
"At the moment there is no other project that comes with such a pickup body. But as I said at the start, never say never. We can imagine virtually anything. And if a pickup looks just as good as the Audi Activesphere, I believe there would be plenty of fans around the world and within the Audi Corporation."