IPhone 8 Augmented Reality Tool Kit: Novel Entertainment That Could Eventually Be Used to Manipulate Users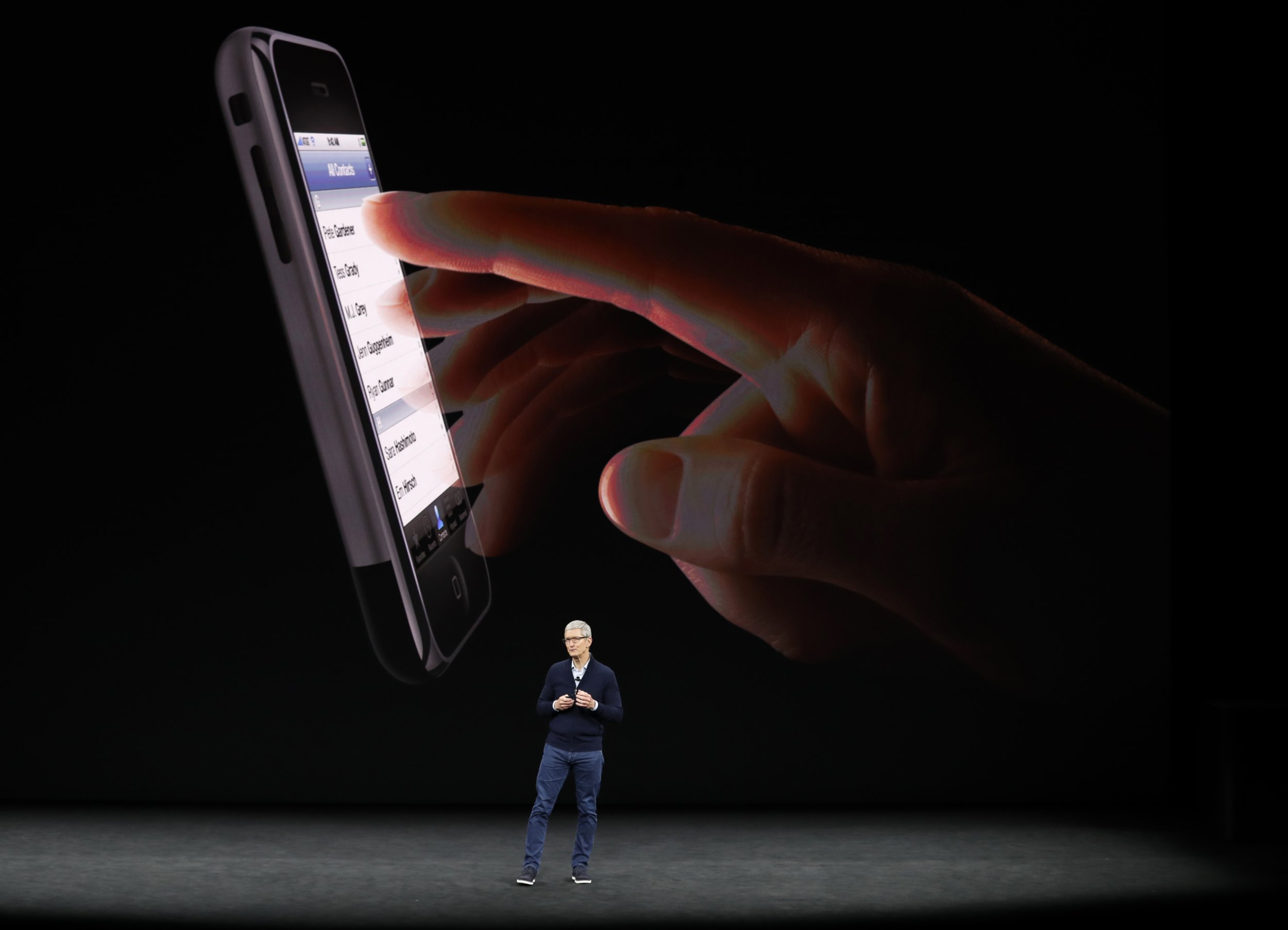 Playing around with a seemingly endless supply of apps and cool features on your iPhone is a great way to ignore reality. So great, in fact, that our attachment to smartphones is actually ruining some of our most significant and intimate relationships.
But Apple is always finding a new ways to profit off our tech-induced escapist tendencies. Take, for example, augmented reality (AR). The souped-up, pricey iPhone 8 comes equipped with a new set of tools to help users experience the fantasy world in everyday life. On Tuesday, Apple dazzled consumers and tech junkies with the iPhone 8's ability to drop imaginary objects into photos or videos, whether that's a colorful cartoon character, a fancy new car or a pair of Air Jordan sneakers. But some fear the new technology may be going too far and will be used to manipulate users' actual perception of reality itself.
The set of AR apps, a component of the newest version of the Apple operating system—iOS 11—allows users to place uncanny digital elements onto real-life photos and videos taken with the newest model of iPhones and iPads. ARKit, as it's known, "uses Visual Inertial Odometry (VIO) to accurately track the world around it," according to the Apple website.
Apple CEO Tim Cook has already told the media that he believes "augmented reality will be bigger than virtual reality," according to The Verge.
"VIO fuses camera-sensor data with CoreMotion data. These two inputs allow the device to sense how it moves within a room with a high degree of accuracy, and without any additional calibration," Apple explains on its website. "ARKit can detect horizontal planes like tables and floors, and can track and place objects on smaller feature points as well. ARKit also makes use of the camera sensor to estimate the total amount of light available in a scene and applies the correct amount of lighting to virtual objects."
The new feature is already becoming a phenomenon on social media. Twitter and Instagram are abuzz with altered photos and videos, many labeled with the hashtag #ARKit.
More rudimentary versions of AR technology are already a feature of many smartphone apps, most famously SnapChat. The social medial site has a bevy of Geofilters that make it possible to create a cool backdrop for a drab selfie, or simply transform the features of a face to resemble an anime character, zombie or bee. AR is also responsible for this scary image of a hair swap between North Korea prime minister Kim-Jung Un and President Trump. And, of course, there's the phenomenon of Pokemon Go.
Some of the simplest versions of AR are already part of e-commerce. Home-ware and furniture company Wayfair lets users see how that overstuffed armchair would look in their living room before making a purchase. According to BuzzFeed, Ikea is set to release a similar but more sophisticated new app known as Ikea Places, which makes the concept even more realistic by allowing users to try out "true to scale" versions of the furniture in their home.
And the fashionable hipster set love sites such as Warby Parker, which allows customers to "try on" a pair of glasses without ever seeing them in real life.
The novel technology certainly is fun but some experts say it could be used for endeavors more sinister than impressing or scaring your Luddite mother. Two experts suggest that AR and other types of virtual reality could become a tool of torture and manipulation, according to a story published in Polygon in April. It's not the actual image or video that would have the capacity to put a person on edge. Rather, the technology could be used to manipulate the brain into believing the danger is real. According to Polygon, "The lack of control, or agency, over that threat, is what would substantially get under your skin."
For now, AR is just a great time suck and a lot of fun.