Nine August Albums We Can't Wait to Listen To, From Rae Sremmurd to Dinosaur Jr.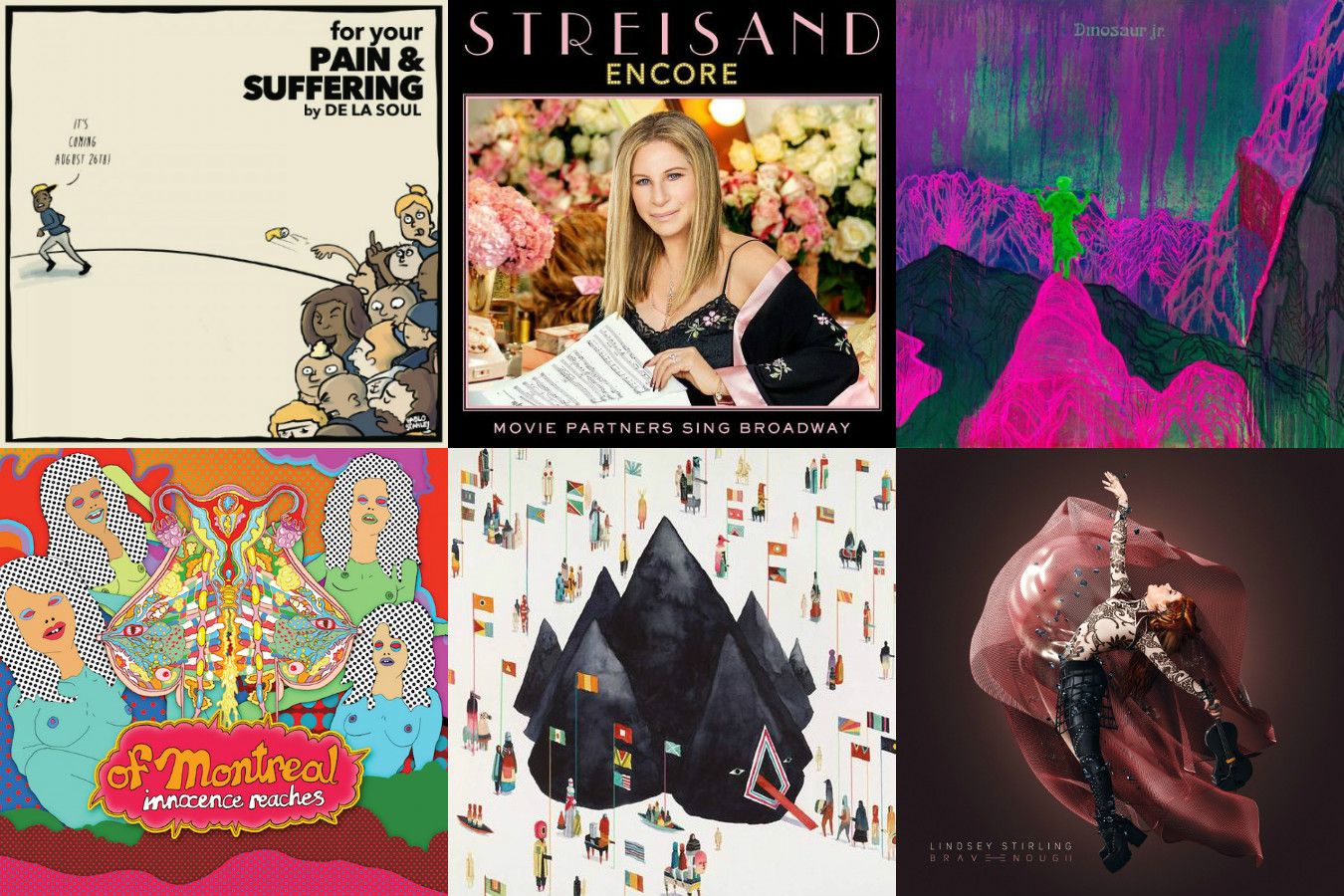 It's almost August, and though the window to register a song of the summer may have closed, the AC is still on. Plenty of artists have new releases due out in the next 30 days, from veteran acts like Dinosaur Jr., De La Soul and Barbra Streisand to upstarts like Rae Sremmurd, Mild High Club and Lindsey Stirling. Here are the nine we're most excited to drop the needle on.
Dinosaur Jr., Give a Glimpse of What Yer Not
Release date: August 5
Label: Jagjaguwar
Is there a more Dinosaur Jr.-like move than naming your record Give a Glimpse of What Yer Not? Well, yeah: You could release a single-track super cut of every guitar solo on the album, a power (chord) move that proves J Mascis is still the boss of the six-string wail. Judging from the first single, "Tiny," which doesn't sound small at all, Give a Glimpse contains more of the fuzzy guitar heroics and slacker vocals this band mastered way back in the heyday of the Reagan administration. More like Dinosaur Sr.
Of Montreal, Innocence Reaches
Release date: August 12
Label: Polyvinyl
The prolific Of Montreal, with a rotating cast of members around the constant Kevin Barnes, has released a new album every year or two since it formed in 1996. The band follows up its 2015 album, Aureate Gloom, 17 months later with Innocence Reaches, which its label describes as Barnes's most lighthearted work in years and part of an "autobiographical streak" for Of Montreal. This 14th album also draws from more recent musical influences. "Forever I've been detached from current music," Barnes said. "I got into this bubble of only being in some other time period. I came up picking apart the Beach Boys, the Beatles and symphonic pieces. But last year, I was hearing Jack Ü, Chairlift, Arca and others.... It was an extra layer to geek out on." The first two tracks released hint at what's to come—"My Fair Lady," which starts off subdued and steady, feels like a small window into Barnes's mind following his recent divorce, while the brighter-sounding "It's Different for Girls" looks beyond the personal and reflects on gender and society. "It's different for girls/They're not expected to fight/They're expected to sit/And take some lesser man's shit/No, it don't feel right," Barnes sings. "For every one psycho chick/There's 10,000 hateful pricks/It's different, it's different, it's dif-fer-ent/Yeah, it's different for girls."
Rae Sremmurd, SremmLife 2
Release date: August 12
Label: Interscope
Many would have been forgiven for thinking that after the insanely catchy and rather silly "No Flex Zone," Rae Sremmurd would have been a flash in the pan. But last year's SremmLife had surprising depth, slick production from Mike WiLL and an arsenal of famous friends, like Nicki Minaj and Big Sean, on deck. Now the Atlanta brothers have returned, and from the looks of the single "By Chance," they're back to their old ways (which consists of being a little dirty and winkingly decadent). If you're looking for a solid summer nights anthem, it might just be found on SremmLife 2.
Young the Giant, Home of the Strange
Release date: August 12
Label: Fueled by Ramen/Atlantic
Once upon a time, Sameer Gadhia was studying human biology at Stanford University, where he was a member of the Talisman a cappella group and Sigma Nu chapter on campus. But since high school he had also been a member of rock band the Jakes, which adopted the name Young the Giant after frontman Gadhia and his fellow band members had all put their undergraduate careers on hold to focus on their musical ones. Home of the Strange is the band's third studio album and features tracks like the already released "Amerika," "Something to Believe In," "Titus Was Born" and "Jungle Youth." The first third of the album promises some variety, from the existential, Franz Kafka-inspired "Amerika" to the louder, harsher "Jungle Youth" to "Titus Was Born," which starts off sounding like a cousin to a Sufjan Stevens song and adds more layers of the band to fill itself out just over halfway through.
Crystal Castles, AMNESTY (I)
Release date: August 19
Label: Casablanca Records
Electronic duo Crystal Castles hasn't released an album since 2012. A lot can happen in four years. For the group behind hits like "Crimewave," from their 2006 self-titled debut; "Not in Love," from 2010's (II); and "Affection," from 2012's (III), it was the departure of frontwoman Alice Glass, whose parting with co-founder Ethan Kath wasn't exactly amicable. Replacing her on AMNESTY (I) is Edith Frances, who has been performing live with Kath since late 2015 after they released their first single together, "Frail," that April. Though some fans may be dismayed by the frontwoman swap, there's still plenty to love on Crystal Castles's fourth full-length release, including the ethereal, thumping "Frail" and frenetic club banger "Concrete" (above).
Lindsey Stirling, Brave Enough
Release date: August 19
Label: Lindseystomp Records
This classically trained violinist composes and performs high-energy tracks that incorporate modern classical with dubstep, electronica, dance, hip-hop and other genres. Stirling is a staple of the lyric-less Pandora stations that are ideal for work, especially for those whose travails involve reading and writing. Her music comes up alongside 2Cellos, Vitamin String Quartet and other artists and groups that have brought strings back into contemporary music, with original tracks and new arrangements of popular songs—like the 2Cellos version of Michael Jackson's "Smooth Criminal" and Stirling's cover of Rihanna's "We Found Love," which has racked up more than 37 million YouTube views. "The Arena," from Stirling's third studio album, due out this summer, has surpassed 6 million views since it was posted to YouTube on June 28. In the video, Stirling, who often incorporates movement into her performances, alternates dancing with playing her instrument, partnering with Dancing With the Stars star Derek Hough. If "The Arena" is any indication of what the album will bring, fans can expect the same vigorous playing and powerful, seamless melding of the violin with electronic elements. Brave Enough features Christina Perri on the title track, as well as Rivers Cuomo, ZZ Ward, Raja Kumari and Andrew McMahon in the Wilderness, in a song from Disney's upcoming Pete's Dragon. For those interested in Stirling as well as her music, The Only Pirate at the Party, an autobiography she co-wrote with her sister, was published in January.
Barbra Streisand, Encore: Movie Partners Sing Broadway
Release date: August 26
Label: Columbia
As this album's title implies, the legendary Barbra Streisand is singing duets (and at least one trio) from stage musicals with some of the biggest names in Hollywood. She tackles "At the Ballet" from A Chorus Line, with Anne Hathaway and Daisy Ridley; "The Best Thing That Ever Has Happened" from Road Show, with Alec Baldwin; "Anything You Can Do" from Annie Get Your Gun, with Melissa McCarthy; "Take Me to the World" from Evening Primrose, with Antonio Banderas; "I'll Be Seeing You"/"I've Grown Accustomed to Your Face" from Right This Way/My Fair Lady, with Chris Pine; "Climb Ev'ry Mountain" from The Sound of Music, with Jamie Foxx; and "Pure Imagination" from Charlie and the Chocolate Factory (coming to Broadway in 2017), with Seth MacFarlane. Streisand is no stranger to Broadway, having performed in I Can Get It for You Wholesale and starring in Funny Girl early in her career. In the roughly five decades since her Broadway debut, she's made dozens of successful albums, including 33 top 10 and 10 No. 1 records. She released The Broadway Album in 1985 and Back to Broadway in 1993, and has turned to trusted Broadway yet again for her latest album.
Mild High Club, Skiptracing
Release date: August 26
Label: Stones Throw
Like Metallica, Dixie Chicks and the Jon Spencer Blues Explosion before them, the music of Mild High Club sounds pretty much exactly like the band's name would indicate. On Skiptracing, their follow-up to last year's Timeline, the Los Angeles five-piece wanders and ponders and dithers here and there on a lazy, drug-addled journey through the past, present and future of their hometown.
De La Soul, And the Anonymous Nobody
Release date: August 26
Label: AOI Records
De La Soul is that rare thing in hip-hop: a rap group with enough longevity to outlast momentary trends. The trio has been confounding public expectations longer than Hillary Clinton has been in the national eye; the group's ninth album, the awkwardly titled And the Anonymous Nobody, arrives at the end of August. Fan-funded by a Kickstarter campaign, the album features a veritable who's who of high-profile guests, including David Byrne, Justin Hawkins (yes, of the Darkness), Damon Albarn and Snoop Dogg, who boasts that "pain makes it better" on the funky teaser track "Pain." If you say so, Snoop.