In an interview released Tuesday, singer-songwriter August Alsina claimed he carried on an extended relationship with actor Jada Pinkett-Smith with the approval of her husband, performer Will Smith.
Alsina and Pinkett Smith have been romantically linked since Alsina made veiled references to the relationship in his 2019 song, "Nunya." In the video for the song, a text message can be seen from someone named "Koren," which is Pinkett Smith's middle name. While Alsina initially denied the rumors, he told Complex on Tuesday they were true.
Alsina said he had a conversation with Will Smith about his relationship with Pinkett-Smith and received Smith's "blessing."
"I totally gave myself to that relationship for years of my life, and I truly and really, really, deeply loved and have a ton of love for [Jada]," Alsina said. "I gave my full self to it. So much so that I can die right now, and be OK knowing that I fully gave myself to somebody."
"I'm not a troublemaker," Alsina said, explaining that he wanted to live authentically. "I don't like drama. Drama actually makes me nauseous." Alsina also referred to the Smiths as "beautiful people."
When Newsweek contacted CAA, the agency which represents the Smiths, a representative was not immediately available to comment.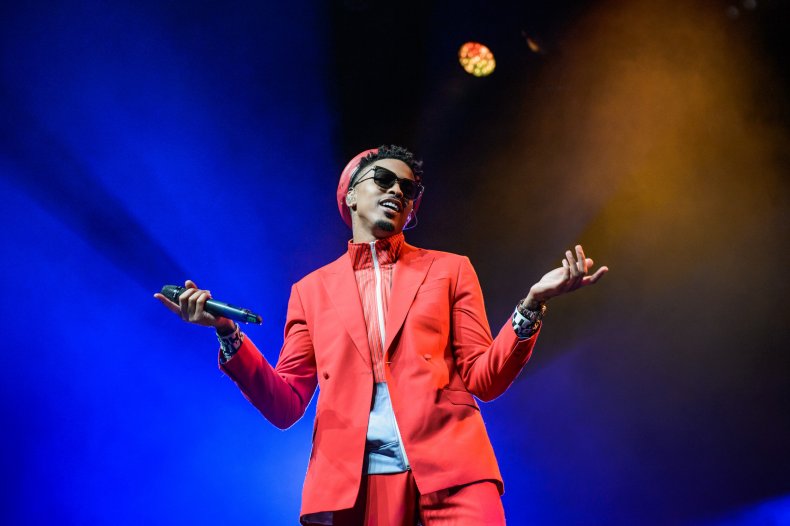 Smith and Pinkett Smith were married in 1997. Observers have questioned if the two are in an open relationship. The Smiths have neither confirmed nor denied the rumors.
In October 2018, Pinkett Smith revealed on an episode of her Facebook Watch program Red Table Talk that she and Will Smith had to redefine the basic concepts of their relationship.
"Will and I have decided to even throw away the concept of marriage," Pinkett Smith said. "It's a life partnership in the sense that we created a foundation together that we know is for this lifetime."
Smith was previously married to Sheree Zampino from 1992-1995. In June, Smith said that his divorce from Zampino was "the worst thing in my adult life. Divorce was the ultimate failure for me."
Pinkett Smith also quashed rumors that she was involved with the Church of Scientology during a 2018 interview with advocate Leah Remini. Although Pinkett Smith admitted to taking some classes at the church center, it amounted to no more than that.
"I always took the position that I'm here at the Scientology Center to learn what I want to learn," Pinkett Smith said, "and I have no interest in being a Scientologist."
Will and Jada Pinkett Smith have two children together, Willow and Jaden. Smith has a child by his first marriage named Trey. Smith's most recent film, the action sequel Bad Boys For Life, earned over $419 million dollars at the U.S. box office.