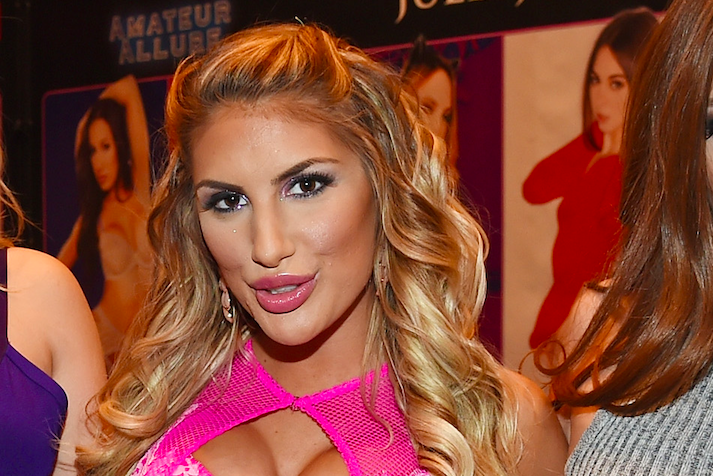 "The Last Days of August," a new Audible podcast with investigative journalist Jon Ronson, explores what really might have happened to 23-year-old porn star August Ames. The Canadian starlet died by suicide in December 2017 after she tweeted about not wanting to perform with male porn stars who also do gay porn, also known as "crossover" performers. Some claimed she was homophobic.
Her husband, Kevin Moore, proclaimed it was internet bullies who pushed Ames to her untimely death. He posted "The Truth" about Ames's death on her Twitter page six days after her death, specifically blaming cyberbullying—and people like Jessica Drake and Jaxton Wheeler—for Ames's death. And, yes, Ames was bullied the day she took her life, but there was more to it. And that's what "The Final Days of August is about." Ronson uncovers other disturbing elements that likely contributed to her suicide, taking listeners on a journey in a "Serial"-like manner, uncovering details that were widely unknown to the general public through various twists and turns.
But according to Ronson, "it's impossible to know" why Ames, whose birth name was Mercedes Grabowski, took her life. "There were many factors that led to her suicide some were terrible and some were much were human and small," he told Newsweek. "So I think it would be wrong to say that any single factor led to her suicide. Would she be alive today? That's an impossible question to answer because she was so upset what happened in Las Vegas and how that triggered and something else may have."
What happened in Las Vegas, six weeks before she died, is one of the things that Ronson explores in his gripping podcast. Ames did a scene with Russian porn star Markus Dupree, and his domineering style might have triggered her. Ames texted a friend, saying Dupree went "full on War Machine" on her. She was talking about Jon "War Machine" Koppenhaver, a professional fighter who brutally attacked his ex-girlfriend porn star Christy Mack and was sentenced to life in prison.
This is just one of the lesser-known stories that Ronson unearths, along with the abuse Ames said she endured as a child. He goes back and forth, trying to uncover every facet of Ames's story.
Ronson's careful not to paint Ames's husband as the bad guy, though some people close to Ames described him as overbearing—a bully in his own right—especially as far as Ames's brother was concerned.
Moore cooperated with Ronson while he made the podcast. They talked regularly. Ronson disclosed everything he was going to talk about in the podcast to Moore but he wasn't interested in listening to how it turned out. "He told us that he didn't want to hear it. I've been in touch with him pretty consistently he knows exactly what's coming," Ronson explained. "We've been upfront with him there's nothing he won't already know… [If he did listen] I don't think it would surprise I think we've told him everything in it."
While exploring Ames's death, and what might have led to her suicide, Ronson tried to remain as fair as he could, especially when it came to Moore. "I always want to be an ethical person and writer. This was more complicated than normal," he explained. "A grieving husband is still a grieving husband. As a storyteller, nobody else had that responsibility to get that right."
"The Last Days of August," which was released on Audible on Thursday, is currently available for streaming.