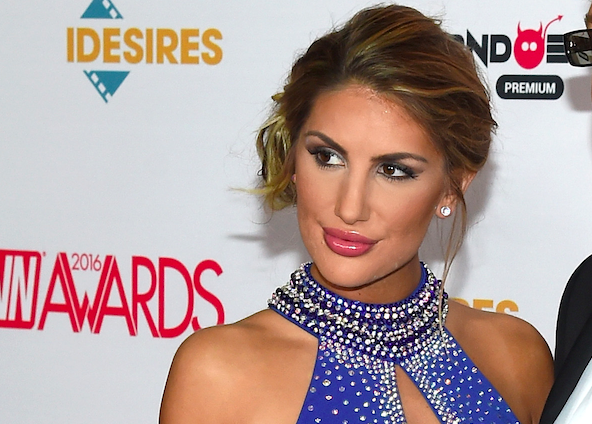 In the days leading up to August Ames's untimely death, she was cyberbullied for saying she didn't want to perform with men who did gay pornography. Ames claimed it was a matter of personal health. She received a massive backlash—and pansexual adult star Jaxton Wheeler was one of the people who condemned her.
The outcry rose after Ames's Sunday tweet. "Whichever (lady) performer is replacing me tomorrow for @EroticaXNews, you're shooting with a guy who has shot gay porn, just to let cha know," she said. "BS is all I can say Do agents really not care about who they're representing? #ladirect I do my homework for my body."
Ames, née Mercedes Grabowski, denied being homophobic when Twitter users came after her with their metaphorical pitchforks.
"NOT homophobic," she responded. "Most girls don't shoot with guys who have shot gay porn, for safety. That's just how it is with me. I'm not putting my body at risk. I don't know what they do in their private lives."
Ames continued: "How am I homophobic if I myself am attracted to women? Not wanting to have sex with gay men is not homophobic; they don't want to have sex with me either."
But that wasn't enough to quell Twitter users who were already offended by her statement.
Before Wheeler made his Twitter profile private, he essentially told Ames to kill herself on Tuesday—the same day she died by suicide.
"The world is awaiting your apology or for you to swallow a cyanide pill. Either or we'll take it," he wrote.
While his page can no longer be accessed, screenshots of his message were preserved by various blogs.
Wheeler, 30, did an interview with Man Hunt Daily in 2014 where he talked about his career in the porn industry. After taking a hiatus from filming X-rated videos, he returned with a new look.
"I grew a point on my beard, stayed fully hairy, and as much as I love ice cream, cut down on sugar so I could [be] lean and harden up," the Las Vegas resident said. "The beard is half appearance alteration, half done for social acceptance within the music community here in Las Vegas. You need to be a character."
He opened up about his steroid use, saying many men in the industry used the enhancement drug. "It helps with performance as well. I just got back on almost a month ago, but I do very little at a time," he said. "Being in the public eye when you're baring all is a lot of pressure."
Wheeler did not issue a statement after Ames's death. She was 23 years old. Ames had a history of depression and struggled with bipolar disorder.