Aung San Suu Kyi and Viktor Orban Meet, Agree Having Too Many Muslims Is an 'Issue'
The leader of Myanmar, Aung San Suu Kyi, and Hungary's far-right Prime Minister Viktor Orban have agreed that migration poses one of the "greatest challenges" for their countries.
After the leaders met in Budapest on Wednesday, the pair issued a joint statement showing they had the same view on "growing Muslim populations."
The statement said: "The two leaders highlighted that one of the greatest challenges at present for both countries and their respective regions—south-east Asia and Europe—is migration.
"They noted that both regions have seen the emergence of the issue of co-existence with continuously growing Muslim populations."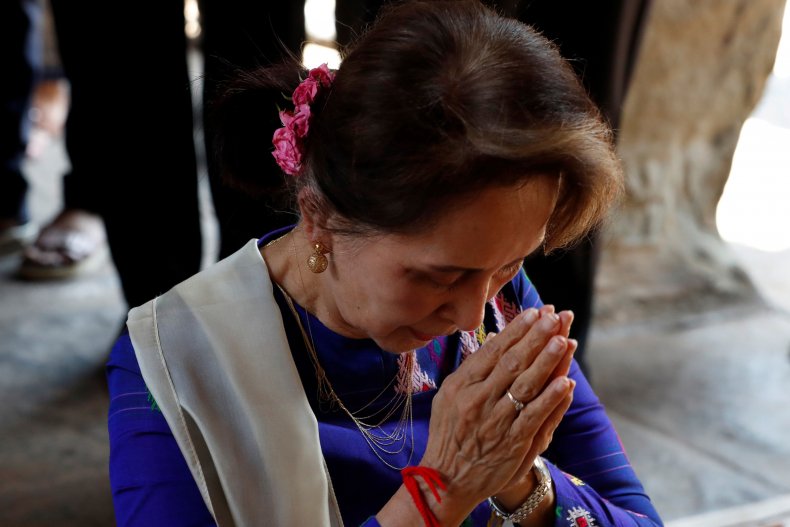 The comments have been interpreted as further evidence of Suu Kyi's fall from grace as a beacon for freedom, a reputation forged during her two-decade house arrest.
The Nobel laureate has been criticized for not condemning the Myanmar military violent crackdown on the Muslim Rohingya minority in 2016-2017, one million of whom have fled and are living in refugee camps in Bangladesh.
The U.N. described the violence as ethnic cleansing, which Suu Kyi has denied in a BBC interview.
She has also failed to speak up for the two Reuters journalists who were jailed for their reporting of the violence. Wa Lone, 33, and Kyaw Soe Oo, 29, were convicted of breaking the colonial-era Official Secrets Act in Myanmar, and were imprisoned in Yangon's Insein jail.
Last month they were pardoned and released after spending more than 500 days in jail.
Phil Robertson, deputy Asia director of Human Rights Watch, said in comments reported by The Guardian: "Aung San Suu Kyi has fallen so astonishingly far from being the darling of the EU that she now counts a meeting with Orban, the pariah of Europe, as an important accomplishment.
"After shamefully helping the Myanmar military cover up their genocide against Rohingya Muslims, now she's glad-handing and making friends with Europe's most xenophobic, anti-democratic leader."
Robertson added: "The message of this meeting to Brussels should be clear: Myanmar is not listening to your quiet diplomatic niceties."
Suu Kyi's trip to central Europe aims to strengthen Myanmar's economic ties in the region. Before Hungary, she visited the Czech Republic where she met the country's prime minister, Andrej Babiš, The Independent reported.
Amnesty International revoked Suu Kyi's Ambassador of Conscience award in 2018 and she has also been stripped of the status of freedom in the cities of Dublin in Ireland and London and Oxford in England. She has also lost her honorary citizenship of Canada.
Orban has described himself as a defender of Christianity in Europe and has said refugees who have poured into the continent via Hungary in recent years should considered "Muslim invaders," Politico reported.