Aung San Suu Kyi 'Got It All Wrong' by Defending Jailing of Journalists, Says Rights Group
A prominent rights group has criticized Aung San Suu Kyi for defending the jailing of two journalists in Myanmar.
After sentences were given to Wa Lone and Kyaw Soe Oo for possessing police documents during their investigation of the killing of Rohingya Muslims in the country, she said the convictions "had nothing to do with freedom of expression at all."
International governments and the U.N. have both condemned the sentences as a miscarriage of justice and a sign that freedom of expression in the Southeast Asian country was eroding.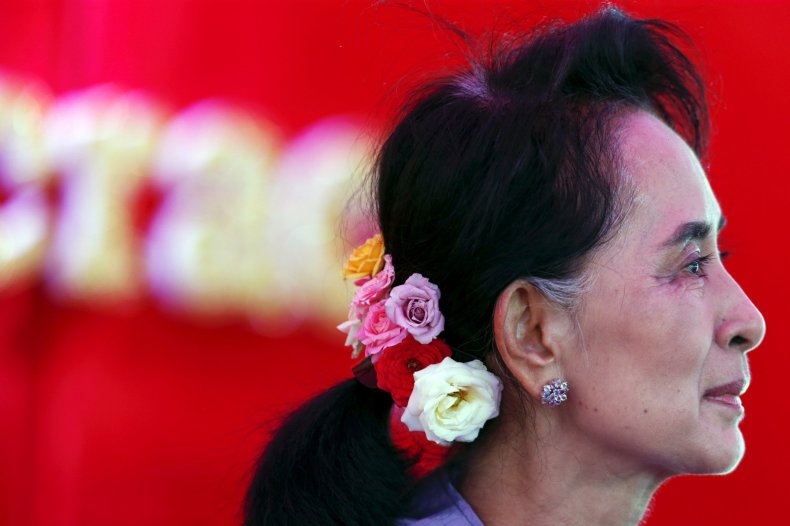 In her first comments since the seven-year sentences were handed down, Myanmar's de facto leader said the Reuters reporters "were not jailed for being journalists" but for breaking the colonial-era Official Secrets Act.
"I wonder whether very many people have actually read the summary of the judgment, which had nothing to do with freedom of expression at all, it had to do with an Official Secrets Act," Reuters reported her as saying.
"If we believe in the rule of law, they have every right to appeal the judgment and to point out why the judgment was wrong," she said, addressing the World Economic Forum in Hanoi, Vietnam.
However in a statement to Newsweek, Phil Robertson, Deputy Asia Director for Human Rights Watch, said that "Aung San Suu Kyi once again got it all wrong" when she spoke about the verdict.
"She fails to understand that real 'rule of law' means respect for evidence presented in court, actions brought based on clearly defined and proportionate laws and independence of the judiciary from influence by the government or security forces."
"On all these counts, the trial of the Reuters journalists failed the test," he added.
Aung San Suu Kyi, a Nobel laureate, did say her government could have handled better the situation in Rakhine state, from where hundreds of thousands of Muslims have fled into neighboring Bangladesh.
"But we believe that in order to have long-term security and stability we have to be fair to all sides. We can't choose who should be protected by rule of law," she said, according to Reuters.
More than 700,000 Rohingya Muslims fled after government troops led a brutal crackdown in Rakhine state in response to attacks by the Arakan Rohingya Salvation Army.
U.N. investigators have said Myanmar's military carried out mass killings and gang rapes of Rohingya with "genocidal intent," a claim the government denies.