Aunt Backed for Kicking Out Family for Destroying Sentimental Tree: 'Angry'
A wife has been slammed for removing a tree from her husband's aunt's property when she was specifically told not to.
Living in the rented property with her husband, the Reddit user u/HotCranberry6127 explained the couple had been served a 30-day notice to move out of the home after her parents removed an apple tree from the yard.
In most cases, a tenant does not have the right to destroy landscaping on a property without the landlord's permission, and if the landlord has not given permission to alter anything on the property, this could be in direct violation of a lease agreement. Breaking the lease agreement means the landlord can legally employ fines or penalties or even evict the tenant.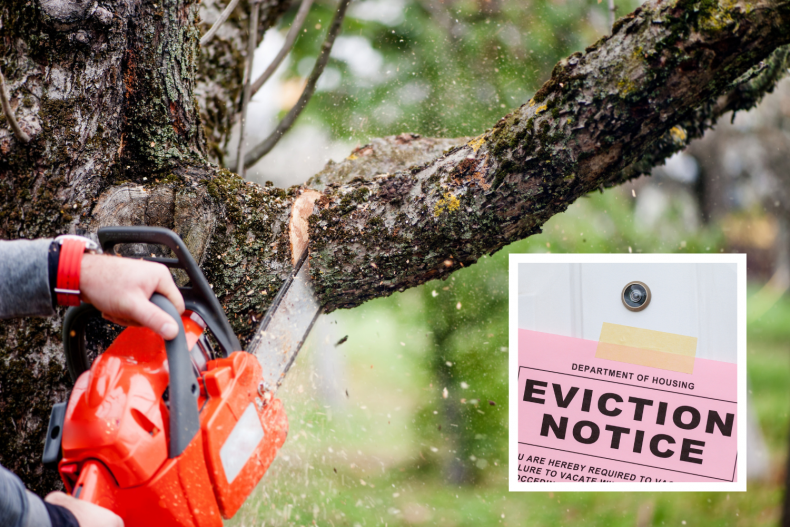 Research by Michigan University found that trees and other well-kept landscapes can increase property value by 6 to 11 percent. But the woman's grief over this particular tree was even more personal—it was planted by her late husband.
In the post that has received more than 15,000 upvotes and over 7,000 comments, the Redditor explained: "My husband rented his aunt's home before we got married. He signed a month-to-month lease when he moved in. I moved in with him after our marriage because the rent was super cheap. My parents recently came to me asking if they could park their RV at our home. I didn't see a problem with this. Our yards are really big and there is space. Because of city ordinance, the RV has to be parked in the back yard."
But with no RV gate at the fence, the woman's husband went to his aunt to ask if they could install one, and she said no.
"My husband relayed the message to me and my parents seemed upset when I told them," she wrote: "Two days ago I came home from work and saw that my dad had a construction crew at our home and had removed part of the fence for the gate. There was an apple tree in the way. They couldn't fit the RV in the yard."
RVs hugely vary in size from anywhere between 29 feet and 45 feet, and the Redditor explained that: "The RV is huge. The house sits on one side of the property leaving the other side open. The tree was planted on the open side right in the middle of where the RV needed to go."
When her husband came home, he was furious to see the workmen. "My husband got angry and told my dad not to continue and that they needed to repair the fence," she said. "At this point, I felt like it was pointless. The fence guys already built the columns for the gate, it would cost a lot more money to rebuild the fence. I told my dad to finish the job but make sure it was left super clean. That it looked nice. I planned on talking to the aunt later and explain what happened."
But the Redditor did not know that her dad had asked the workmen to remove the apple tree, and when her husband's aunt came by later she saw the downed tree and started to cry.
"She refused to talk to my dad or me," she said. "When my husband came home he found a 30-day notice on our door. Terminating our lease."
Now unable to contact the aunt, the woman explained that she was later sent several messages from her mother-in-law, calling her an a**hole for cutting down the woman's late husband's tree.
"I had no idea he planted the tree," she wrote: "Now my husband and his whole family are really angry at me. I never told them to remove the tree. I feel like I'm being thrown under the bus here. Am I the a**hole?"
​​But before long, commenters rushed to share their thoughts and reactions to the incident, overwhelmingly slamming the woman for having the tree removed.
"YTA [you're the a**hole] for letting it continue when your husband said no," said one commenter. "The aunt said no to the gate and no is a complete sentence. Your parents removed a tree from a yard they DO NOT own. How stupid and selfish of them."
Another Redditor said: "None of this is fair to your aunt, and it doesn't matter if the tree was a random tree growing on her property or had special meaning; you broke the lease and cost her damages and I would expect to be sued for the loss if I were you."
"You rent someone's house and ask to make permanent alterations and are refused, then you go ahead anyway and cut down their tree to make it more convenient? I would throw you out too," said another reply.
Another commenter wrote: "Your father is an inconsiderate and self-centered a**hole—and it seems the apple didn't fall far from the tree."
Newsweek has reached out to u/HotCranberry6127 for comment. We were unable to verify the details of this case.
If you have a similar family dilemma, let us know via life@newsweek.com. We can ask experts for advice, and your story could be featured on Newsweek.