Aunt of Missing 20-Year-Old Iowa University Student: 'We Want Our Mollie Back'
Mollie Tibbetts went for an evening jog last Thursday and Snapchatted with her high school sweetheart later that night. She was at her boyfriend's brother's home watching over his two dogs while he and his fiancée were out of town.
"Mollie was staying the night there," Tibbetts's aunt Kim Calderwood told Newsweek on Monday, adding that there was no other person living in the home on that night.
However, the next morning, the 20-year-old University of Iowa student was a no-show at her camp counselor summer job, her aunt confirmed.
"Starting Thursday night, people started looking around town," said Calderwood, a massage therapist who works at the University of Iowa, where Tibbetts attends.
The athletic jogger, who ran on the cross-country team in high school, was reported missingby Poweshiek County Sheriff's Office on Friday. They reported the young brunette woman as last seen the day before "possibly wearing denim shorts and a red T-shirt," according to a release.
But her aunt noted that her niece was seen, albeit on a digital screen, when she sent a Snapchat photo at around 10 p.m. on Thursday.
"She had just sent a picture to [Dalton] to say 'Goodnight,'" she said, referring to Dalton Jack, Tibbetts's boyfriend whom she has dated since high school.
Jack graduated a year ahead of Tibbetts, before she matriculated at the University of Iowa.
"They are high school sweethearts and been together at least two years," Calderwood said.
Since Tibbetts vanished, the rural hamlet of Brooklyn, Iowa, with its population of 1,500, has been tirelessly combing streets and farmhouses to "get Mollie back."
When investigators attempted to search Jack's brother's home, they found Tibbetts's identification and other belongings, but couldn't find Tibbetts's mobile phone.
"We don't know where her phone is," Calderwood told Newsweek.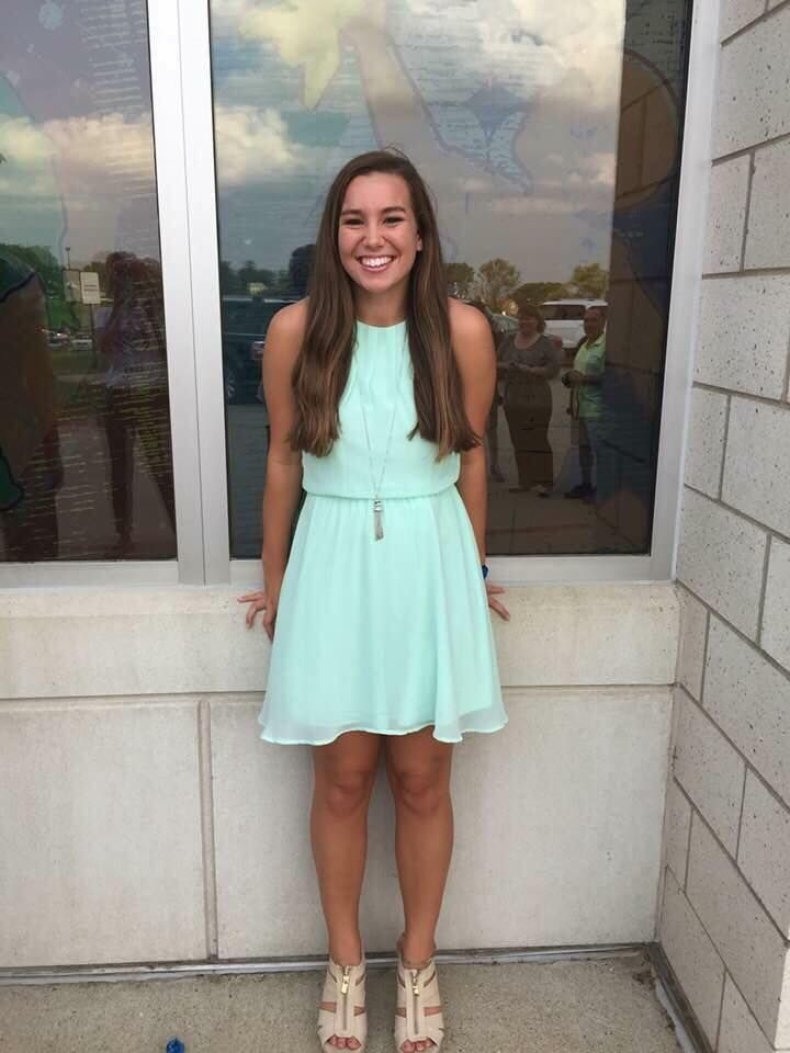 People in the small farming town consider the community relatively safe.
"This is not a place where people lock their doors, of the most part," Calderwood, who moved from California and locks her doors, said.
So far, it's unclear if there were any signs of foul play or forced entry into Jack's brother's home.
A "Finding Mollie Tibbetts" page has cropped-up on Facebook, dedicated to the effort to find the young woman who was studying to one day be a child psychologist.
"She loves kids and she's very very good with kids," Calderwood said.
The doting aunt also described her niece as "smart and funny" and "a bit of a smart ass." Tibbetts is also special and selfless, Calderwood said.
"She's the kind of person who is there for anybody anytime and would be the first person to help anyone," she said.
While the family has been limited with what information the Poweshiek County Sheriff's Office has disseminated to them, Calderwood praised the hard work by authorities.
"I know the investigators are doing everything they need to do to find her," she said. "The important thing is to stay out of the way and let them do what they need to do, and not be a hindrance."
But patience has proven tough.
"It's hard," she admitted. "We want to grab them and ask 'What's going on?' But they can't and they shouldn't say too much, and you have to respect it."
Tibbetts's aunt said that the word needs to get out because "We want our Mollie back."
And she and the family believe Tibbettsis going to be found safe—and soon.
"We're counting on it."