Auschwitz Survivor Condemns Anti-maskers Complaining about Personal Liberties as Clueless
The chairwoman of the Auschwitz Committee criticized coronavirus-deniers and those who refused to wear masks, during a digital memorial event in Hamburg on Sunday.
Esther Bejarano, 96, was outspoken against those who see mask-wearing as a "deprivation of liberty," saying: "They don't know what they're talking about."
Germany's Die Welt newspaper, which originally reported Bejarano's comments, said: "History has shown that ideologies of conspiracy can easily lead to ideologies of extermination."
The holocaust, in which an estimated six million Jewish people lost their lives, was preceded, and made possible, by the circulation of a number of anti-Jewish conspiracy theories in the German press.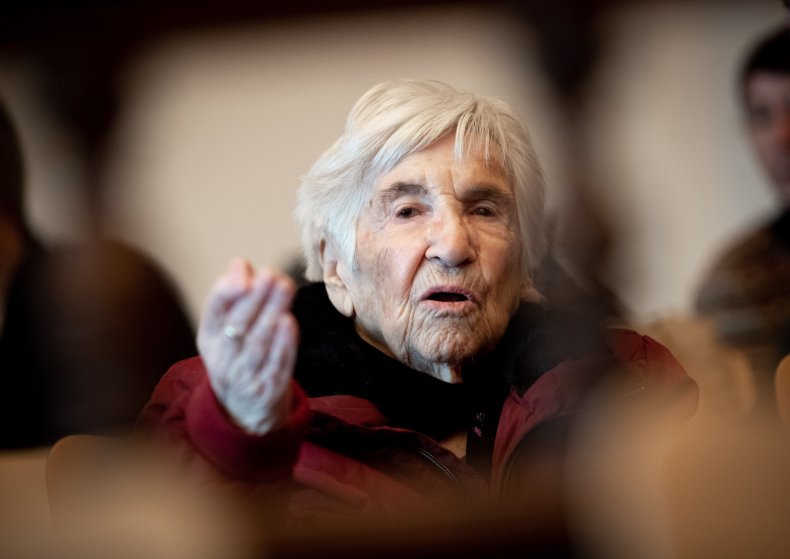 Bejarano, herself recently vaccinated against COVID, pointed to a number of signs she saw as worrying in the fight against extremism.
She used the digital address to criticize the fact that anti-fascist groups were subject to increasing levels of harassment, and pointed to the fact that the association of those persecuted by the Nazi regime—Bund der Antifaschisten (VVN-BdA)—had been denied its non-profit status.
She called for May 8 to be made a public holiday as "the day of liberation from the Nazi regime." The holiday, she said, should celebrate the qualities of "freedom, equality, brotherhood and sisterhood."
Bejarano was deported to Auschwitz in April 1943, having spent two years in a hard labour camp following an unsuccessful bid to emigrate to Palestine. Her father, head cantor of a Jewish municipality in Saarlouis, southwest Germany, had encouraged Bejarano's interest in music, and she was a keen piano player.
In the Auschwitz-Birkenau concentration camp, she played accordion in the girls' orchestra, and is one of its last surviving members. After the war, Bejarano lived in Israel before moving to Hamburg in 1960.
Co-founder and chairwoman of the International Auschwitz Committee, she used the digital memorial to call on Germans on Holocaust Remembrance Day to become more involved in the fight against anti-Semitism, the persecution of itinerant people, and racism.
Bejarano was accompanied at the event by the Swiss film director Eva Stocker, whose film The War Against the Jews premiered in Switzerland last autumn.
Forgetting the Holocaust was not currently possible for Jews, said Stocker, who added that every swastika daubed on a synagogue, and every hateful message from right-wing extremists, reminded followers of the Jewish faith of their history and persecution during the Nazi era.
Stocker grew up with Hungarian adoptive parents. It was only decades later that she found out by chance that as an infant she had been handed down from one of the deportation trains that went to Auschwitz. A railway official had taken her and, in doing so, likely saved her life.