Auschwitz Survivor Celebrates 98th Birthday Saying 'The Nazis Didn't Win'
A woman who survived the horrors of the Holocaust has celebrated her 98th birthday, as she declared "the Nazis did not win."
Lily Ebert BEM (British Empire Medal) marked the milestone on December 29 with cards from well-wishers around the world, as part of a campaign organized by her great-grandson, Dov Forman.
Forman put out a plea on social media for cards for Ebert, based in London, and on Wednesday shared a tweet showing his great-grandmother beaming, surrounded by letters.
Forman wrote: "Today my incredible great grandma Lily Ebert, a Holocaust survivor, turns 98!!
"To the thousands of people who sent birthday cards & messages to Lily, THANK YOU."
Quoting Ebert, the tweet said: "I never expected to survive Auschwitz. Now, at 98, I celebrate surrounded by my family—the Nazis did not win!"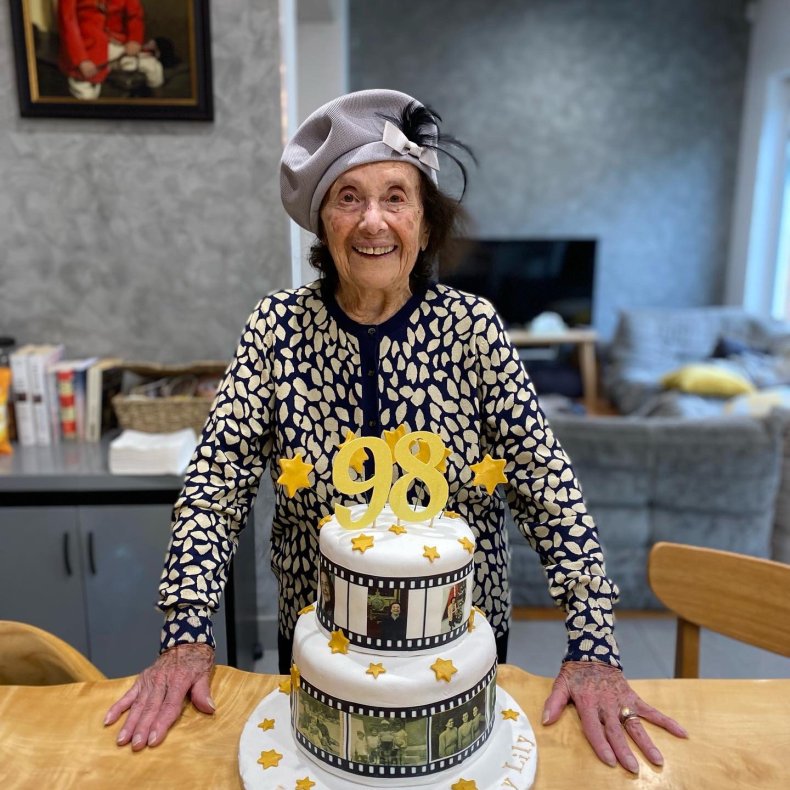 Chatting to Newsweek, Forman revealed they'd received more than 3,500 cards after his online appeal.
"So last year she had COVID, so I was thinking what could we do to make it extra special, to make up for last year," he said.
Forman continued: "The contrast between last year, we were scared my great-grandmother was going to die, and this year now, when we're celebrating together with millions of people online, is an affirmation, as we said in the tweet, that the Nazis didn't win."
When asked if Ebert thought she'd reach this incredible birthday, Forman said "she definitely didn't."
"Let alone survive Auschwitz, and even if she did think she'd survive Auschwitz I don't think she ever thought she'd reach 98.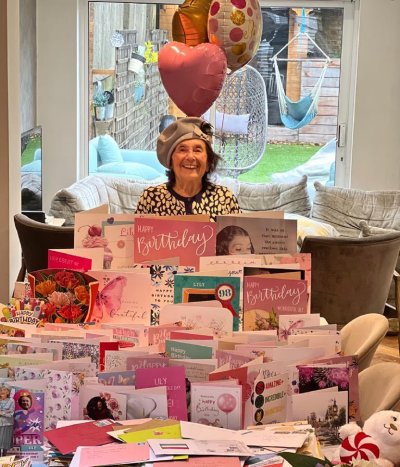 "To have a large and loving family surrounding her, I think she would have never expected that. We appreciate every minute with her and she appreciates every minute she's alive with us. And it's so nice to celebrate such an important birthday," he said.
Ebert, who bears the Auschwitz camp tattoo of her number, has been hailed as an inspiration online, as happy birthday messages flooded in from celebrities, politicians and strangers alike.
Ebert was born in Bonyhád, Hungary, in 1923, before being transported to Auschwitz in July 1944, age 20, according to the Auschwitz Memorial Twitter page.
"She was then transferred to an ammunition factory near Leipzig where she was liberated," they wrote. Forman also claimed Ebert was forced to go on a "death march."
While Ebert, one of six children, survived, her younger brother and sister were killed in Auschwitz, while her mother also perished at the camp.
After being liberated Ebert rebuilt her life, and now has 10 grandchildren and 34 great-grandchildren, including Forman.
The 18-year-old started a TikTok account sharing her amazing life story, @lilyebert, where he uploads her memories and wisdom, with the clips amassing millions of views in total.
The account, featured as one of TikTok's creator spotlights earlier this month, captures Ebert discussing sleeping arrangements, jobs at the camp, and "selection," where the Nazis chose "people either to stay alive or to kill."
Forman told Newsweek: "She's dedicated her whole life to making sure something like the Holocaust can never happen again. She's incredibly positive, you can see that especially from the photo which we put on social media.
"She loves life and that's what she constantly tells us, to realize how lucky we are, to appreciate everything. I think the messages that she has, people realize that she went through something so bad but she didn't let it make her miserable her whole life."
As well as setting up a TikTok account to bring Ebert's incredible story to a new generation, Forman co-authored a book, entitled Lily's Promise, which became a Sunday Times Best Seller, featuring a foreword by Prince Charles.
Forman, who also set up a Twitter account, @DovForman, was bestowed the Points of Light Award by U.K. Prime Minister, Boris Johnson, at a ceremony earlier this year during a Chanukah reception.
Auschwitz was the largest, and deadliest, of the six extermination camps set up during the Second World War, under Adolf Hitler's brutal regime.
Located in outskirts of Oswiecim, in German-controlled Poland, it opened in 1940. The Holocaust Museum estimates 1.1 million were murdered between 1940 and 1945, when was the camp was liberated on January 27.
The Auschwitz-Birkenau camp is now a memorial and museum dedicated to those who lost their lives.
The U.K.-based The Holocaust Educational Trust (HET) also shared birthday wishes for Ebert, saying: "The remarkable Lily Ebert BEM turns 98 today. Lily survived Auschwitz, before moving to the UK in 1967.
"Today, together with her great-grandson @DovForman, they have found new ways of reaching the next generation. Lily is an inspiration, Happy Birthday!"