Auschwitz Memorial Calls Rep. Davidson's Nazi Tweet A Symptom of 'Intellectual Decay'
The Auschwitz‑Birkenau Memorial and State Museum in Oswiecim, Poland has criticized a recent tweet by Republican Ohio Representative Warren Davidson.
Davidson's tweet compared Washington D.C.'s new district-wide vaccination entry requirement to Nazi policy requiring citizens to show documents. The Auschwitz Memorial called his tweet a symptom of "intellectual decay."
On Tuesday morning, Washington D.C. Mayor Muriel Bowser issued a tweet reminding district residents to carry proof of vaccination out in public. Amid a spike in local COVID-19 cases, Bowser issued an order requiring residents to provide proof of vaccination in order to gain access to indoor facilities throughout the district. The order goes into effect on January 15.
In response to Bowser's tweet, Davidson wrote, "This has been done before. #DoNotComply". Attached to his tweet was an image of a Nazi-era document known as a Gesundheitspass. The German word translates as a "health pass."
In the late 1930s, Nazi officials required citizens to carry the health pass as one of several documents proving their identity and registration with the government. These document requirements were used to oppress Jews and others, keeping them housebound and subject to arrest rather than out in public.
In response to Davidson's tweet, the Auschwitz Memorial tagged his account in a public message directed towards him and published on Wednesday morning.
"Exploiting of the tragedy of all people who between 1933-45 suffered, were humiliated, tortured & murdered by the totalitarian regime of Nazi Germany in a debate about vaccines & covid limitations in the time of global pandemic is a sad symptom of moral and intellectual decay," the memorial wrote.
The Auschwitz Memorial is a Holocaust remembrance museum and grieving place located on the site of where Auschwitz, the notoriously deadly and brutal Nazi concentration camp, once stood.
Conservatives and right-wing figures have repeatedly compared COVID-19 vaccination and mask requirements to Nazi-era methods of oppression.
Such comparisons have been discouraged by other Jewish and Holocaust remembrance organizations. The organizations feel the comparisons minimize the roughly 6 million European Jews and other marginalized people killed by Nazis in the Holocaust, which occurred from 1941 to 1945. Such comparisons also encourage violence against politicians, vaccination workers and mandate enforcers, the groups say.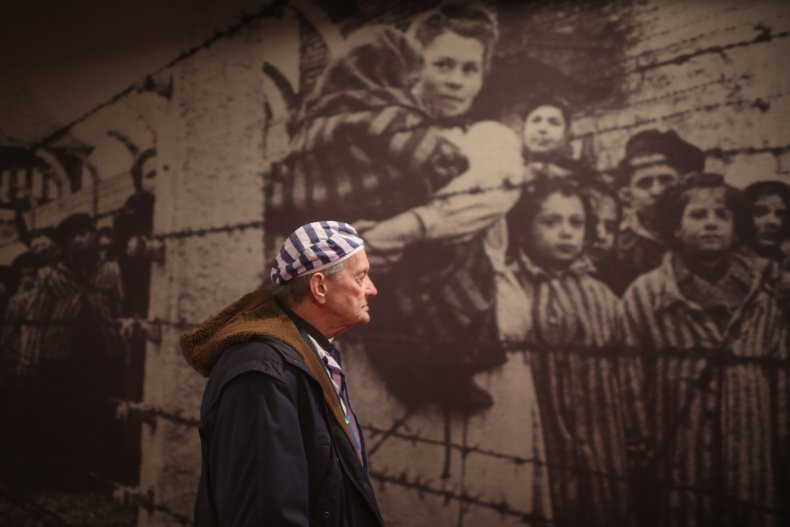 On May 28, 2021, the U.S. Holocaust Memorial Museum published an open letter signed by 50 Holocaust survivors urging politicians to stop making comparisons between modern social conditions and the Holocaust.
"We also watch with great dismay a persistent and increasing tendency in American public life to invoke the Holocaust for the purpose of promoting another agenda," the letter said.
"It is deeply painful for us to see our personal history—the systematic destruction of our families and communities and murder of six million Jewish men, women, and children—exploited in this way," it continued. "What we survived should be remembered, studied, and learned from, but never misused."
Comparisons between COVID-19 prevention measures and Nazi-era policies is "both historically inaccurate and beyond unconscionable", Massachusetts State Senator Becca Rausch and Robert Trestan, Executive Director of the Anti-Defamation League's New England office, wrote in a November 2021 commentary for WGBH, Boston's local NPR station.
Such comparisons perpetuate lies about the Holocaust, "pervert history, trivialize the memories of victims and survivors, and desensitize people to the monstrous atrocities that occurred," they wrote.