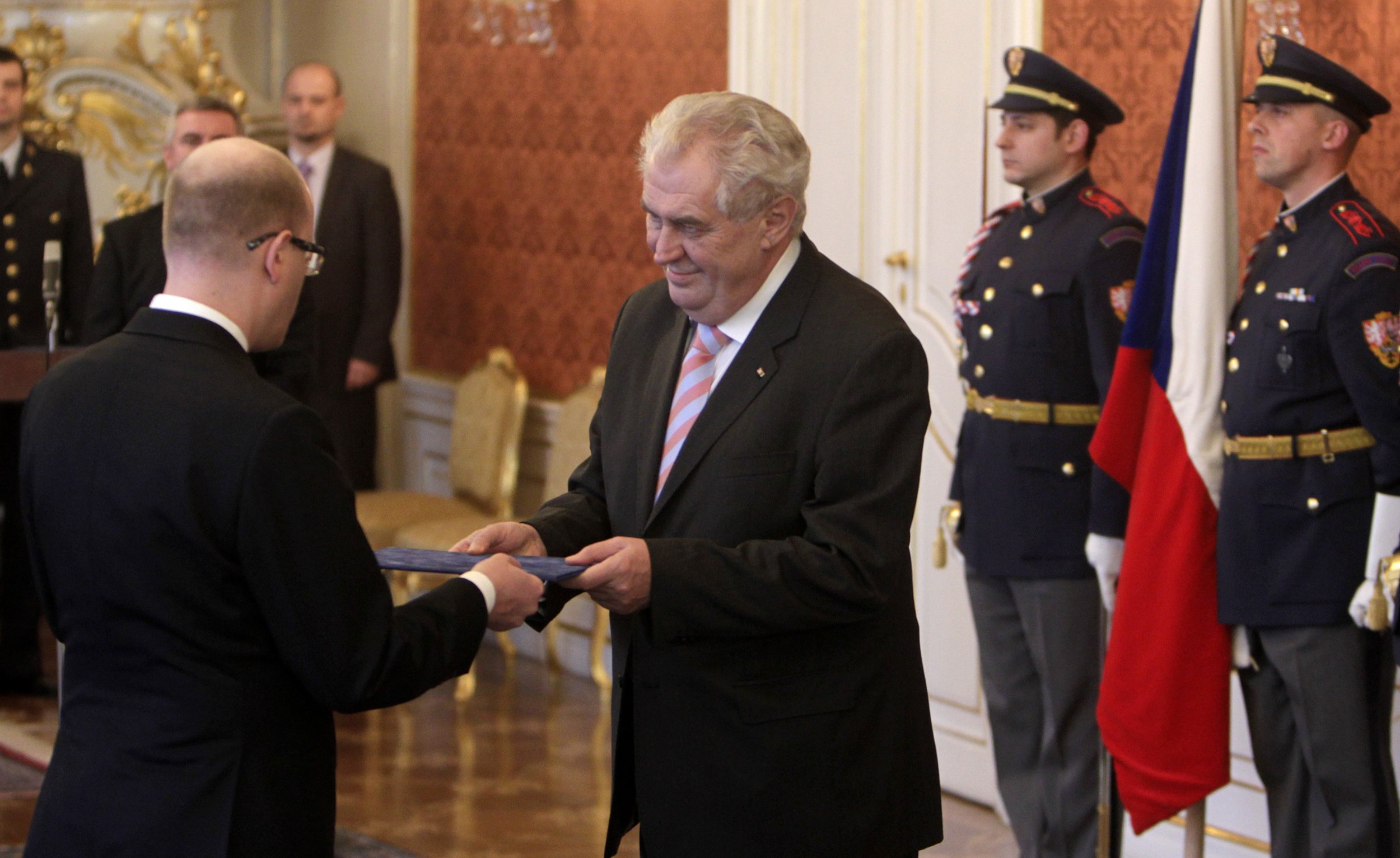 A scandal following Czech President Milos Zeman's decision not to award a medal to a Holocaust survivor has overshadowed celebrations on one of the country's biggest national holidays, public broadcaster Radio Praha reported Friday.
Holocaust survivor George "Jiri" Brady, 88, has become a household name in the Czech Republic over the course of the last week.
Each year on October 28, the Czech government marks the anniversary of the declaration of independence for both Czechs and Slovaks from the Austro-Hungarian Empire. Among the annual traditions is a state award ceremony at Prague Castle.
Earlier this month, Culture Minister Daniel Herman said on Czech television that Zemen had threatened to refuse to award a medal to Brady, a survivor of the Terezin and Auschwitz Nazi death camps, if Herman met with the Dalai Lama. Herman is Brady's nephew.
Zeman confirmed that he had asked Herman not to meet with the Buddhist figurehead because he feared it would jeopardize trade with China, but denied that he had crossed off Brady's name off the honors list, Reuters reported. By last Saturday, although unclear why, it was apparent that Brady would not be receiving an award.
Brady fled to Canada in 1948 and had said that his return to his homeland, to attend the October 28 ceremony, would likely be his final visit.
Some members of parliament threatened to boycott the president's reception at Prague Castle. "A scandalous 28th," national daily newspaper Blesk declared, while regional daily Denik reported that the nation was marking its national holiday under "the tensest atmosphere" in recent years.
Parliamentarians turned on the president, whose role in the Czech Republic is largely ceremonial, although he has managed to make controversial decisions even in his limited capacity, such as his decision to attend Russia's large May Day parade in 2015, when no other EU leaders opted to do so.
Prague City Council responded by giving Brady a key to the city, making him an honorary citzen and Prime Minister Bohuslav Sobotka gave him another high state honor—the Karel Kramar Memorial Medal—not in the presidential Prague Castle but in the houses of parliament on Thursday, Radio Praha reported. Lawmakers then gave Brady a standing ovation.
Miroslava Nemcova, an opposition politician from the Civic Democrat party, said: "People are outraged and insulted by what happened to George Brady and they want recognition for him. Everyone is trying to think of a way to atone for the humiliation, to find a way of telling Mr Brady, 'We are not all like that.'"
Nemcova's party and two more, TOP 09 and the government's coalition partners Christian Democrats, called for all their members to boycott Zeman's ceremony in protest, Radio Praha reported. The two biggest parties in the country have not asked their members to participate in the boycott, with the Social Democrats leaving the decision up to individual members, while the ANO party asked members to attend the ceremony regardless.
Zemen's office said that they would not be hiring anyone to sit in the places of absent lawmakers. The president's spokesman was not immediately available to comment on whether Brady would be honored by him in the future.