Auschwitz Survivor Urges Nurses, Doctors at Risk of Pandemic PTSD to Rid Themselves of Guilt
Flashing red and blue lights on a police car brought 93-year-old Edith Eger back to Auschwitz, where she watched Dr. Josef Mengele direct her mother to Auschwitz's gas chambers, and spent a year standing before uniformed men at 4 o'clock in the morning wondering whether she'd live another day.
"Then I realized he wasn't there for me. He just needed to turn around," Eger told Newsweek of the police car. "But when I see someone with a uniform I have PTSD."
Decades after the world saw the death and destruction caused by the Nazi regime, it's grappling with a different crisis and Eger, a psychiatrist and expert in PTSD, expects the trauma of the pandemic to stay with frontline workers.
More than 422,000 people have died since the pandemic began, a death toll that's expected to climb to 568,806 by May 1, according to projections. Many of those who succumbed to COVID-19 lived out their final moments in a hospital bed being comforted by nurses and doctors, not surrounded by family and friends, who have been barred from visiting because of the pandemic.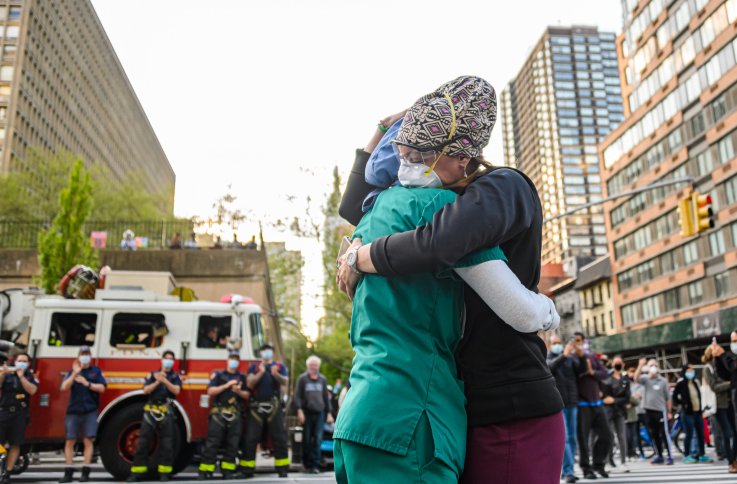 Medical workers hug outside NYU Langone Health hospital as people applaud to show their gratitude to medical staff and essential workers during the coronavirus pandemic on May 7 in New York City.
Noam Galai/Getty
Donna Havens, the Connelly-endowed dean and professor of the Fitzpatrick College of Nursing at Villanova, told Newsweek they're "very, very" concerned about health care workers' emotional well being. "Haunted" is the word nurses in a study used to describe their COVID-19 experience and they're often the last line of defense.
"Before they leave, they hand the phone to their patients so they can connect with their families," Havens said. "Several told us that they were taking care of coworkers when they died."
Data from the national CHAMPS study of 1,000 nurses found high reports of depression, post-traumatic stress, anxiety and depression. Had they been at a primary care provider, they likely would have been treated, according to Havens, but instead "they're going back to work."
Health care workers may experience episodic remembering, emotional amnesia and startling response—like the time Eger saw the police car—for years to come. When that happens, Eger often sees her patients passing judgment on themselves, offering put-downs that start with "I'm fine, but..."
"Get rid of the 'but' and change it to an 'and,' 'I'm fine and,'" Eger said. "And survivor's guilt is really part of PTSD. Don't ever blame yourself. Don't ever say, 'I'm the cause of his or her death' or 'I deserve to suffer.' I hear that a lot of the time."
In 1944, Eger stood in line at Auschwitz with her mother and sister for the first time. Mengele pointed to her mother and when asked if that was her sister or her mother, Eger answered honestly, "my mother."
Her mother went left to the gas chamber. She and her sister were directed right.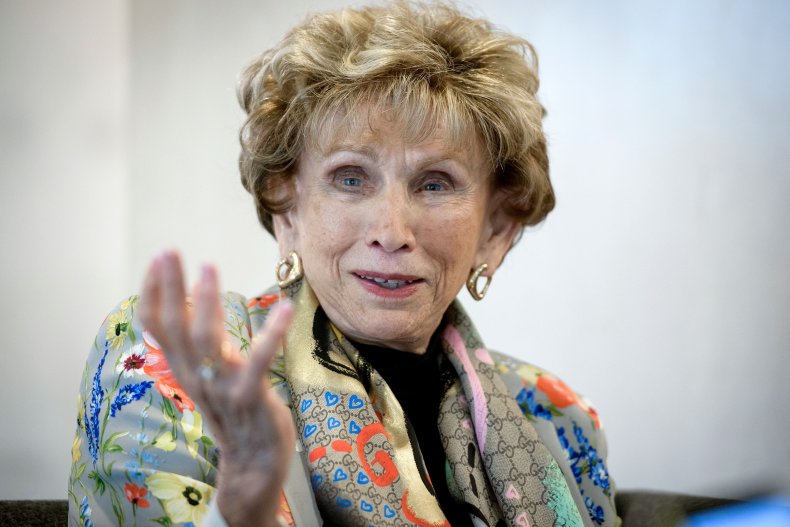 Eger, author of The Gift, had "tremendous survivor's guilt" and struggled to forgive herself for giving Mengele an answer that resulted in her mother's death. When she graduated Cum Laude from the University of Texas, El Paso, after moving to America with her husband, she didn't attend the ceremony because her parents couldn't be there.
With even more transmissible mutations of the virus spreading in the United States, no activity can be deemed safe except for total isolation. Havens said the national CHAMPS study found some health care workers were so afraid of infecting loved ones they were staying in hotels instead of going home and an innocent activity, such as going to the grocery store, can unexpectedly bring COVID into a home and infect someone else.
Eger, who went on to receive her Ph.D., still has more to do in the way of forgiving herself for what happened 77 years ago, but as someone who's doing "much, much better," she has a few words for anyone, including health care workers, who feel responsible for contracting COVID and accidentally giving it to a family member or friend who got seriously ill or even died while they lived.
"I'm going to give you one sentence that takes care of all the guilt: if I knew then what I know now I would have done things differently. And that helped me," Eger said. "That I was 16 years old and I had no idea what Auschwitz was. I was just saying what I thought was going to be necessary. So, I ask people to really become forgiving, especially with themselves."