Austin, Texas, Ordinance Requires Restaurants to Responsibly Dispose of Food Waste
Texas's capital city has implemented a new ordinance mandating "all food-permitted businesses" responsibly dispose of organic waste by donating it, composting it, sending scraps and excess to farms or developing customized solutions.
The final phase of the city's Universal Recycling Ordinance (URO) organics diversion requirements took effect on October 1. The first URO such requirements began in 2016.
"We ask businesses to find alternative for leftover food," Susanne Harm, public information specialist at Austin Resource Recovery, told Newsweek. "It's not a composting ordinance and it's not ban. It's an ordinance that's requiring restaurants to responsibly dispose of waste." Harm said that businesses will have until February 1 to complete an online form indicating how they will responsibly get rid of their organic products.
The altered waste guidelines are part of Austin's plan to reduce the amount of trash sent to landfills 90 percent by 2040.
In June, Austin expanded its Curbside Composting Collection Program to facilitate a more environmentally conscious method of organic waste disposal. More than 90,000 households can now easily compost food scraps, yard trimmings and soiled paper. The city plans to extend the service to all curbside customers by 2020.
A 2015 study of Austin found that 37 percent of trash that businesses sent to landfills was organic or compostable. The study also "determined that more than 85 percent of trash and recycling came from commercial businesses, multifamily properties and the food service industry," according to HuffPost.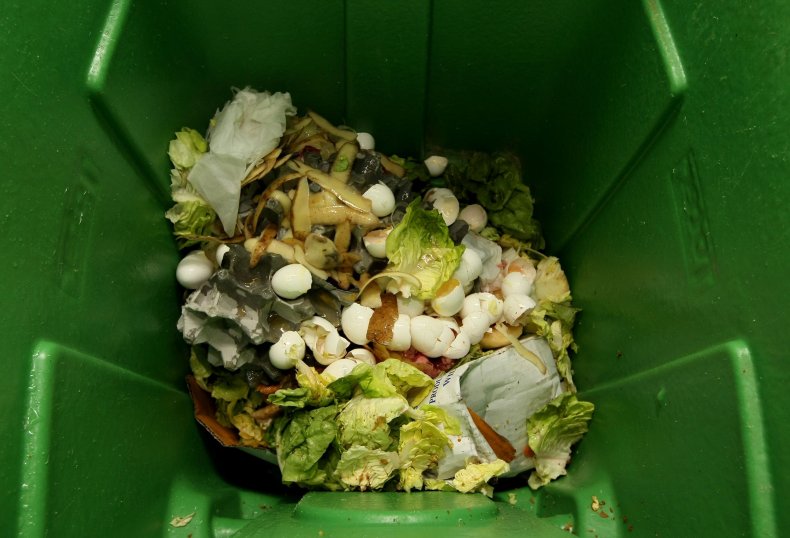 Excess food waste occurs across the country. The Natural Resources Defense Council (NRDC) and The Rockefeller Foundation reported that 40 percent of food in the U.S. is never eaten. Last year, Newsweek reported that "the average American family spends $1,500 a year on wasted food." Further, the Environmental Protection Agency said that in 2015 food was the single largest material in everyday trash and made up 22 percent of landfill trash.
The high waste rate highlights a paradoxical problem: the simultaneous existence of massive squandering and the prevalence of food insecurity. The NRDC reported that 41 million people don't have enough food.
Cities across the country have begun implementing initiatives to curb inefficient food disposal. San Francisco required all businesses and residences to begin recycling and composting in 2009. The city offers residents 64-gallon recycling bins, 32-gallon composting containers and 16-gallon trash receptacles as a way of encouraging more environmentally friendly disposal, CNBC reported. Seattle also requires all residents, buildings and food businesses to enroll in a food-waste collection service. And the New York City Department of Sanitation announced in February that it would require large restaurants and grocery stores to use their food waste for a beneficial purpose, meaning they have to dispose of excess organics through compost, donation or anaerobic digestion, according to NBC New York. They can also sell products to farmers or a rendering company.
This article has been updated to include comments from Susanne Harm, who clarified that the ordinance was not a ban and was part of an existing program to promote responsible disposal practices. The headline was also altered to more accurately reflect the ordinance.