Austin Bombing Suspect Was 'Low-Key and Peaceful,' Relatives Say: Report
Family members of the suspected Austin bomber—who terrorized the city for nearly three weeks and killed two people—described him as "low-key and peaceful," on Wednesday.
Mark Anthony Conditt, 23, died early Wednesday after detonating an explosive device in his car as a SWAT team descended on his vehicle, Austin Police Chief Brian Manley told reporters. Police tied him to a series of bombings that began March 2.
Mary Conditt, the suspect's grandmother, told CNN her grandson had never displayed any violent impulses before.
"If anything he's low-key and peaceful," she said.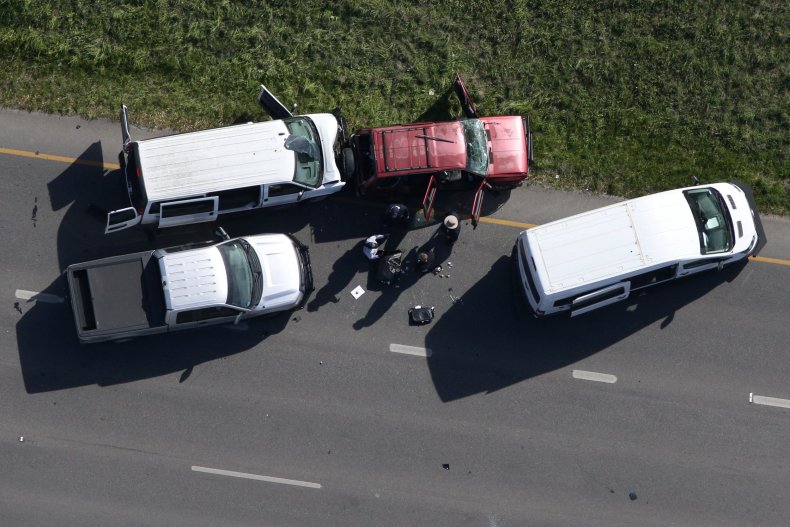 She described her family as close-knit and said Mark was busy trying to sort out his life and stick close to his loved ones.
"He's from a family that is so tight, that works so hard to raise their children correctly," Conditt said. "It's just horrible."
RELATED: How the Austin Bombing Suspect Was Tracked Down
Mark Conditt was "looking forward to figuring out what most kids are—figuring out his life and visiting his family and being close to them," she said.
Conditt's aunt, who lives in Colorado, also issued a statement on behalf of the family to news outlets.
"The family is devastated and broken at the news that our family could be involved in such an awful way. We had no idea the darkness that Mark must have been in," the statement read. "Our family is a normal family in every way. We love, we pray, we inspire and serve others.
"So right now, our prayers are for the families that lost loved ones. Our prayers are for those impacted in any way. And our prayers are for the soul of our Mark," the statement continued. "We are grieving and we are in shock."
A woman who read that same statement to KDVR reporter Joe St. George and identified herself as a relative of Conditt's said he gave no indication of the mayhem he would allegedly perpetrate when he came over to celebrate Christmas with her.
"He was at my Christmas table. He was a bright kid. He was smart, he was loving, he was kind," she said. "I have no idea who this person is."
"It's just awful and I'm so sorry that everybody is dealing with this," she added. "I mean, it's a culture that we live in and it's just awful."
The motive remained a mystery Wednesday afternoon. Police urged the public to remain vigilant and alert law enforcement if they see any suspicious packages or bags. Investigators had not yet determined if Conditt acted alone or had accomplices.