Austin Butler, Vanessa Hudgens Joke Goes Viral After Awkward Oscars Run-In
Oscar nominee Austin Butler and his ex, former High School Musical star Vanessa Hudgens, shared an uncomfortable moment at one of the awards' after parties.
The pair dated from 2011 until 2020, with Hudgens now dating pro baseballer Cole Tucker. Butler showed off model girlfriend Kaia Gerber at the Vanity Fair Oscars party.
It was in between attending events when the former couple had their awkward encounter, as Butler stood on the sidewalk and waved happily to fans across the street.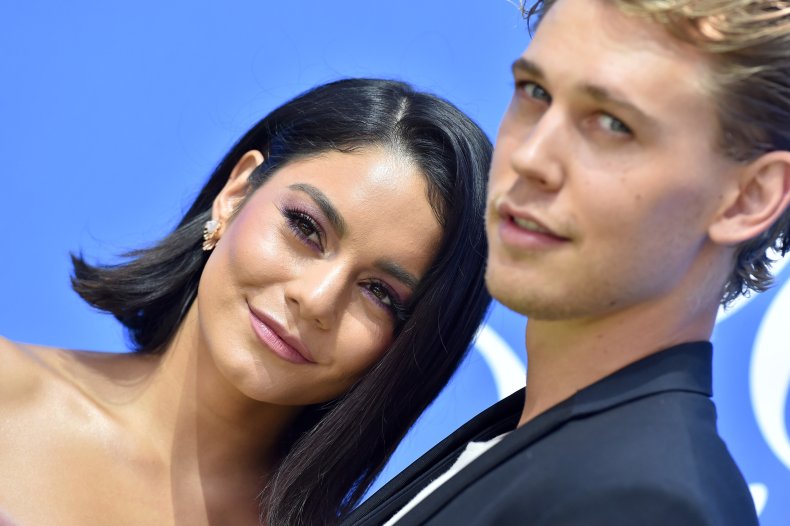 Hudgens was walking across the point where Butler was standing and spotted him before he saw her. She proceeded to look down at her phone and only briefly looked up once she had passed.
In the video shared to Twitter, Butler notices her at the last second and smiles at the actress, but she ignores him and keeps walking.
One person retweeted the video and joked that Hudgens "was swiping through her settings" in order to avoid eye contact or having to talk to her ex.
That tweet went viral, with 4.8 million views and many people agreed it was an awkward moment.
"She's so real for acting like she don't see him," tweeted one person in the replies.
Another added: "Checking the weather in 3 different cities."
And a third questioned why the two exes didn't acknowledge each other: "Did they have a messy breakup or something? i don't even remember them dating 😳 vanessa and zac [Efron] was ingrained in my membrane for a while 😆 ."
Butler was nominated at the 95th Academy Awards for his role as rock 'n' roll legend Elvis Presley in the movie named Elvis.
He lost out to Brendan Fraser for his career-reforming role in The Whale and he was seen receiving comfort from fellow nominee Angela Bassett.
She was the first actress nominated for a Marvel movie for Black Panther: Wakanda Forever, but she didn't win. That honor went to Jamie Lee Curtis for Everything Everywhere All at Once.
The sweet moment when Bassett comforted the young actor happened when actresses Jessica Chastain and Halle Berry presented the acting awards for the male and female actors.
As the nominations for the best actor were called out, the camera panned to Bassett and Butler who were seated next to each other and holding hands.
The clip of the pair was then posted on Twitter by a fan, with the caption: "Angela Bassett holding Austin Butler's hand while he's nervous...is exactly the kind of woman I imagined she was," alongside a love heart emoji.
At the time of writing, the footage had been viewed more than 703,000 times.