Austin Mayor to Keep Mask Mandate Despite AG Ken Paxton's Threat to Sue: 'Not Really Debatable'
Texas Attorney General Ken Paxton's threat to sue the city of Austin will not stop local leaders from continuing to enforce a mask mandate, according to Austin Mayor Steve Adler.
"Minds have not changed," Adler said Thursday morning during an appearance on CNN's New Day. "The rules we're seeking and continuing to enforce are not rules of politicians, they're the rules as promulgated by the health authority here in central Texas."
He added: "We promised the people in this community a long time ago that we would be driven by the data and the doctors, and we're going to make good on that promise for however long we can. The science and the data [are] very clear that the single most important thing we can all be doing at this point is wearing masks."
The mayor told CNN host Alisyn Camerota that he expected to be sued "today" by the state's attorney general.
Paxton said Wednesday that he was exploring legal action against the city because its insistence on mask-wearing contradicted the statewide order from Governor Greg Abbott lifting coronavirus restrictions.
Paxton gave the city and county until 6 p.m. on Wednesday to drop the mandate, but Adler refused. Travis County Judge Andy Brown told the Texas Tribune that he listens to "doctors, not to politicians like our attorney general."
Despite many public health officials warning that it was too soon, Abbott's order reopened businesses at full capacity and ended a statewide mask mandate. He also wrote a provision that bars local politicians from implementing their own mask rules.
"We're looking at every avenue available to stop them," the attorney general wrote on Twitter.
In a follow-up post, Paxton said he believed city and county leaders were not "thinking clearly" because of "oxygen deprivation from quintuple-masking."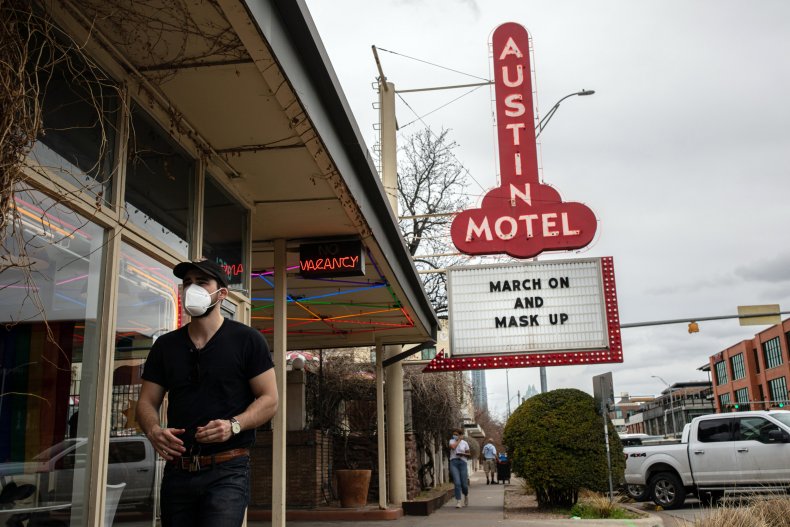 President Joe Biden sharply criticized Texas and other states for lifting COVID-19 restrictions against the guidance from the Centers for Disease Control and Prevention (CDC) and other public health officials.
"The last thing we need is Neanderthal thinking that in the meantime, everything's fine, take off your mask, forget it. It still matters," Biden said last week.
Adler also emphasized the importance of mask-wearing during his CNN interview on Thursday, arguing it's required in order to safely reopen schools and businesses to more people.
"I don't think there is a data-driven, expert-based, scientific basis for removing a mask mandate," the mayor said, adding it's "not really debatable."
Newsweek reached out to Paxton's office for comment on Adler's remarks, but did not receive a response prior to publication.