Austin Mayor Says Greg Abbott 'Made It Impossible' for Texas Schools to Protect Students
Austin Mayor Steve Adler put out a plea for parents across Texas to share their concerns regarding mask wearing in classrooms, a measure that local governments, schools and boards of education cannot institute due to the state's ban on mask mandates.
An executive order signed by Governor Greg Abbott, a Republican, precludes government entities from requiring masks to be worn as a protective measure against COVID-19. As children across the state prepare to return to in-person learning, COVID-19 cases in Texas have spiked among mostly unvaccinated people.
"As the CDC prepares to recommend all K-12 students wear masks, a reminder that @GovAbbott has made it impossible for Texas schools to protect students and for cities to protect its citizens," Adler Tweeted Tuesday. "Parents, share your concerns with your schools. They need to hear from you."
In light of the mask mandate ban, Austin announced Monday it would allow a remote learning option for kindergarten through sixth grade if families are uncomfortable with sending their students to mask-optional classrooms. Austin-Travis County is surging along with other metro areas across the U.S.
While fully vaccinated people have little risk of contracting COVID-19, children under 12 are still yet to be approved for vaccination by the FDA. The Centers for Disease Control and Prevention also advised for K-12 schools to require masks and asked some vaccinated people to wear masks indoors on Tuesday.
Newsweek previously reported that that like Adler, state lawmakers in Texas are asking Abbott reconsider the executive order. Thirty-one legislators called on Abbott in a petition to reverse the ban on mask mandates and allow virtual learning this fall.
Abbott's Office did not immediately respond to Newsweek's request for comments regarding the executive order. On July 21, Abbott doubled down on the order saying it would be "inappropriate" to require people with immunity to wear a mask.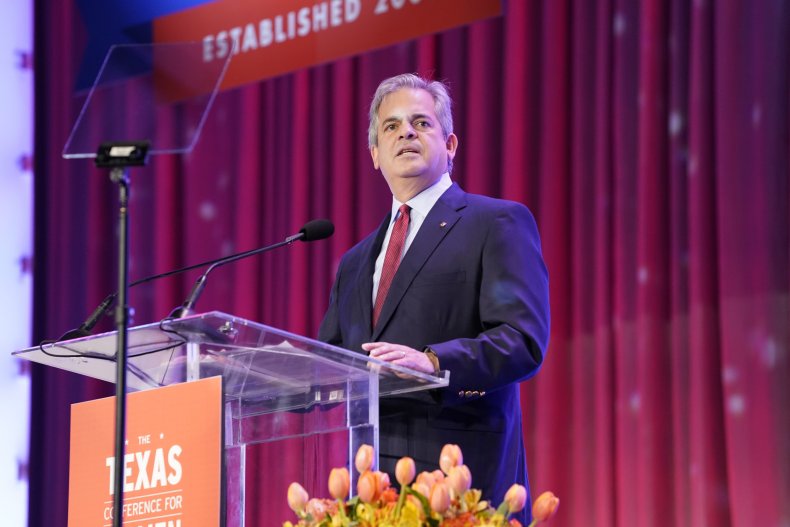 "There will be no mask mandate imposed, and the reasons for that are very clear," Abbott told KPRC-TV in Houston on Tuesday. "There are so many people who have immunities to COVID, whether it be through the vaccination, whether it be through their own exposure and their recovery from it, which would be acquired immunity."
Only slightly more than 43 percent of Texas's population is fully vaccinated, making it one of many states struggling to lift its vaccination rate.
Adler is urging Austin ISD families to complete a survey asking them to select options for in-person learning that would make them more comfortable. Options include optional all-mask classrooms, temperature checks, health screening questions and meals being served in classrooms.
Schools could be fined up to $1,000 for defying the governor's order by requiring students to wear masks. Nine other states have instituted similar mask requirement restrictions.