Two Dead After Hostage Situation Sparks SWAT Standoff in Austin
Two people were found dead after a hostage situation sparked a six-hour SWAT standoff at a building in central Austin, Texas.
Officers responded to a call of a disturbance on the 1900 block of W35th Street at around 4.30 p.m. on Tuesday, the Austin Police Department said.
Police said they soon discovered someone had barricaded a subject inside with them. Meanwhile, media reports indicated that a suspect had entered a doctor's office with a gun and taken several hostages—all but one of whom were eventually able to leave.
In a press conference on the scene at 11.10 p.m., a police spokesperson said the six-hour standoff was over.
He said the police department had initially deployed their robot unit to go inside the building and were able to identify a victim with its camera.
"We went straight to our emergency rescue plans at that moment," he said. "The SWAT team made entry into the building. Unfortunately, they found two subjects, one that was originally from inside the building, one that was not, both deceased."
Members of the crowd watching the press briefing could be heard crying out at this point. The police department has not released the identities of the two people who died.
The spokesperson did confirm there were only two people inside the building at the end of the night and whether any other people may have been inside earlier in the evening is something that they are working to determine as part of the investigation.
According to KVUE, initial reports indicated that the suspect may have entered a medical office, Children's Medical Group. Police said they were unable to confirm whether the situation occurred in a doctor's office or not.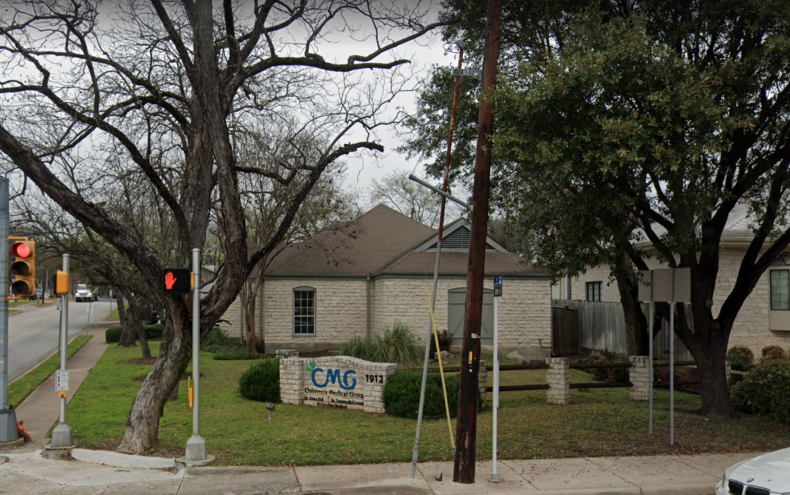 Negotiators reportedly began trying to communicate with the suspect via a bullhorn in a bid to deescalate the situation for several hours.
KVUE reporter Tony Plohetski, who was on the scene, tweeted that the suspect appeared to be a doctor, based on audible transmissions to the suspect.
He reported that one negotiator said: "I cannot guarantee your safety unless you comply. I am letting you know, doctor, there is a way to resolve this. I need your help to fix the situation. That starts with you answering the phone."
Other comments reportedly included: "You have saved a lot of lives," and "We know you have a lot going on in your life. We know you have been helping children your whole life."
One witness, who works at a dentist's office next door to the building, told KVUE that at around 4.15 p.m. one of the hygienists said there might be someone with a gun next door.
The witness reportedly said she and her coworkers shut the windows and made sure the door was locked at their office. She also said she was looking out the door to try to see anything when she spotted a group of people from next door.
She said: "I guess they escaped out the back door is what they said," adding that her team opened the door to let them into their office for shelter.
She said: "I was like, "Come here, come here, come here." So, they came in and they were panicked, obviously crying like, so upset. And so the three front desk girls had a gun like, waved in their face and they were told to lock the doors."