Australia Aiming to Begin India Repatriation Flights Next Week After Backlash to Travel Ban
Facing pressure to overturn a harsh travel restriction barring Australians in India from returning home amid a record-breaking COVID outbreak, Australian Prime Minister Scott Morrison said Tuesday the government may restart flights by May 15.
Morrison's comments come after he imposed a strict lockdown on flights from India last week, stranding some 8,000 citizens overseas as India faces soaring coronavirus cases and deaths. The harsh order said that any citizen in India would be banned entering Australia until at least May 15, and those who break the rule could be prosecuted with lengthy prison sentences or costly fines.
The unprecedented restriction is believed to be the first time that Australia has made it a criminal offense for its citizens or permanent residents to re-enter the country.
Morrison immediately faced widespread backlash over the new rule and was accused by some of imposing "racist" restrictions and having blood on his hands, AFP reported. On Tuesday, the prime minister attempted to play down the restrictions, stating it would be "highly unlikely" for citizens to face such harsh penalties.
"I don't think it would be fair to suggest these penalties in their most extreme forms are likely to be placed anywhere, but this is a way to ensure we can prevent the virus coming back," Morrison told local broadcaster Channel Nine.
He added that repatriation flights from India may resume by May 15, as the government looks to significantly increase the capacity at a quarantine facility in the country's Northern Territory.
Among those trapped in India are high-profile sport stars, such as cricket players participating in the Indian Premier League. Michael Slater, an Australian sports commentator and former cricket star was among those who criticized Morrison's decision, calling it a "disgrace."
"If our Government cared for the safety of Aussies they would allow us to get home. It's a disgrace!! Blood on your hands PM. How dare you treat us like this. How about you sort out quarantine system. I had government permission to work on the IPL but I now have government neglect," Slater tweeted Monday.
In response, Morrison called Slater's statement "absurd" on Tuesday, and said the government was working to bring citizens home safely.
"The buck stops here when it comes to these decisions, and I'm going to take decisions that I believe are going to protect Australia from a third wave," Morrison said Tuesday, according to AFP. "I'm working to bring them home safely.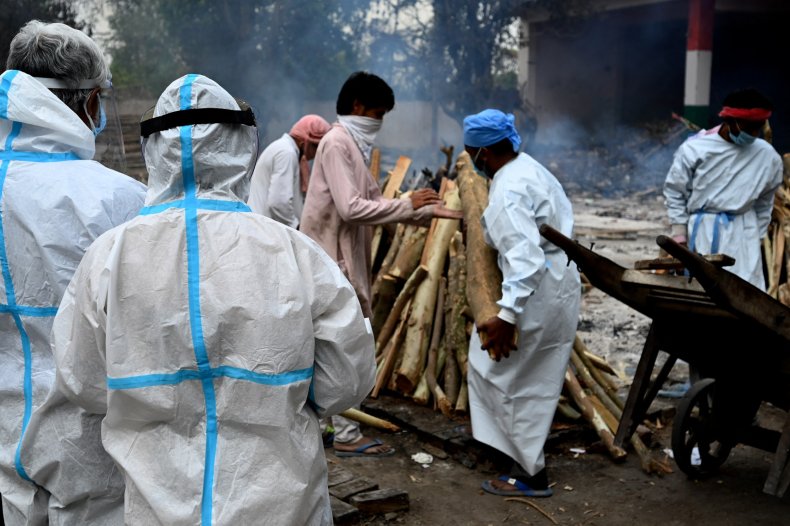 The controversial travel order comes as India continues to grapple with one of the world's worst COVID-19 outbreaks. The country on Tuesday surpassed 20 million cases —nearly doubling in just the past three months—while deaths reached more than 220,000, according to the Associated Press.
The situation has gotten so bad that hospitals are running out of oxygen, while some crematoriums are overflowing with so many bodies they've been turning families of deceased victims away.
On Tuesday, Australia's main medical association urged the government to immediately lift the "mean-spirited" travel ban and implement a more serious plan to ensure the safe and quick return of Australian citizens from India, Reuters reported.
Newsweek contacted Morrison's office for additional comment, but did not hear back in time for publication.