'I Intended to Maim': Suspect in Bow and Arrow Attack Denies Wanting to Kill Man Who Stopped Shot with Phone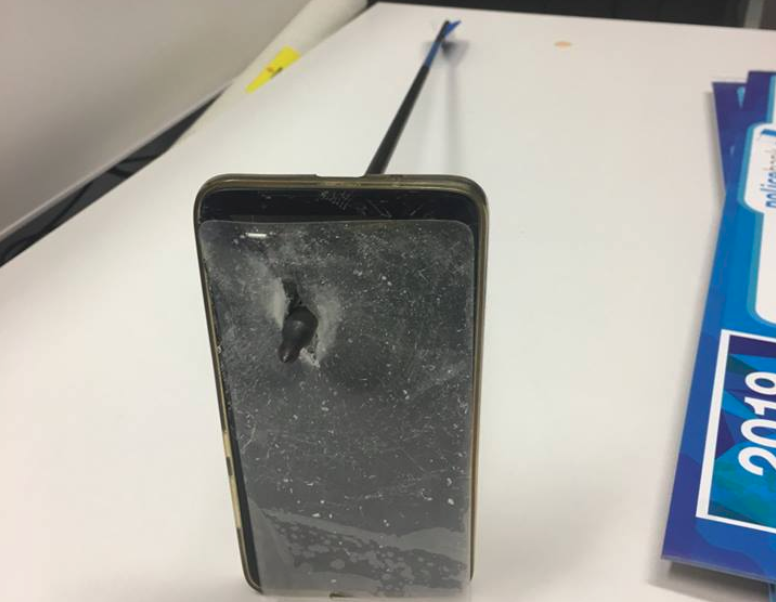 A 42-year-old Australian man who was attacked with a bow and arrow avoided serious injury after using his smartphone as a shield to stop the blow.
New South Wales Police posted images to social media yesterday showing how the arrow pierced the smartphone, which was left with a cracked screen. The victim, who was not named, had reportedly been attempting to take a picture of the culprit as the arrow was shot at him.
The attacker, who was charged following the confrontation, told local media outlet 9News the arrow shooting had been deliberate but was never supposed to have fatal consequences.
"I did not intend to kill him. I intended to maim him in the incident but I regret my actions. I shouldn't have done what I did. I was trying to deter him from entering the property," he said, claiming the issue centered on a property eviction at the Nimbin residence.
Law enforcement said the altercation happened on Wednesday at 9 a.m. local time on the driveway of a home in Nimbin, approximately 44 miles west of Byron Bay.
In a statement, police said: "[The victim] noticed another man, who is known to him, standing outside his property allegedly armed with a bow and arrow. The resident held up his mobile phone to take a photo of the armed man who then engaged the bow and was ready to fire."
The arrow pierced the device, and left a "small laceration" on the victim's chin. Officers from the Richmond Police District were called and arrested the 39-year-old suspect.
The alleged archer was transported to Nimbin Police Station and charged with armed with intent to commit an indictable offence, assault occasioning actual bodily harm and malicious damage. He was granted conditional bail and is set to appear in Lismore Court on April 15.
Inspector Nicole Bruce, of the New South Wales police department, told 9News: "It was unconscionable what this gentleman did and it could have resulted in someone being killed.
"[The victim] was shaken [and] thankful a mobile phone was able to stop the arrow millimetres from his face," Bruce added.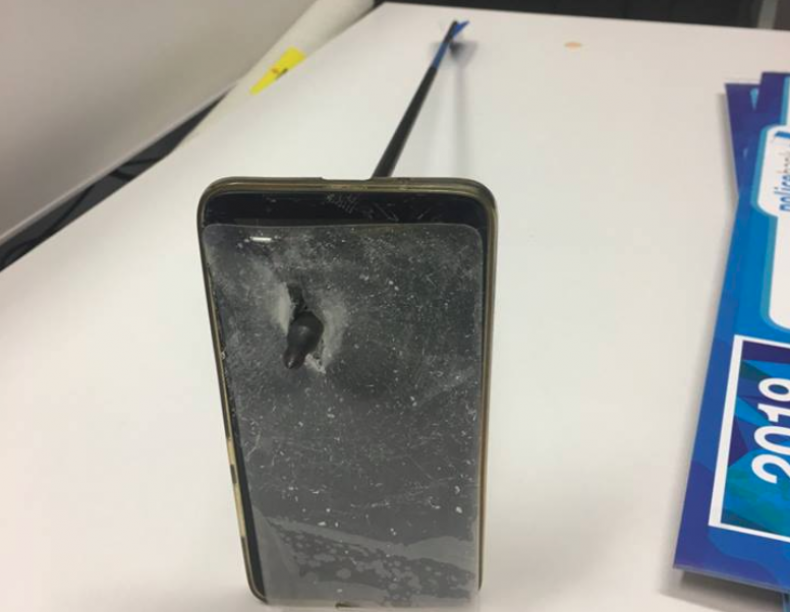 In February, Arkansas resident Janet Partain drove herself to the hospital after being shot in the face with an bolt from a crossbow. Partain said the attack occurred after she told a man to stay away from her property. He allegedly responded, "Well I'm going to shoot y'all." Partain told police she was forced to shield her son and two nephews after an arrow was fired toward them.
'I Intended to Maim': Suspect in Bow and Arrow Attack Denies Wanting to Kill Man Who Stopped Shot with Phone | World