'You're Discriminating Against Me': Woman Threatens to Sue Store for Being Asked to Wear Mask
A video has emerged showing a woman in Australia arguing with staff at a hardware store because she refused to wear a mask.
The clip, which has been viewed more than 1.3 million times online, shows the woman filming a Bunnings worker in Melbourne who is confronting her about not wearing a mask.
In the video, the woman filming the encounter says: "You are not authorized to speak to me or question me about it."
When the worker asks if she would like to speak to a manager, she replies: "Sure."
The woman then tells two more workers that "you're discriminating against me," claiming she could sue the workers personally for discriminating against her as a woman.
"It's an unlawful condition of entry, therefore that exposes you, personally and Bunnings to being sued for discrimination because it is in breach of the 1948 Charter of Human Rights to discriminate against men and women."
One male worker tells her, "As I said, it's just a condition of entry to all customers,"
She replies: "I don't care, it doesn't apply to me… It does not because it's a breach of the Charter of Human Rights."
Further clips show the woman continuing to argue her case to police in the parking lot.
According to The Australian, the woman eventually showed police a medical certificate showing she is exempt from having to wear a mask.
Residents in Melbourne could face a 200 Australian dollar ($142) fine for not wearing a mask in public in order to help control the spread of COVID-19 in the city.
Australian politician Daniel Andrews, the premier of Victoria, also condemned the actions of the woman and her "alleged personal liberty."
"There are 10 families that are going to be burying someone in the next few days. Wear a mask. It's not too much to ask," he said, reported Yahoo News Australia.
"What's more, the nurse who will be treating you or a loved one, they will be wearing a mask, so you wear one to prevent that nurse from having to treat more patients.
"It can't get any more serious than that. Ten families are currently planning funerals. And the youngest among them is someone in their 40s.
"Please wear a mask. And if you don't, you will get fined."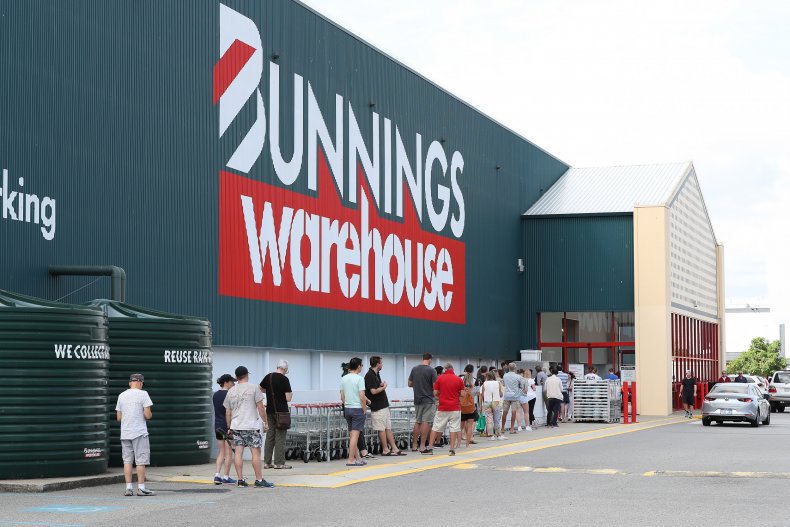 In a statement, Bunnings' Chief Operating Officer Deb Poole said the customer's actions were "completely unacceptable."
"The safety of our customers and team is our highest priority and our team are doing everything they can to keep everyone safe," Poole told 7NEWS.com.au
"The customer's behavior towards our team was completely unacceptable and we're proud of the way our team calmly and professionally handled the situation."
There are more than 19,000 confirmed cases of COVID-19 in Australia, with at least 161 deaths according to Johns Hopkins University. A total of 9,311 people have managed to recover from the virus in the country.
This graph, provided by Statista, shows the percentage of Americans who say they now wear masks in public.