Tourists Flee to the Sea to Escape Apocalyptic Australian Bushfires As Sky Turns Blood Red
Smoke from wildfires incinerating Australia have painted the sky red, turned daytime into night and driven thousands of people to the beach for refuge.
At 8 a.m. on Tuesday, more than 4,000 people in Mallacoota in the south-eastern corner of Victoria, took heed of a warning siren, and ran to be as close as they could to the seawater they thought was the only guaranteed protection against the encroaching flames.
By day's end, the fires had ripped along a section of the New South Wales coast, including large towns like Batemans Bay, Bermagui with flames reaching as far north as Jervis Bay.
Just hours before the chime of midnight would signal the New Year, some 120 bushfires were still stubbornly burning, eight of which are at an emergency level.
Their voracity and reach prompted New South Wales police to say telecommunications would be lost along a 90-mile stretch of the state's coast between Nowra and Moruya, The Guardian reported.
David Jeffrey, a local business owner in Mallacoota told the BBC: "It should have been daylight but it was black like midnight and we could hear the fire roaring. We were all terrified for our lives."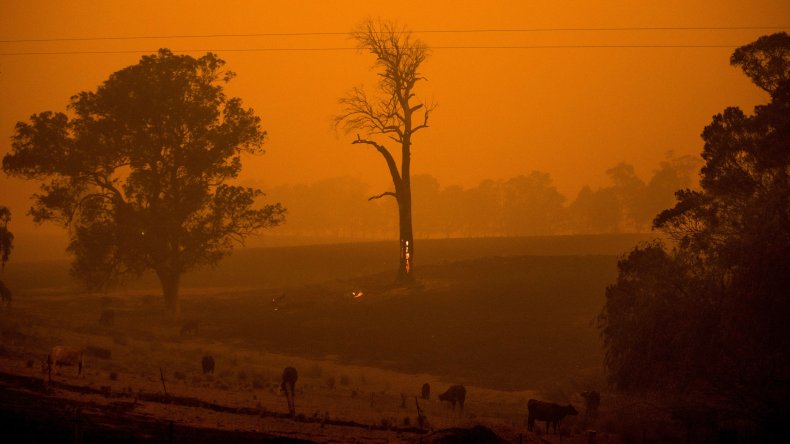 Reporter for Australia's 9 News, Jayde Vincent tweeted that Mallacoota, "is in complete blackout and without running water. Residents and holiday makers are sleeping in their cars along the wharf, some in the cinema."
Prime Minister Scott Morrison and Defence Minister Linda Reynolds have agreed to send military aircraft and vessels, including Black Hawk and Chinook helicopters, fixed-wing aircraft and navy vessels.
The military will also provide humanitarian assistance and carry out evacuations if needed, the BBC reported.
The death toll from the wildfire season now stands at 11. The latest fatalities include Patrick Salway, 29, and his 63-year-old father, Robert, who both died trying to protect their Wandella home, north-west of Cobargo.
Patrick Solway's wife, Renee, posted a poignant Facebook tribute, saying, "I love you now, I love you still, I always have and I always will. I will see you again Patrick, my best friend...We are broken."
Meanwhile, on Monday night, volunteer firefighter and expectant father Sam McPaul, 28, was killed fighting fires on the Victoria-NSW border when the 10-tonne truck he was on was was hit by a "fire tornado" and flipped on its roof, according to 7 News.
Four people are also missing in eastern Victoria and officials fear for the fate of another person near the town of Narooma.
New South Wales Rural Fire Service Commissioner Shane Fitzsimmons said the extent of the fires made it unsafe for the time being to get to the locations of the missing.
"We need to brace ourselves for a considerable number of properties, a considerable number of homes that are likely to have been damaged and or destroyed right across these eight emergency warning fire areas, given the extraordinary nature of the fire behaviour and fire spread today," he said.
Prime Minister Morrison, who returned from holiday in Hawaii with his family this month after being criticized for being away while Australia burned following a record heat wave, said in his New Year's message the fires were having a "devastating impact." He added that "the days and weeks and months ahead I fear it will continue to be difficult."