Australia Chose the U.S. Over China. Europe Should Do The Same | Opinion
Australia's move to develop and acquire nuclear-powered submarines as part of a broader cooperative initiative with the United Kingdom and the United States has been heralded as a decisive moment, when Canberra effectively chose the U.S.—its main security ally—over China—its leading trade partner. This narrative is only partially true. Australia's been moving in this direction for years, and the new agreement has just made it more obvious. More importantly though, Australia's evolution—culminating in a clear-cut decision to side with America—offers a cautionary tale for Europe, where many still hope to avoid such a choice. If it isn't obvious now, European equidistance between China and America is an untenable position.
Like many countries in the Indo-Pacific region, Australia's economic ties with China surpassed those with the United States years ago. This is an especially awkward position for America's allies—for years, they have been loath to choose between their leading economic partner and their leading security partner. However, Australia found itself in a new situation as its relations with China have steadily deteriorated.
Many tie that downturn to Australia's call for an inquiry into the origins of the COVID-19 pandemic last year. China responded by slapping tariffs on Australian exports, some as high as 200 percent. But Canberra began pushing back on Chinese interference several years earlier, including in its 2018 decision to ban Huawei from Australia's 5G network. At the heart of the souring relations has been a fundamental conflict of interests and values, made worse by the nature of China's rise in the last decade. As a result, Australia has made a choice—instead of bandwagoning with China, it's chosen to side with the United States.
Today, Europe faces a similar situation. Earlier this year, Secretary of State Antony Blinken told European allies that Washington wouldn't make them choose between America and China. Luckily for Washington—which certainly needs and wants Europe on its side—China is forcing the issue instead. From Beijing's systematic torture, rape and repression of Uyghurs in Xinjiang to its burying of democracy in Hong Kong, it's clear China doesn't share European values.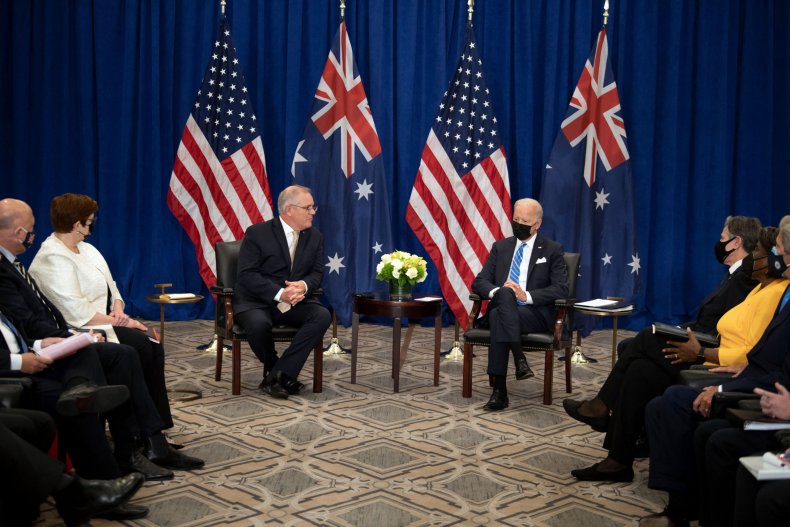 At the same time, Chinese economic statecraft has become an existential threat to European interests and livelihoods. State subsidies allow Chinese companies to compete at an unfair advantage throughout Europe. Chinese state-owned and state-affiliated enterprises acquire or invest in sensitive dual-use tech firms in Europe in order to transfer technology. Beijing uses its High-end Foreign Experts Recruitment Plan (formerly the Thousand Talents Plan) to entice European scientists to provide their know-how to China. And what Beijing can't buy, it steals—its theft of European intellectual property has had a direct impact on European jobs.
Europeans are gradually waking up to the choice confronting them. Investment screening mechanisms are slowly strengthening across Europe. The EU has agreed to work with Washington on developing a technology and digital trade alliance to address industry standards in the face of China's rise as a tech superpower. NATO is examining how China threatens security in Europe in broad terms and exploring what the alliance can do in response.
Ironically, some of Europe's smallest players have taken a leading role. Lithuania recently withdrew from China's "17+1" engagement initiative in Central and Eastern Europe—now down to 16+1—and allowed Taiwan to open an office in Vilnius under the name "Taiwan" (as opposed to Taipei, its capital). Meanwhile, Romania has been forceful in keeping Chinese firms out of core sectors of its economy, and it declined—along with the Baltic States, Slovenia and Bulgaria—to send its president to a 16+1 meeting in February.
The bigger players in Europe may yet get on board, especially as Chancellor Angela Merkel leaves office following German elections later this month. Merkel has been among the strongest proponents of a "having our cake and eating it too" approach to European relations with China, persisting in the questionable view that Europe can treat Beijing as partner, competitor and rival all at once. German society has become increasingly skeptical of this approach, and Merkel's successor is likely to face considerable pressure to chart a different course.
Nonetheless, among the continent's other major powers—France and Italy—some continue to harbor illusions of a "third way" between China and America, hoping to avoid making a choice. Such a path appears increasingly unsustainable, mostly due to China's actions at home and abroad. As Australia has shown, Europeans will need to choose. And the sooner they do, the sooner they'll strengthen European as well as American interests.
Dr. John R. Deni is a research professor at the U.S. Army War College's Strategic Studies Institute and a nonresident senior fellow at the Atlantic Council. He's the author most recently of "Coalition of the unWilling and unAble: European Realignment and the Future of American Geopolitics." The views expressed are his own.
The views expressed in this article are the writer's own.