Giant Saltwater Crocodile Found With Mysterious Surgical Plate in Stomach, Police Open Missing Persons Investigation
The contents from the stomach of a 15-foot-long crocodile in Australia may have yielded a gruesome clue about the fate of a man reported missing 13 years ago, it has been reported.
Back in July, John Lever, who owned the Koorana Crocodile Farm, in Rockhampton, Queensland, found the creature that he called MJ dead. After its death, which followed several months of it not being able to eat, its stomach was opened up.
Lever was left scratching his head when he saw that the stomach contained an orthopedic plate with six stainless steel screws.
He told Australia's ABC News in July: "Obviously whatever bone he'd taken in that had had the operation performed on it, had been eaten away by the crocodile's stomach juices and just left the stainless steel plate with the six screws in it."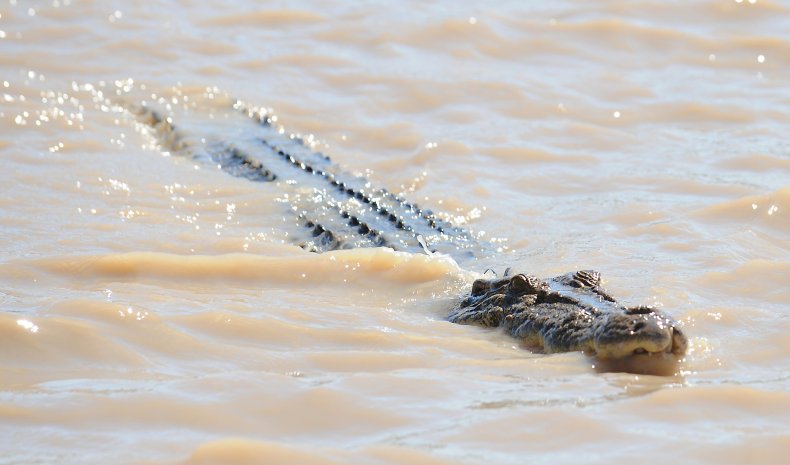 It sparked a probe into whether it was used in the veterinary or medical industries but turned out to be from someone who had had surgery to have a metal plate put in to fix a broken leg bone.
Police officers in Queensland trawled cold case records over the last few years and hoped to find a match through a combination of the missing persons register, testing the DNA on it and speaking to family members of the possible victim, The Morning Bulletin reported.
They considered whether it had been attached to someone the crocodile had eaten. Officers even looked at whether the victim may have even been fed to the crocodile in an elaborate murder plot, The Bulletin reported.
The newspaper noted that one of the leads police are pursuing is the missing persons case of Darren McAllister, who was last spotted in November 2006 near Coen, in Cape York.
He had been reported missing by a friend after he went pig hunting.
Lever had chipped the crocodile when he bought it in 2014, but its whereabouts in the wild before that is unknown, meaning that the investigation, taking in the huge number of missing persons cases, could stretch hundreds of miles of the Queensland coast.
It was a "baffling but intriguing case," he told the Bulletin, but "the inquiry has hit a bit of a brick wall."
"How did this plate end up inside a crocodile and who did it belong to," he added.
Newsweek has contacted the Koorana Crocodile Farm for comment.