Snake Bites Baby on the Face after Climbing into Crib in Middle of the Night
An 8-week-old baby boy was bitten on the face by a snake in Australia this week after the reptile slithered into his crib in the middle of the night, his parent says.
The child was rushed to a Darwin hospital by ambulance shortly before 1 a.m. on Wednesday after his mother, Julia McLennan, responded to his cries and spotted what appeared to be multiple bite marks on his cheek, ABC News reported (via ABC Radio Darwin).
Luckily, the bites were from a baby olive python snake, which is described by wildlife experts as being "non-venomous and harmless to humans."
McLennan, who said the small snake was still inside the crib after she approached the young child's crib, told Radio Darwin: "It was the worst thing that could possibly happen to you as a parent."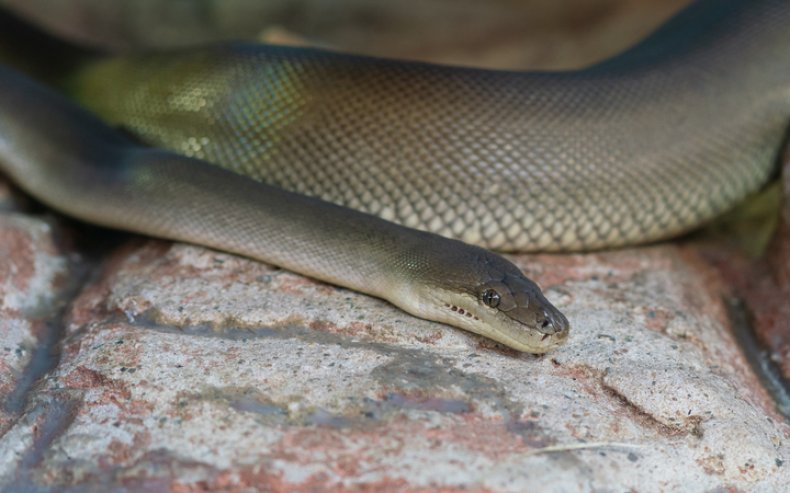 She said the reptile likely got into the home via a gap in a garage door, which has now been blocked.
"I just ripped him out of the bassinet and took him in and put him on his change table...turned the lights on and there were maybe three or four bites to his cheek," the mother said. "I yelled at my partner to ring an ambulance.
"I've probably done five or six first-aid courses in my life, you go to snake bite first aid response, but they don't teach you what to do if your eight-week-old baby has been bitten on the face. It was just a matter of trying to be calm, and keep him still and wait for the ambulance.
"I am not a religious person but I was just praying, like please God, just let this be OK...I don't know if you've seen a baby olive python but they've got brown skin and a yellow belly, which is what a baby brown snake looks like as well. Obviously, your mind goes to the worst."
McLennan said the family had lived at the property for about six months, but noted she has rarely encountered snakes in her 10 years of living in the Northern Territory (NT).
Still, one expert from a local wildlife park, Matthew Lamb, told ABC News that homeowners need to be vigilant, despite a large portion of the snakes in the region being non-venomous.
"They can get just about anywhere," he said. "If a snake can pass its head through a small hole it can get the rest of the body through there, so any small hole going into your home is potentially an entrance." The boy was given the all-clear by medical professionals.
According to a fact-sheet published by the Northern Territory Wildlife Park, Olive Pythons range in color from a deep chocolate to an olive green with a cream coloured belly. The species is described as "generally nocturnal predators feeding on mammals, birds and other reptiles."