A man has survived a close encounter with one of Australia's deadliest snakes, despite receiving multiple bites from the venomous reptile.
Graham "Keith" Jackson, 61, went into respiratory arrest and stopped breathing while being rushed to hospital October 10 after standing on an eastern brown snake outside his home in Ilfracombe, a rural town outside of Longreach, Queensland.
Exiting the back of his property barefoot, Jackson was bitten twice on a toe on his right foot, the second bite coming as he instinctively tried to kick the snake away.
"I knew he bit me, I could tell, I felt him bite," Jackson said while recalling his ordeal with Australian news outlet ABC. "Then I went to kick it away and he got me again."
Authorities praised the quick-thinking of friends and family—including his wife Rhonda and two neighbors—who helped to save his life by wrapping his foot in compression bandages while the Queensland Ambulance Service (QAS) rushed to the scene.
Venom in the jaws of the brown snake is extremely neurotoxic and the species is linked to many human deaths in the country, according to a profile of the snake published by Queensland Museum. They are found in all habitats except rainforest.
While he was initially free from pain, Jackson's condition quickly became bleak while in the ambulance to Longreach Hospital, roughly 20 minutes from his home.
"He said, 'I feel a little bit sick and I don't feel right in the head,'" QAS paramedic Frank Smith told ABC. "Keith was in full respiratory arrest within a matter of seconds."
Luckily, Jackson was resuscitated and made it to the facility alive. He was administered with anti-venom and flown to Rockhampton Hospital for further treatment.
The man was pictured with QAS paramedics on Monday after being discharged. "Being bitten twice by a brown snake in rural Queensland and living to tell the tale is one that will stick in everyone's minds for a long time," the service said on Facebook.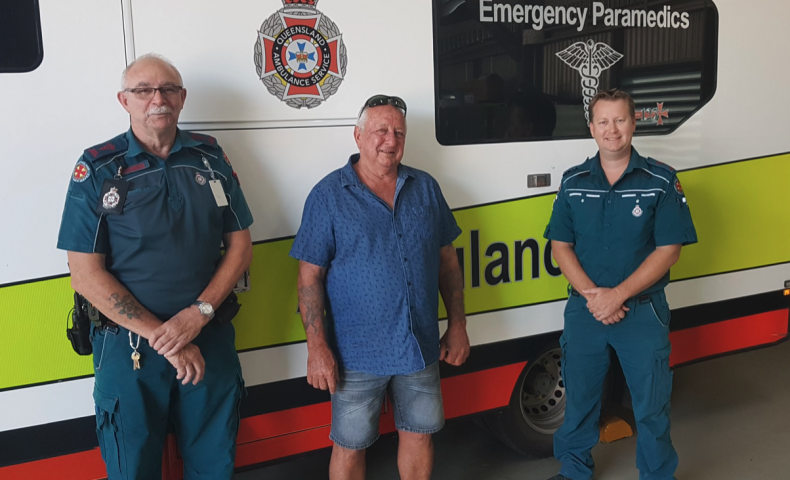 Jackson told ABC that in the wake of the snake bite he is now being more careful about where he steps. "Everywhere I walk now I make sure I'm looking," he said. "I was going to get a tattoo there where he bit me... one of these days it'll happen."
A separate species profile by the Australia Museum describes brown snakes as being a nervous species that reacts and strikes "defensively if surprised or cornered."
Regardless of intent, the consequences of a bite for a human victim can often be fatal, resulting in progressive paralysis and uncontrollable bleeding.
"As the initial bite is generally painless and often difficult to detect, anyone suspected of receiving a bite from an Eastern Brown Snake should call for medical attention without delay. This species has the unfortunate distinction of causing more deaths from snake bite than any other species of snake in Australia," the museum says.
"Simple precautions, such as wearing long pants, thick socks and solid footwear when working or exploring outdoors greatly reduces the risk of being envenomated."