Roads are buckling in South Australia amid record temperatures, with officials worrying the rising mercury could set off a new wave of bush fires.
South Australia's heatwave has entered into a fourth day, with even sunset offering little respite. In Adelaide, which endured its hottest night on record, it didn't dip below 92 F on Thursday, Australia's ABC News reported.
The state's Bureau of Meteorology noted that the temperature in the town of Nullarbor reached a sweltering 121 F, the fourth hottest temperature ever recorded in Australia. This overtook the record set by Eucla in Western Australia just hours earlier.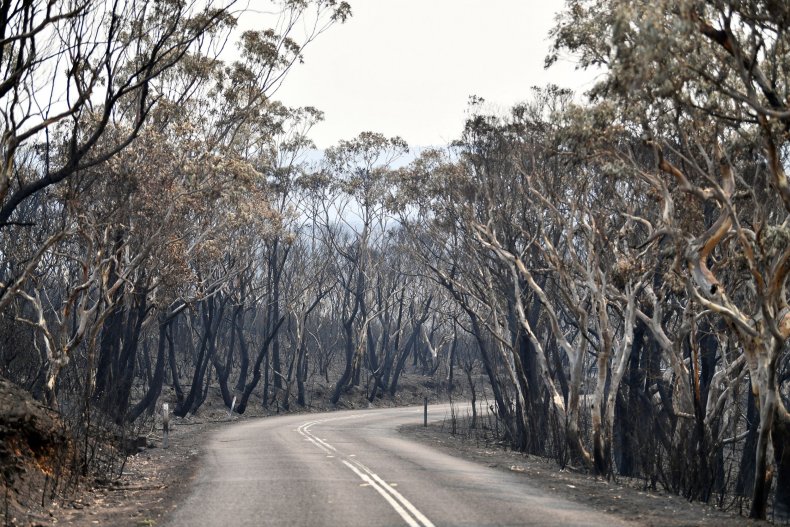 Meanwhile, Adelaide reached its highest December temperature since records began, hitting 113 F. It was forecast to be even hotter on Friday.
Records were also broken in Ceduna, at 119 F, and local authorities said the heat melted roads in Wudinna and Port Augusta.
Port Augusta City Council said in a statement: "McConnal Road, Alma Street, Forster Street and Cobbin Street have all shown signs of bleeding,"
"A contractor has been engaged to spread rocks over problem areas. The roads should be avoided and only used by local residents—please take an alternate route during this extreme weather."
The highest fire rating has been given to six districts in the state, with Country Fire Service (CFS) Deputy Chief Officer Andrew Stark warning that if blazes did break out they would move quickly and be difficult to bring under control.
"They are the kind of conditions that are very dangerous even for our firefighters, from CFS, from MFS, Department of Environment and Water, the kind of conditions that we see property lost and unfortunately sometimes, lives lost," he said.
"Under these conditions [fires are] so erratic, they'll move so fast and develop so quickly, it doesn't matter how many firefighters we have, we're not going to stop the progress of the full spread of fires under these conditions," he told Australia's ABC News.
The heatwave is unusually severe and is moving across the country, starting in Perth and heading towards Melbourne and Sydney. Fire warnings also in place for New South Wales, according to the state's fire service.
The main reason for the heatwave is known as a positive Indian Ocean Dipole (IOD), where sea surface temperatures are warmer in the western half of the ocean than in the east, and the difference between the two is the strongest in 60 years, the BBC reported.
Meanwhile Science Alert noted that over the longer term, temperatures in Australia are rising, with last summer the hottest on record, and the country warming by 1.8 F since 1910.
The country's heatwave has become a political issue, with prime minister Scott Morrison having to apologise for going on holiday in Hawaii while the nation's bushfire crisis worsened.
He was criticized last month for dismissing a link between curbing emissions and lessening the risk of bushfires.