Man Finds Venomous Snake Lurking in Kitchen Cupboard of His New Home
A person unpacking belongings into a new home in Australia called for help this week after spotting a snake slithering into a kitchen cupboard.
Responding to that call was reptile removal expert Stuart McKenzie, owner of Sunshine Coast Snake Catchers 24/7, who quickly identified the species as a highly-venomous red bellied black snake before successfully relocating it to a patch of bushland.
McKenzie published footage of the encounter to his popular Facebook page this week, documenting the latest in a series of red bellied black snake call-outs this week as the reptiles attempt to seek food, or shelter from the warm weather in the region.
"So many snakes are entering houses this week, especially these gorgeous but highly venomous red-bellied black snakes," McKenzie wrote in a caption.
"Like this one today in Bli Bli, where the new occupants were moving in and noticed the back end of the snake disappearing into the kitchen cupboards. Luckily he saw it while unpacking otherwise this could have been a different outcome!" he added.
The wrangler said the snake was "nervous" when backed into the corner of the kitchen cupboard but appeared "quite happy" showing off to the camera when released.
Cell phone video showed the snake approaching the camera before retreating into the woods. "Such a cool snake, they will never get old!" McKenzie said on Facebook.
Unlike some deadly species in the Sunshine Coast area, the brown snake for example, the red bellied black is highly-venomous to humans but typically shy, generally only delivering serious bites when under severe distress, experts have said.
They are one of the most frequently encountered snakes on the country's east coast and responsible for a number of bites annually, the Australia Museum says.
"For its size, the Red-Bellied Black Snake is probably the least dangerous elapid snake in Australia. Despite the number of bites received every year, very few human deaths have resulted (most death records date from early times and the snake's identity was often unconfirmed). Many bite victims experience only mild or negligible symptoms, however a number also end up hospitalized," the museum's profile adds.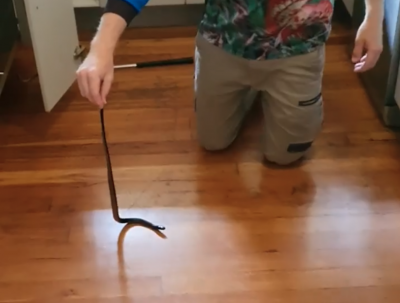 On Thursday, McKenzie shared information about another call-out about a red-bellied black snake in a home, this time from a person in the suburb of Twin Waters.
McKenzie said the homeowner saw the tail as it was moving into a living room cupboard after sliding doors to the property were left open to let in some air. McKenzie said it was discovered "tucked away under all the bags keeping cool" on the hot day.
"Heaps of snakes on the move looking for water, food and shelter from this heat. Make sure there's no way for snakes to enter your homes, as we are receiving a handful of calls every day for snakes that have entered the house," the expert wrangler said.