McDonald's in Australia Fires Restaurant Owner Who Questioned Aboriginal Man's Heritage in Race Row
McDonald's has fired one of its restaurant owners in Australia after video footage emerged showing him questioning the indigenous heritage of an aboriginal artist.
Robby Wirramanda told The Guardian he was at home with his family when Robert Vigors and Karen Ridge approached his house, in Mildura, Victoria, uninvited.
As Wirramanda films the confrontation, Vigors asks him: "Which one percent of you is aboriginal mate? You've got nothing in you that's aboriginal."
In the footage, which was posted to Twitter and shared widely on social media, Ridge is seen trying to take away an Aboriginal flag that was flying on Wirramanda's white 4 by 4 vehicle.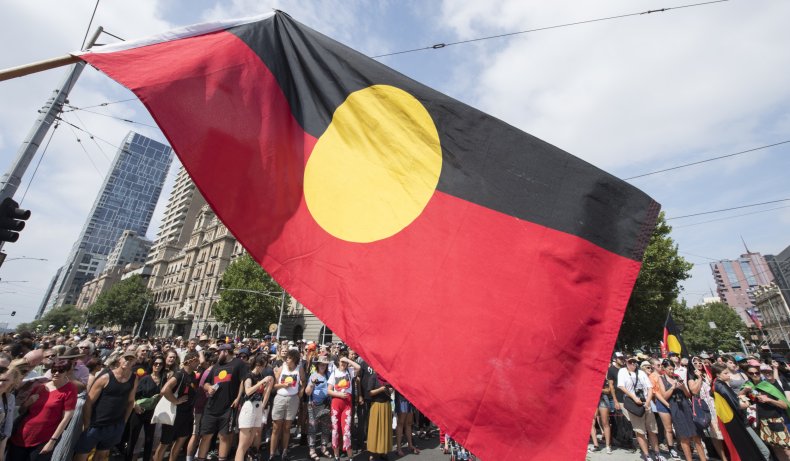 "You're trying to rip my flag off... You're a racist pig," Wirramanda is heard saying, adding "it's too strong for you Karen", sparking the trending of the hashtag #toostrongforyoukaren on social media.
Vigors says in the video that he "respected" Wirramanda's artwork, but that "people like you make a mockery of true aboriginals."
"I have a lot of good aboriginal friends they would love to see you and give you a lecture about what an aboriginal is," Vigors added.
Wirramanda responded by saying, "What's a true aboriginal? This s**t is going viral. I want to show racists like you to the world."
Before leaving, Ridge then tells Wirramanda to go and live in a "humpy down by the river," referring to the Australian word meaning temporary shelter or hut traditionally used by aboriginal people.
Vigors, who had been the franchisee of the local McDonald's since 1992, lost his job over the incident.
In a statement to Newsweek, McDonald's Australia said: "McDonald's confirms the company has taken over the operation of the Mildura and Irymple restaurants, effective immediately, and Robert Vigors has left the system and is no longer involved.
"McDonald's will be engaging with its employees regarding the change in arrangements, to ensure the ongoing operation of the restaurants.
"The comments made are unacceptable and do not reflect the beliefs of the company as an inclusive workplace for our employees and customers."
The incident sparked much comment online and the Twitter video has been nearly half a million times.
Ali Cupper, Independent MP for Mildura, posted a statement on Facebook saying: "The anger comes from RACISM; the snide, snobbish view that certain races are lesser than others.
"People like Rob and Karen want aboriginal people to 'stay in their lane', because a big part of their self-esteem relies on being 'superior' to others".
However, during the video, Ridge denied she was racist and later told the Daily Mailthat she had received death threats and did not feel safe to put across her side of the story.
"There are always two sides to every story and there was a great deal of harassment before this event occurred," she said.
Newsweek has approached Vigors via social media for comment.