Australia Rebuffs China Boycott Threat to Press for International Inquiry Into Pandemic Origins
As Australian officials call for an independent investigation into China's role in the worldwide coronavirus pandemic, China has hinted it may boycott Australian goods and tourism, placing diplomatic relations between the two countries into question.
China is Australia's largest trading partner, with 25 percent of Australia's manufactured imports coming from China, according to the Australian Parliament website.
However, Australia's recent call for an inquiry into both the World Health Organization and China's handling of the Covid-19 outbreak has caused some pushback from Chinese officials.
"The Chinese public is frustrated, dismayed and disappointed with what Australia is doing now." Chinese Ambassador to Australia Cheng Jingye Sunday interview with Australian Financial Review.
"If the mood is going from bad to worse, people would think 'Why should we go to such a country that is not so friendly to China?' The tourists may have second thoughts," Jingye continued. "It is up to the people to decide. Maybe the ordinary people will say, 'Why should we drink Australian wine? Eat Australian beef?'"
Australian Trade Minister Simon Birmingham said Monday that the governments of the countries had spoken about the situation but that the results were, according to Birmingham, "disappointing."
"Australia is no more going to change our policy position on a major public health issue because of economic coercion or threats of coercion than we would change our policy positions in matters of national security," said Birmingham Monday.
"Surely Australians would expect our government has determined that the death of hundreds of thousands of people around the world warrants transparency and investigation to prevent it from happening again," Birmingham continued.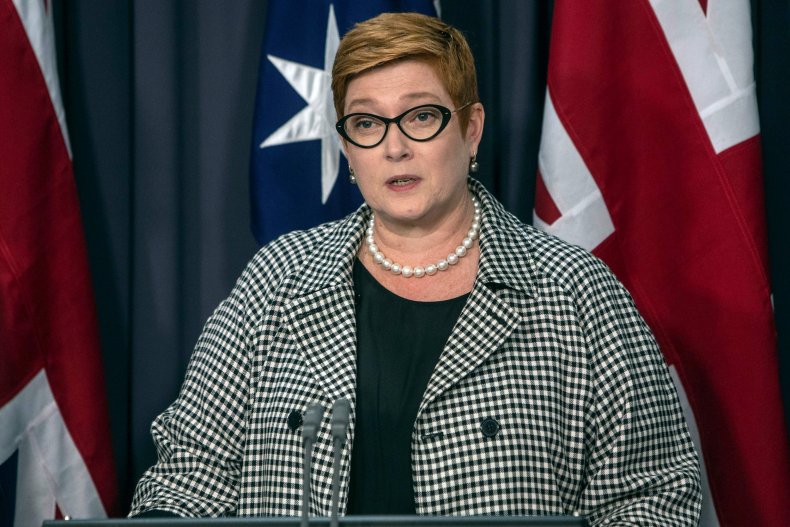 Australian Foreign Minister Marise Payne has also called for transparency from China's government and expressed a hope for open engagement. China's implications that a boycott may be at hand, however, elicited strong words from Payne.
"We reject any suggestion that economic coercion is an appropriate response to a call for such an assessment, when what we need is global cooperation," said Payne in a statement Monday.
"Australia has made a principled call for an independent review of the COVID-19 outbreak, an unprecedented global crisis with severe health, economic and social impacts," read a statement sent to Newsweek Tuesday from Payne. "This would be undertaken at an appropriate time, fully acknowledging that many countries are continuing to deal with the challenges of the virus."
"A transparent and honest assessment of events will be critical as we emerge from the pandemic and learn important lessons to improve our response in the future," Payne continued. "We hope all members of the WHO would cooperate in such an effort, including to strengthen the WHO's role in responding effectively to a pandemic."
Jingye called Australia's request the "kind of pandering to the assertions that are made by some forces in Washington."
Australia's Prime Minister Scott Morrison spoke with U.S. President Donald Trump in April concerning the proposed investigation of China, with Morrison referring to the talk as "a very constructive discussion."
Trump said Monday that China could be held accountable for the coronavirus in "a lot of ways."
"We are not happy with China," Trump said at a Monday news conference. "We believe it could have been stopped at the source. It could have been stopped quickly and it wouldn't have spread all over the world."
China's Australian Embassy was critical of the conversations, saying members of the Australian government were "keen to parrot what those Americans have asserted and simply follow them in staging political attacks on China."
Newsweek contacted the Embassy of the People's Republic of China in the Commonwealth of Australia for comment.
Recent data reports 6,725 confirmed positive cases of coronavirus in Australia. While 84 fatalities have been attributed to the virus, 5,602 individuals are listed as totally recovered.
Updated 5:44 p.m. EST 04/28/2020: This story has been updated to include a statement from Australian Foreign Minister Marise Payne.